Parents Come Through with Perfect Hollywood Ending for Son with Autism After His Favorite Video Store Closes
Although the location is unknown, Twitter user @javiii_Zuniga still had a local Blockbuster – up until 23 April that is.
But like all other Blockbusters, it was only time before Javi's local Blockbuster was sent to the graveyard like most things do when they're past their time. Surprisingly, this one survived this long, but it's time came two days ago. And while Javi was okay with it, his brother, who has autism, was not.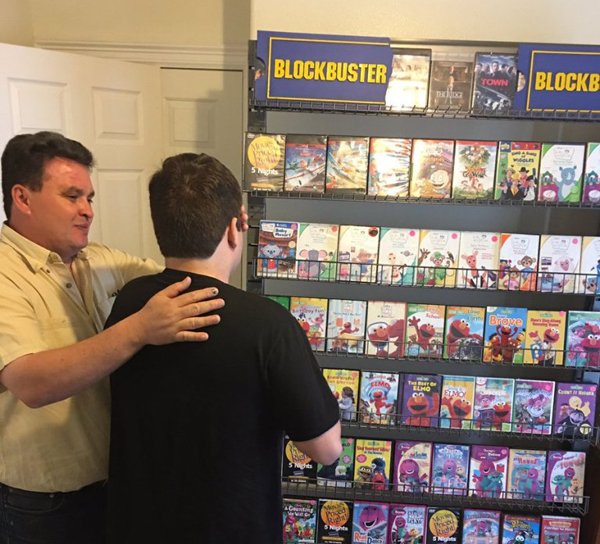 MY AUTISTIC BROTHER WAS SAD THAT BLOCK BUSTER WAS CLOSING DOWN SO MY PARENTS MADE A MINI ONE AT HOME FOR HIM! 😭❤️ pic.twitter.com/B4oo74NBvi
— jaavii (@Javiii_Zuniga) April 23, 2017
Autistic people often have daily routines they follow. And with the world constantly changing, life can become very confusing for the 1.5 million people in the United States with the developmental disability "autism spectrum disorder" or ASD. This was certainly the case for Javi's brother when his daily routine was interrupted after his Blockbuster finally closed for business.
Most people don't understand how devastating changes in routine are to people with autism. This is cute but was probably very necessary. https://t.co/Ko6yC8qTkF
— John Bermudes (@dillp671) April 24, 2017
But Javi's brother has nothing to worry about. His parents, like many parents with kids that have autism came through in a big way. Although the local Blockbuster shut down, that made sure a new one opened and will be closer to home than ever before – his parents made a mini-Blockbuster for him right at home.
Mom and Dad topped the display rack with a Blockbuster Video sign, stocking the shelves with their son's favorite.
Javi tweeted several photos of his very excited brother, standing with his own Blockbuster-themed DVD shelves. The photos were captioned: 'My autistic brother was sad that Blockbuster was closing down so my parents made a mini one at home for him!'
The tweet quickly went viral, receiving more than 30,000 retweets and 119,000 likes.
@Javiii_Zuniga @AlessandraRome0 Pfft you gotta con….*clears throat* control your…*clears throat again*just leave me alone i stubbed my tow on these emotions 😜👍😃#Fam4Eva
— Scott M (@ScottPGMac) April 25, 2017
@Javiii_Zuniga WHY AM I CRYING 😭💓😭💓
— alessandra 💌 (@AlessandraRome0) April 23, 2017
@Javiii_Zuniga your parents are absolutely amazing for this. 😭😍💓👏🏼
— soph 🥝 (@droolhes) April 24, 2017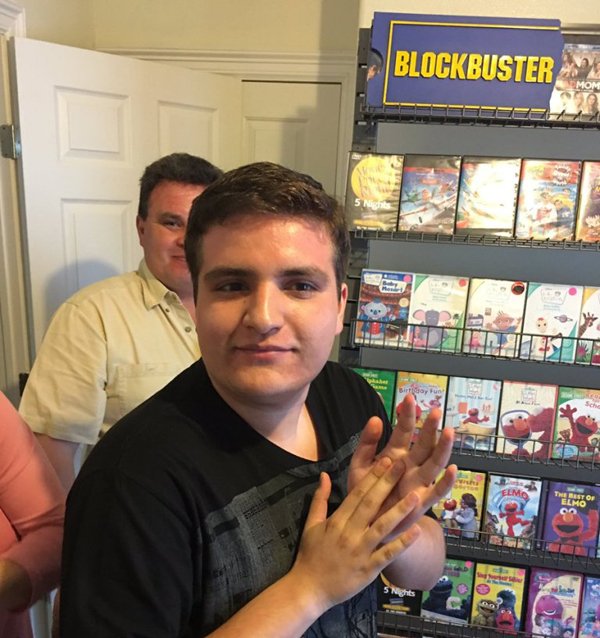 According Fox 31 News there are now just 12 Blockbuster Video stores left in America — nine in Alaska and three in Texas. Something tells me that this one will be the last one standing when it's all said and done.
Kudos to awesome parents that know how to get the job done!