Seriously, imagine the time, patience, and effort that goes into this…most of us would just buy the costume…
Makeup artists aren't always given enough credit when it comes to the things they can do and the miracles they can accomplish when applying their skills to one project or another. Then again, like many professions, one could say that they're a dime a dozen, but even while saying this it is important to realize that skill does exist along a constantly shifting spectrum that sees people rise and fall depending on how well they can accomplish the task at hand. When doing makeup that is seen as truly impressive though, one has to remind themselves that the project and the skills that are needed will vary quite often since trying to compare one makeup artist to another might not make a lot of sense considering that applying makeup to one's face versus to one's entire body are entirely different matters that affect time, application, skill, and the effort that is needed to pull off the desired look. In this instance, recreating Lady Deadpool is something that one might need a great deal of time for, not to mention the skill to make the character come to life in a very believable manner.
I don't know about you, but just thinking of the time and effort that would be needed to make this look work is enough to make my head spin, since even writing a book in a month or less feels like it would be easier than this. Not only is there the application process to think of, but there are more than a few intricate details that go into creating Lady Deadpool as she appears in the comics. Without taking anything away from those who create the costume using fabric, latex, and various other materials, but the effect that's created by makeup alone, along with a couple of other items, is enough to make a person say 'damn' in the best of ways since the end result takes forever to reach, but it's worth the wait when taking a look at the finished product. It does make a person wonder however how a person gets into this, since the love of comic books might not be enough, and being a makeup artist might not be enough. The fusion between the two however makes it clear that this woman has been doing this for a while, and she loves what she does.
Watching the video will give you a pretty good idea of how much time and effort goes into this look, and when considering that Lady Deadpool isn't the only character she's able to take on, it's fair to assume that this woman has earned her stripes when it comes to being a makeup artist and model. Taking a look at Kay's social media it's very easy to see that she's not the best-known name in the world when it comes to this type of thing, but it feels as though she should be given a lot more credit when it comes to what she can do and how far she could possibly go. For all I know, Kay is happy where she's at and with what she's doing, but there's still plenty of reason to give her the type of credit and shout-out that's needed to advance an artist's credibility and name. But we're here to tell you, this woman is worth paying attention to.
Let's be honest, Lady Deadpool doesn't get enough play.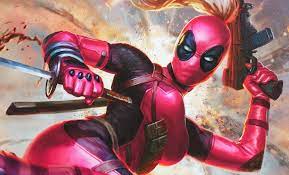 Lady Deadpool is pretty much what she sounds like, a female version of the original Deadpool who exists on another earth. She has a healing factor, uses twin katana, and guns, and is every bit as annoying as Deadpool, but in a slightly different manner. Where Deadpool tends to go out and cause trouble, Wanda, this is her real name, tends to go out only when Cable, in her universe, decides to go out. She's entirely anti-fascist and a little bit easier to trick than the original Deadpool, but she's every bit as deadly and can hold her against a lot of different individuals, though she does have her limitations when it comes to her ability to overcome the strengths of others. So basically, like Deadpool, but NOT Deadpool.
Her work is impressive, without a doubt.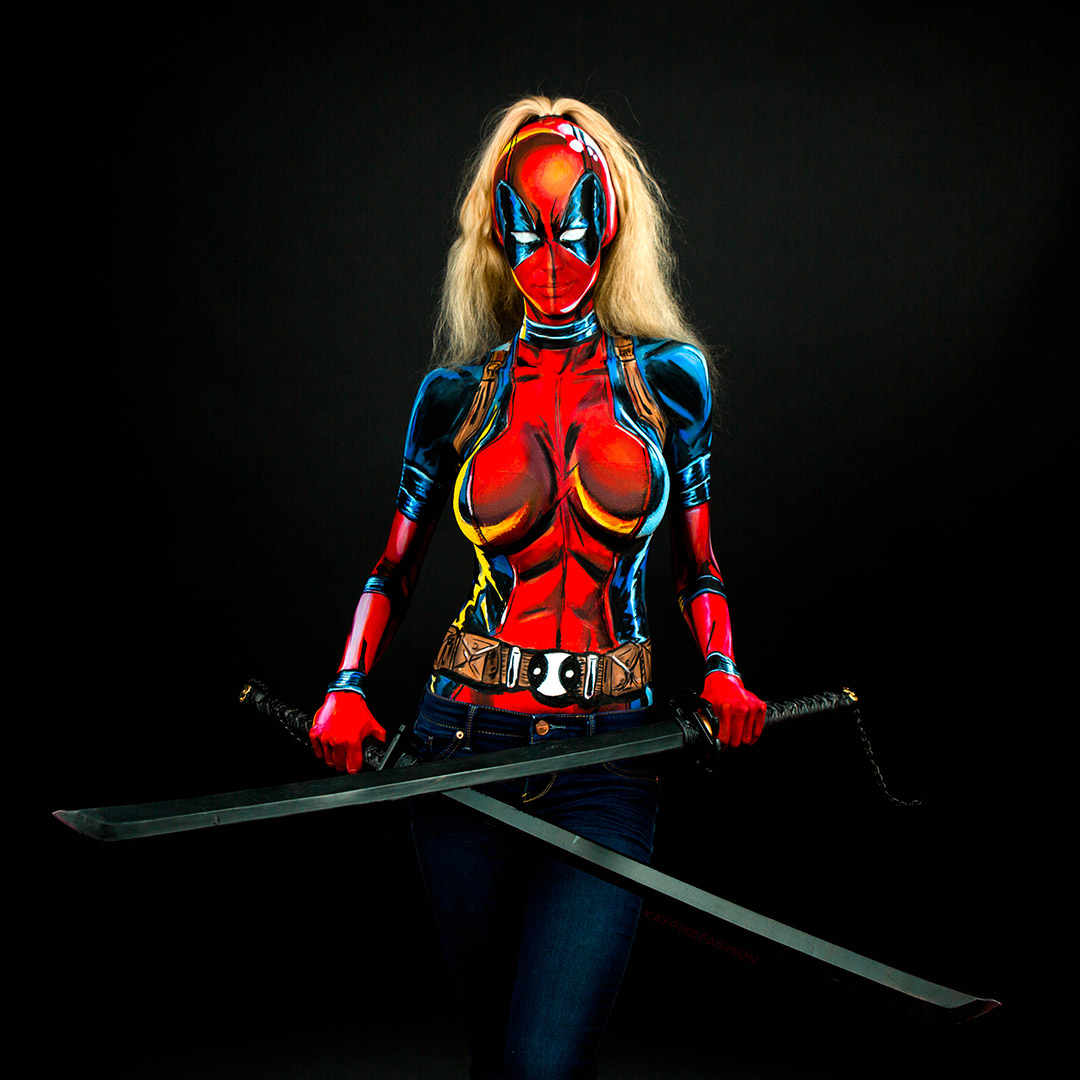 Despite being able to see her jeans in this picture it's very easy to be impressed by Kay since the level of detail she puts into her creations is such that one can actually believe that they're looking at a comic book panel until they take a closer look. This level of skill might feel like it's something that takes years and years to accomplish…well, I would guess it does, to be honest, but it is attainable by those who are able to learn what shading is all about and how to use their color palette to the best of their ability and beyond. When seen up close, the adherence to comic book detail becomes a little more obvious, but from a distance, or even just a few feet away, the effect is mesmerizing since quite honestly it can fool the eye into thinking that they're looking at something that's not quite real. Even when she moves it's impressive since it's like watching a comic book come to life.
It would be great to see Lady Deadpool in a Deadpool movie.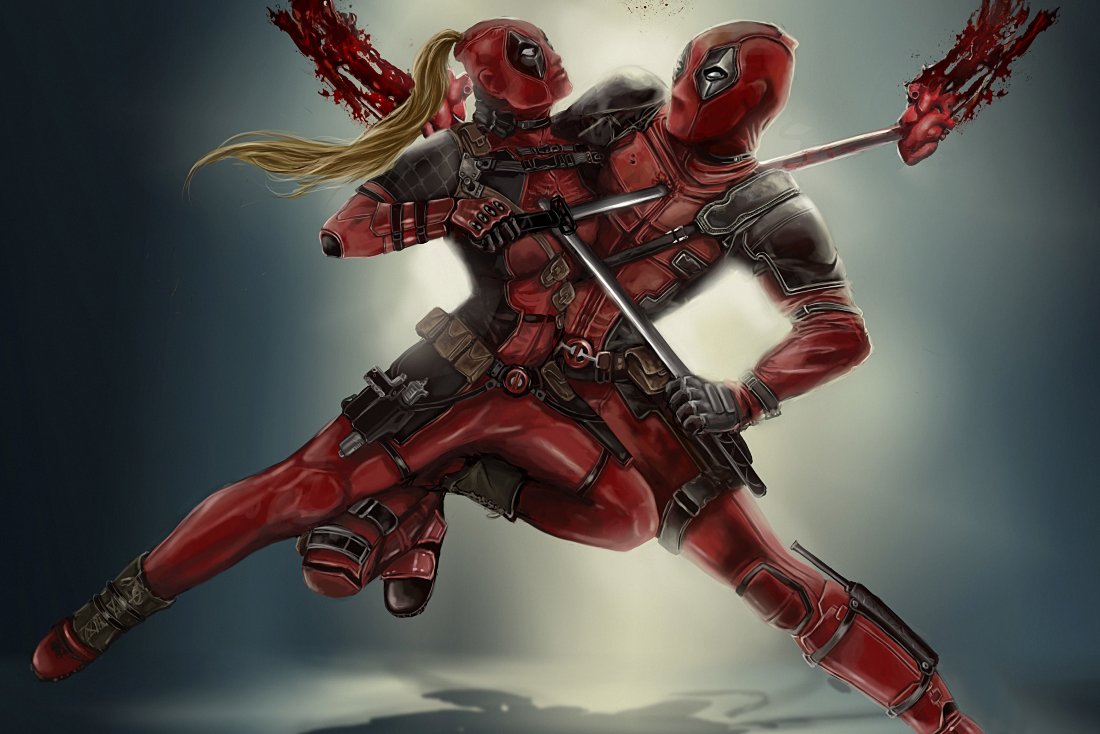 They've been together in the comics, but so far it doesn't appear that it's happened anywhere else. Some major comic book fans might talk about Easter eggs here and there that might indicate her presence, but until one gets to see her in a movie it's easy to discount a lot of stuff that we see in the movies since whether those same fans want to admit it or not, the studio likes to tease people in a very big way by throwing out tributes, homages, and throwbacks that don't end up meaning that much since they're a way to remember certain characters without ever seeing them. But a movie showing Deadpool and Lady Deadpool working together would be all types of crazy, and it would be glorious without a doubt.
Kay does more than just Lady Deadpool.
Seriously, take the time to look through this woman's portfolio and you'll see that she's done more than Deadpool, and in fact more than just Marvel characters. Her skill level is ridiculous and the characters that she's managed to depict range from Marvel to DC to Dragon Ball to…oh who knows until you actually look. The amount of skill she has is great enough that she can take on just about any project a person could mention and make it look as though the character just jumped off the page. In some ways, it would be nice to say that I'm exaggerating and trying to make her look better than she really is, but if you're watching the video or looking at the picture then you already know just how skilled she is, and shouldn't have many doubts at this point. Seriously, this woman is the type of artist that one could easily see becoming famous in her own time and who might even be used for major projects if that's what she wants.
It's easy to wonder what might be an actual challenge for her to accomplish.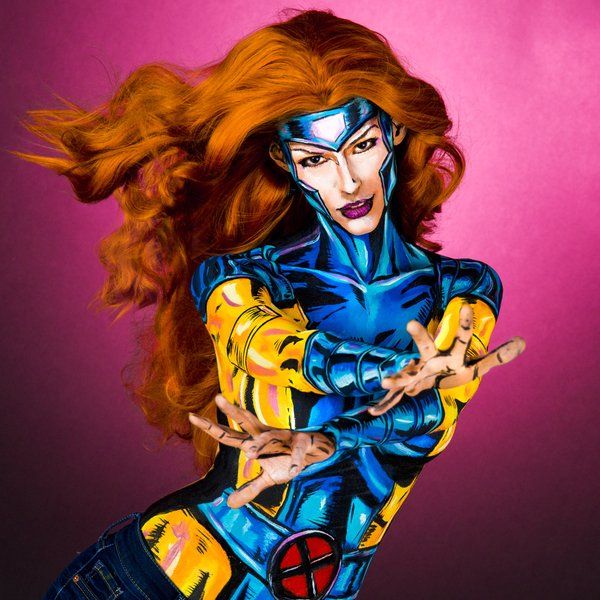 This does make me wonder if she ever has any real difficulty in starting and finishing a job like this since everything she's done that's on the internet looks so incredible. Does she ever have a bad day and find one project harder than another? That sounds feasible, right? We all have those off days, and the geniuses that can perform this kind of work are no different in that regard. But when she's on her game and is flying through one project or another, it's safe to wonder if she's even sweating the small details or if her skill is great enough that she can set her mind on auto-pilot and just coast as her fingers remember what to do and will perform the way she needs them to. I can already hear a few of you out there laughing at that, but the truth is that if one does something long enough and acquires the kind of skill it takes to get good at that thing, then muscle memory takes over at some point and all that's needed is the bare minimum to finish a job. I kind of wonder if she ever just shuts her mind off during a job and lets her imagination take over. Yes, I know how that sounds, I'm a writer, I do it quite often.
WTR? (Why's That Radass?)
Works of art such as this deserve to be noticed, as does the skill that goes into creating them. Kay has obviously spent a great deal of time with her art, enough that she knows how to nail the likeness of whoever she chooses to emulate. That kind of skill isn't the type of thing that a person is born with, since it has to be refined and earned.