Are NBA players worth admiring?
I wouldn't be the first or the last person to call quite a few of the pro athletes that populate the NBA 'overpaid babies' since many have expressed this view and have even gone further into explaining why the money, despite being a sensitive issue, is not the only point of contention that needs to be addressed. Let's get this straight very quickly, being a pro athlete is difficult, it means that out of thousands, even millions of athletes that sought to play the same game, they were selected because they had the talent that pro teams were looking for, and the drive to win at all costs that teams depend on to remain competitive in a league that cares about the numbers and the dollars. But does that mean that the players are allowed to forget what it means to be decent human beings in the process?
There's no telling what some of them are like off the court, as some are likely calm and courteous individuals that wouldn't harm anyone unless provoked. But watch a few of them get bumped on the court or accidentally run into by their fellow players and see what happens. Whatever manners they did or didn't have to start with would go sailing out the window in a big hurry. Some folks actually defend NBA players when they act in a childish and immature manner on the court. People will actually look the other way when it comes to the players puffing their chests up before taking a swing at each other. After all, they're paying to see a show, so one might as well let it go, right?
Fights are nothing new in the NBA
That's the unfortunate part. These great players that sweat, bleed, and work as hard as they can to get to the show and put their skills on display for the crowds definitely deserve a payday, but the price they're being paid doesn't warrant their behavior lot of times. If I was to get into the whole pay scale and how it's justified by so many when it comes to the players we'd be here for a while. But I don't have a lot of patience or time for individuals that are paid more in a year than many will see in their lives when they feel the need to act like thugs on the court. Fights happen, I get it, the players are running around at top speed a lot of the time, and impacts are bound to happen, people are bound to get hurt, and so on and so forth.
But for the amounts they're getting paid and the opportunity they have to compete, it's not a big deal to ask that they show a little restraint on the court. It's easy to get heated and it's easy to be 'in the zone' and 'feeling it' to such a degree that nothing else appears to matter. But the wild abandon that some players react with reminds a lot of people of a streetball game, where there's no foul if there's no blood. The funny thing is, that's for kids and those look up to the high-priced thugs that are masquerading as NBA stars. That's right, I said it. Why does it make sense to pay high-priced players that act like thugs? A player doesn't need to act like a perfect gentleman on the court, but understanding and respect for one's fellow players goes a long way while getting offended at something that's a part of the game is downright foolish.
Hit them where it really hurts, in the wallet.
NBA players are already fined for various fouls and other transgressions on the court, and unless a player really messes up and decides to fight every chance they get and create problems with every opportunity, most of them will simply pay the fines and probably laugh about it later. Even if they don't want to pay it, the money is automatically deducted from the money they were expecting to make. And does that do any good? Probably not, since a lot of the athletes have other revenue coming in from other sources quite often, so unless they're being completely irresponsible with their money, they'll usually have more than two nickels to rub together. But with a lot of players, making this kind of money means they're bound to live the high life, which means mass expenses that will make it necessary for them to keep the money coming in, which means performing well on the court.
That's right, they actually HAVE to perform on the court. There isn't a single NBA player that can simply report to the game and NOT be ready to play at any given moment. Even those warming the bench have to be ready to go in, and more importantly, they have to be able to represent their team and their organization in a way that's not just competitive, but they also have to do so in a manner that's considered befitting of the organization's core beliefs. A lot of people might think that NBA players are just there to play ball, but there's a lot more to it than that. The downside is that some players have believed that the name on the back of their jersey is more important than the one on the front. Perhaps reminding them how unimportant they can be by upping the price for fines and hitting their wallets even harder might be a good way to remind them of their importance.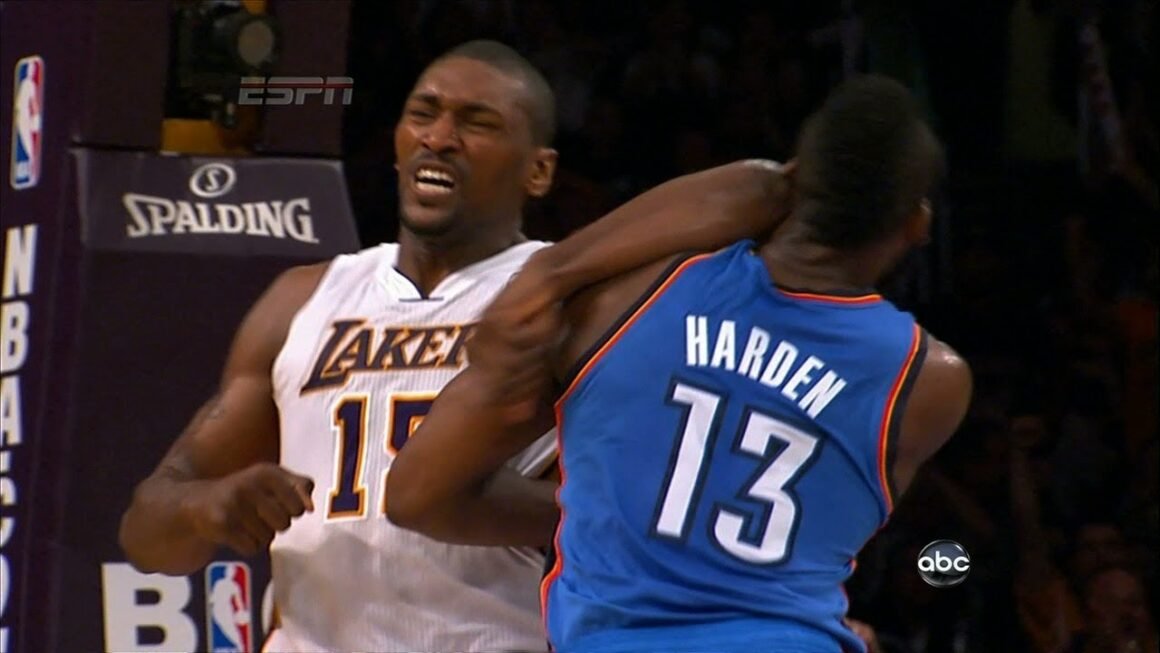 Stop rewarding spoiled thugs
Making it to the NBA takes a great deal of determination, self-sacrifice, and dedication to one's sport, but it needs to be said that dangling massive contracts in front of the players has sacrificed something else as well at times. When the sport starts looking more like a cross between basketball, MMA, and the WWE, then something has definitely gone off the rails and needs to be fixed.
WTR? (Why's That Radass?)
Looking up to NBA stars, to any athlete in fact, is something that a lot of folks would think is okay and admirable. But until the stars can show that they can keep hold of their temper and avoid causing trouble on the court, in front of thousands and thousands of people, then they're not stars, they're thugs collecting a paycheck.