Two Drunk Girls is made of two equally funny and sexy ladies, Jenifer Golden and Lauren Leonelli
I sat down with them to learn more about what they do, and it was a blast. When I arrived at their office they already had drinks in hand, living up to their name. No phonies here. They poured me a glass of some pink booze, (I forget what it was) which was delicious.
What is Two Drunk Girls?
Lauren: Two Drunk Girls is entertainment news with booze. We post a weekly show on YouTube. They're three-minute episodes. We talk about pop culture, relevant topical things while having a drink.
Jen: This week our guests were our moms because they were both in town. We were like, "Let's get Two Drunk Moms" and interview them about how we became who we are today.
Lauren: And we made them answer uncomfortable, inappropriate questions. I asked Jan Golden (Jen's mom,) "Did Jen tell you when she first had sexual intercourse?"
Jen: My mom giggled then was very embarrassed.
Lauren: Then yelled out No!
If you can only have one shot for the rest of your life: What is it?
Lauren: (With no hesitation) Vodka.
Jen: Vodka for sure.
Lauren: It didn't even take me 2 seconds for that question.
Jen: However we did have $300 tequila the other day.
Lauren: And that was pretty fucking good. But I'm still sticking with vodka.
Did you have to pay for the $300 tequila?
Jen & Lauren in unison: Heelllllll no.
Lauren: We don't pay for anything.
Jen: It tasted like a million dollars because it was free.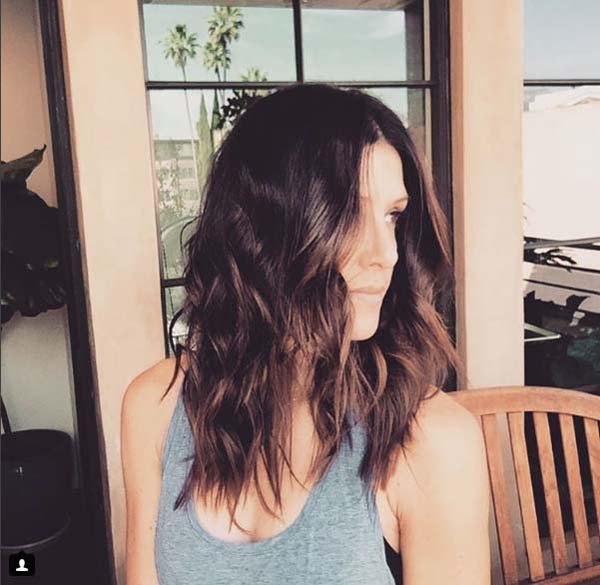 How did you two meet?
Jen: We met in hosting class with Marki Costello four years ago.
Lauren: I feel like it was longer than four years ago.
Jen: We met in a past life. Several past lives ago so it's unquantifiable really. So we met in hosting class. We bonded over the fact that I was fighting with my boyfriend and Lauren gave me advice. Then we started taking class regularly and we bonded over the fact that we didn't like one of the substitute teachers that came in. We both rolled our eyes together in the bathroom and were like, "Ew." I don't want to go back in there. That guy's terrible."
Lauren: It was such a girl thing to do like, "Go to the bathroom and gossip."
Jen: It was just like we got each other.
Lauren: It felt like an instant connection. Like I knew she was the type of person I could be friends with. There was no weird awkwardness.
Jen: We were like, "Ok let's just be best friends now." Then we started working together at AfterBuzzTV. We were working on the after show for Nashville, which just got cancelled actually. But the first season a reeeal marathon. It was 22 seasons that spanned over the course of 6 months. So we were like, "Why won't this show end? We are done talking about it. So we started to incorporate alcohol when we did the after shows. Then we were like, "Wait a second. We like drinking and talking so much we should have our own show."
Lauren: And Two Drunk Girls was born.
How did you get into doing after shows?
Lauren: That came from a producer of our class at Marki Costello who was just getting into after shows at AfterBuzz TV in its very developmental days. He mentioned it to us. He came up to us and said we had to go in and meet his producer. We did. It was straight from a reference from (that producer.) Then we went in and did our thing. That network has become huge and changed so much since then and it's great. That's where we started and cultivated our friendship. It's a home for us to always go back to. We are not currently hosting there but it's so great and such a great platform for hosts. It's where we got all of our footing, I feel like.
What is each of your favorite drinks?
Lauren: Mine is vodka soda with a squeeze of lemon. I also don't mind an icy cold glass of rose. I'm Italian so I have to drink wine. But definitely vodka soda with lemon. And let me tell you something. If you keep this drink clean, and don't put a bunch of shit in it, you're not going to be hung over the next day. I've experimented. A lot. (Everyone laughs)
Jen: Ya we do a daily test to see how hung over we can get.
Lauren: I can take down 7 vodkas and be ok the next day. If I have three glasses of wine or mixed fruity drinks, I'm done.
Jen: Death becomes her. I really like vodka as well. My drink of choice is vodka with soda water, mint, and cucumber…
Jen & Lauren in unison:…MUDDLED!
Jen: Don't put it as garnish or I'll kill you. Muddled!
You're every bartender's nightmare.
Jen: Exactly. There like, "Well we don't even serve mojitos here. We don't muddle." And I'm like, "Well you're going to muddle for me." If you ask any bartender (they tell you) they don't like making mojitos because of the muddling portion. Then I come up and say, "Well I don't want a mojito but I want you to muddle everything."
Best drunk food?
Lauren: Cheeseburger and fries.
Jen: Pizza
Do you have a preference on pizza?
Jen: Cheese. In my mouth.
You ladies have a radio show called "It's Complicated". Tell me about the radio show.
Jen: Our show "It's Complicated" started from the fact that we always talk about dating and relationships in our normal lives. Usually with an alcoholic beverage of choice. It happens all the time one of the girlfriends is going through something. Then we talk about it. Then we analyze it. Then we give advice. Then we're mad they didn't take our advice. It's like the cycle that never ends.
Lauren: All in a group text by the way.
Jen: It takes a village to date. So we decided we were going to help everyone and have a radio show where we interview reality people, experts: guests of all nature.
Lauren: Actors (as well.) Everything kind of relates to relationships. Whether you're married. Whether you're single. Whether you're divorced. Whether you're a single parent or whatever industry everyone can relate to dating and relationships. It's a topic that's specific and general all at the same time if that makes any sense. We've had a lot of different guests on. Like Jen was saying from authors to experts and psychologists, stand-up comedians. And there is always something that we can directly relate that topic to. It's been really fun. It really did come from the fact that we (felt) like all we did was talk about dating and relationships.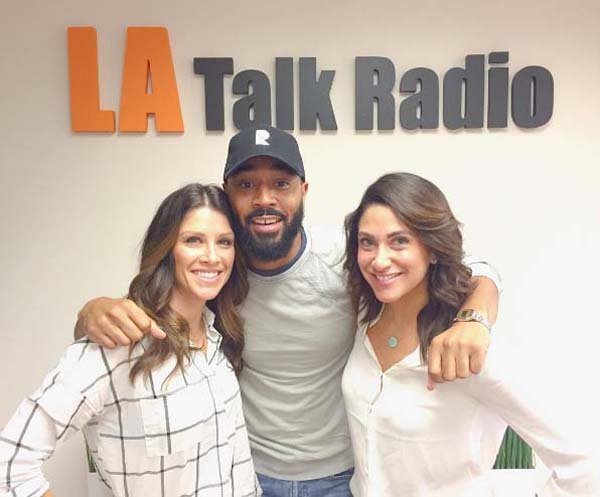 How often do you two really drink?
Lauren: This week it's been every single day (laughs.) But realistically I would say about twice a week.
Jen: Twice a week unless our boss gives us tequila. Then it's three times a week. It just depends. Like today we're clearly drinking at the office (everyone clinks their glasses.)
Jen (To ME) And you already finished yours. You took down that pink drink.
I sure did. It was quite delicious.
Jen: It also depends if there are dates involves. Because if you go on a date, you have to drink.
Lauren: You have to.
Jen: It's rules.
Lauren: Rules! And also I can't date someone who doesn't drink.
Jen: Neither can I. That is a red flag to me.
Lauren: Red flag and deal breaker.
Jen: Yup. You can't drink too much and you can't drink not at all.
Lauren: Two Drunk Girls – this wouldn't work if we had a problem (with alcohol.) It's the fact that we're able to turn everything into a celebration. And we do that by having a drink or two or three or four or five depending on that night. But we can keep it under control, and some times not when you need to let go. People think that, "Oh you're Two Drunk Girls. You must get shitfaced every day." I mean, we COULD, but we don't.
Jen: There's responsibility. There's a saying about the world and the days.
Lauren: Rome wasn't built in a day is the one I think she means. Sometimes I have to help her (everyone laughs.) It's true, though. We have a lot of responsibilities but that's why we have to cut loose and have fun sometimes. And that's when Two Drunk Girls enter.
Jen: We really do like to celebrate everything. Sometimes I like to toot my own horn but I like to celebrate everything. Whether we just signed a production deal. We had to celebrate that! Whether we moved into this office. We had to celebrate that! I put on my clothes today. We have to celebrate that.
Lauren: It's Thursday
Jen & Lauren in unison: We have to celebrate that!
Lauren: Yolo, right? You have to celebrate everything in the moment. That's what we do.
If you could punch one celebrity in the face, who would it be?
Lauren: Kanye. People are going to hate me, but also Taylor Swift.
Jen: Anyone that's a redhead. (Also) Katy Perry and Miley Cyrus.
Are you drunk or buzzed right now?
Lauren: I'd say we are buzzed.
Jen: Ya I'm buzzed right now. I was drunk before I ate lunch then the chicken soaked it up.
Lauren: Buzzed for sure but we're still going.
Make sure to check out the radio show It's Complicated Wednesdays at 10am on LA Talk Radio, and catch up with old episodes on iTunes.
Find them all over social media at:
YouTube Instgram Twitter Facebook
Jen and Lauren are also the faces of new interactive app game. You can win free stuff. So check it out here.
The Mobii app listens to signals from TV, radio and YouTube to deliver special offers from your favorite brands right to your phone. Shopping has never been more fun! For a chance to win prizes and $$$, watch Jen and Lauren on Mobii Live every Thursday at 7pm PST on www.mobii.tv for more games, bigger prizes and entertainment!