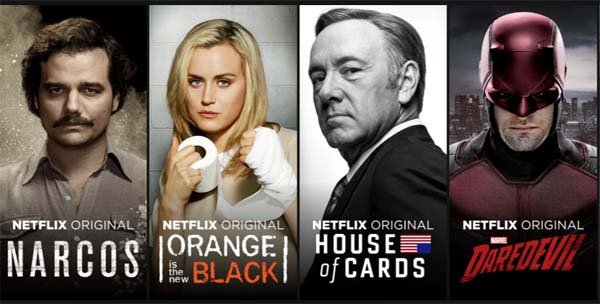 Netflix is very secretive about their ratings numbers. Do 10 people watch original Netflix shows like House of Cards and Daredevil, or do 10 million? No one knows because the streaming company won't tell us dick. They have, however, finally released some data about what shows people binge in one setting and which ones people watch over time. Not everything on the list is a Netflix original. It includes popular cable shows such as The Walking Dead.
So written out it goes:
SAVOR
Irreverent Comedies:
Arrested Development, BoJack Horseman, Club de Cuervos, F is for Family, Love, Summer Heights High, Unbreakable Kimmy Schmidt, Wet Hot American Summer
Political Dramas: Homeland, House of Cards, Occupied, The Good Wife, The West Wing
Historical DramasMad Men, Narcos, Peaky Blinders, The Americans
Superhero Drama: Gotham, Marvel's Daredevil, Marvel's Jessica Jones, The Flash
Crime DramasBetter Call Saul, Bloodline, Fargo, The Blacklist, The Bridge, Twin Peaks
Dramatic Comedies:
Flaked, Grace & Frankie, Nurse Jackie, Orange is the New Black, Parenthood, Rescue Me, Weeds
Action & Adventure24, Arrow, La Reina del Sur, Marco Polo, Outlander, Prison Break, The Last Kingdom, Turn, Vikings
Sci-Fi:
Ascension, Between, Heroes, Orphan Black, Sense8, The 100, The 4400, Under the Dome
HorrorAmerican Horror Story, Hemlock Grove, Penny Dreadful, Scream, The Walking Dead, Z Nation
Thriller:
Bates Motel, Breaking Bad, Dexter, Sons of Anarchy, The Fall, The Following, The Killing
DEVOUR
How Netflix came to these results:
Netflix analyzed more than 100 serialized TV series across more than 190 countries between October 2015 and May 2016. The research examined member completion of the first season for all series. Data was only included for accounts that fully completed the season. Completion rates were organized into days and hours. The global median days to complete the first season of these series was five days. The median hours per session for completers overall was two hours and ten minutes. Series viewed less than two hours per day were identified as 'savored.' Series viewed more than two hours per day were identified as 'devoured.' Series were not restricted by launch dates, runtime or number of episodes. Where a series falls on The Netflix Binge Scale has no relation to viewership.