Johnny Manziel Got a Job to Pay For All His Lawsuits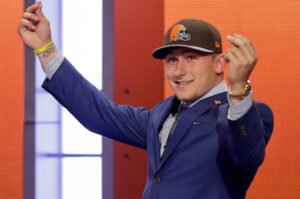 Since the end of his career with the Cleveland Browns, Johnny Manziel has gotten himself into a lot of trouble. The serial partier has had a handful of lawsuits against him and it seems he has finally landed a job to help pay for all his lawyers. Manziel currently has 5 lawsuits against him and has to pay his lawyers for potentially violating his restraining order.
During Super Bowl week, Manziel will be hanging out in a Houston-area memorabilia store and sell autographs and selfies.
Johnny Manziel signing autographs in Texas during Super Bowl week. $99 for an autograph, $50 for selfies! (H/T @cravetheauto) pic.twitter.com/bo4TDkKBPK
— Darren Rovell (@darrenrovell) January 10, 2017
Darren Rovell of ESPN reported:
The 2012 Heisman Trophy winner, who was cut by the Cleveland Browns last March, will sign autographs in two memorabilia shops at Texas malls during Super Bowl week.
The memorabilia stores, Stadium Signatures, will host Manziel in their mall location in Katy for an hour Feb. 2, and then again the next day in Woodland.
The price is $99 for any item signed, $99 to take a professional photo with Manziel and $50 for a selfie or any picture taken with a fan's phone.
Manziel also will add inscriptions, including "Johnny Football," for $29.
Call me crazy but I don't know anyone who would pay that kind of money for a Johnny Manziel autograph. Maybe its wishful thinking or maybe it will be a hit. Either way, if you want a 50$ selfie with the guy, book a flight to Houston.