God Bless America, There's A Pizza ATM In America
It's kind of disgusting how much I love pizza. I will not turn down an offer for a slice or two, like ever. It's also the biggest reason why I can't get myself to diet.
So yea, don't mess with a girl and her pizza.
Anyway, it seems like my dreams of eating this slice of heaven wherever I go may be coming true. The first Pizza ATM has been introduced in the United States!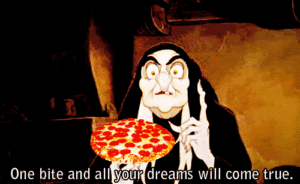 Apparently, Europe is way ahead of us and has had this for a while, but Xavier University (wait…who?) in Cincinnati, Ohio just installed the first one in the states. Yes, it's beautiful and college kids everywhere are rejoicing.
Even Jude Kiah, the Assistant Vice President, thinks it's pretty cool. In an interview, she said,
"WE WERE LOOKING FOR A WAY TO SOLVE THIS PROBLEM OF HAVING A LATE-NIGHT PIZZA OPTION ON CAMPUS. WE LIKE THE IDEA OF BEING FIRST AND INNOVATIVE AND TRYING SOMETHING NEW. THERE'S ONE PIZZA ATM IN THE U.S. AND THIS IS IT. HIS MACHINE DELIVERS A PIZZA WHICH IS REALLY SECOND TO NO OTHER PIZZA I'VE HAD. IT'S SERVING THE EXACT SAME QUALITY PIZZA THAT'S IN THE DINING FACILITY"
Normally I would gag at the thought of dining hall food, but these people are not messing around. They brought in a chef from France to help create the perfect pizza pies.
For $9 per whole pizza struggling college students everywhere will be going broke left and right. Can you really argue with 24/7 available pizza?
Essentially there's two options for us on the west coast: Transfer to Xavier or buy our own Pizza ATM for $55,000. I think I'll just call into Domino's for now, thanks.