Are you sick and tired of going out and having the "gluten-free" and "vegetarian" options taking up valuable real estate on the menu? Do you need some practice so your friends don't give you hell for bringing the rest of your dinner home in a doggy bag?
These monstrous man-made meals are not for the faint of heart. Test your bro's manhood by ordering one of these babies the next time you want to pack some extra carbs in before a night of beer binging. Click ahead to see what can give you heartburn, a heart attack, and hard-on all at the same time.
10. Jack-N-Grill's 7-Pound Breakfast Burritos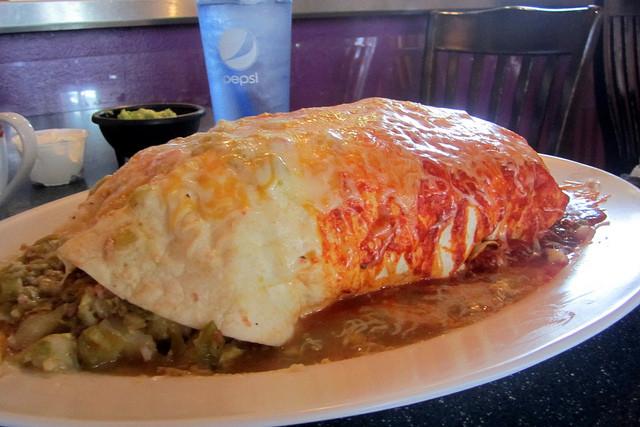 After a nice morning in the can, it's important to not start your day on an empty stomach. Thankfully, Jack-N-Grill's in Colorado came up with this hefty monster to satisfy your morning hunger. You can try and hold this baby like a normal burrito, but it won't… you know what? Screw it. I say go ahead and try.
9. Bob Evans' Sausage Biscuit Bowl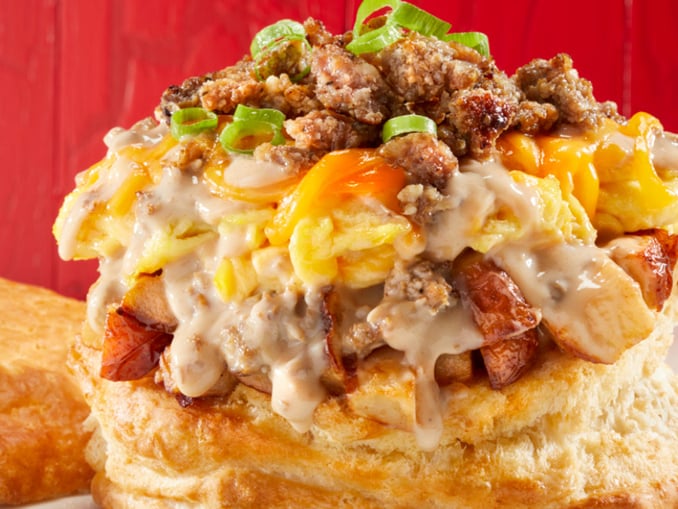 Do you want an easy fix to cure that massive hangover? Drink some ice-cold water. Nah, just kidding! Bob Evans' sausage, cheddar, home fries, sausage gravy, and margarine orgy in a biscuit bowl should be enough to do the trick. Or you could just not drink. HA! Kidding again! Head over to #8 for a fancy brunch idea.
8. Brunchbox's Redonkadonk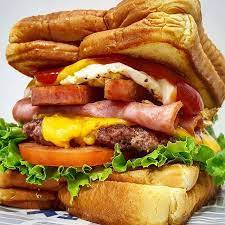 And you thought there were only vegan hippies in Oregon. In case that hangover kept you in bed a few extra hours, the Radonkadonk's ham, Spam, bacon, and American cheese medley is sandwiched between 2 separate Texas Toast grilled cheese sandwiches. That's like (counts on fingers) … almost 3 sandwiches!
7. In-N-Out Burger – 4×4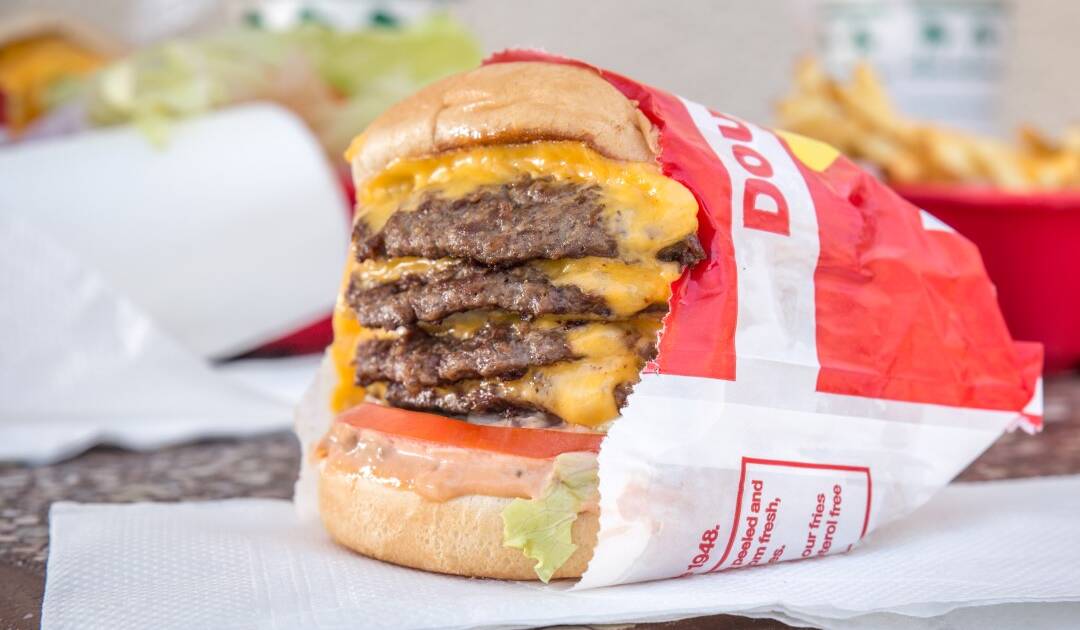 The Double-Double is the biggest burger on the menu of this California fast-food favorite. But don't be a wuss, double it again to find the secret menu's 4×4. 4 pieces of meat and 4 pieces of cheese "animal style" leave little room for lettuce and tomato. The lunchtime menu begins on #6.
6. Ruby Tuesday's Triple Prime Bacon Cheddar Burger
Eight ounces of beef topped with applewood smoked bacon, cheddar, and a few bits of rabbit food should satisfy the savage beast. In case you're still a little famished, the endless fries will be enough to top off your tank. Now that the kids are fed, click over to #5 for a big boy's burger.
5. Hillbilly Hotdogs' 10-pound Burger
No, that's not a typo, and don't even consider sharing with your buds, either. In addition to 10-pounds of meat, this mothership of all burgers has 2-pounds of pickles, 25-slices of cheese, and 2-heads of lettuce. Shirley, you should be able to finish at least one before dinner in #4.
4. Bacon Wrapped Meatloaf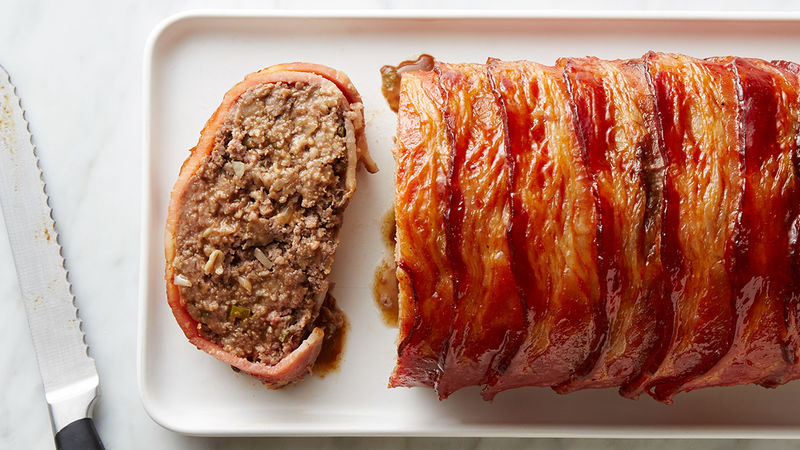 Chef Kevin Layton of Greer's Market in Mobile, Alabama just put your mom to shame! Why on Earth wasn't your mother wrapping her meatloaf in bacon before? Call her and ask, I'll wait…
Did she just make up some stupid excuse? That's totally something your mom would do. Head over to #3 to see if she's been effing up a Thanksgiving favorite.
3. Turducken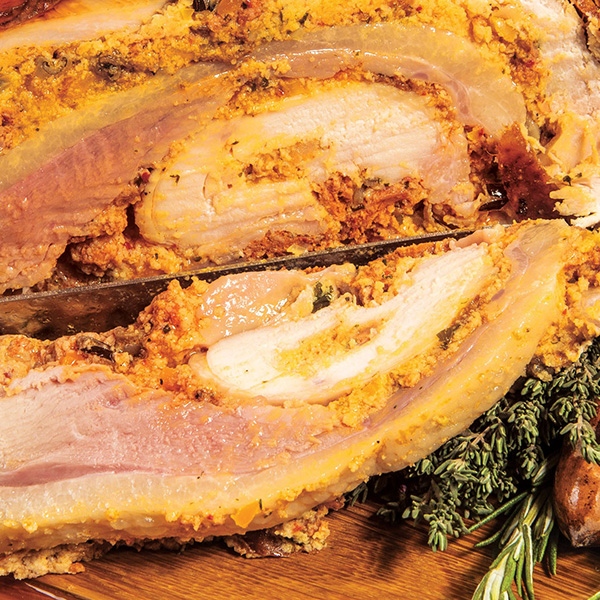 When they told South Carolina turkey was a "lean meat," the good people of the state decided to do something about it and added a few key ingredients to put some hair on your chest. With a stuffing consisting of chicken, duck, pork sausage, cornbread, and (regular) stuffing, your current traditional Thanksgiving turkey has now been officially rendered weaksauce.
2. Pizza Burger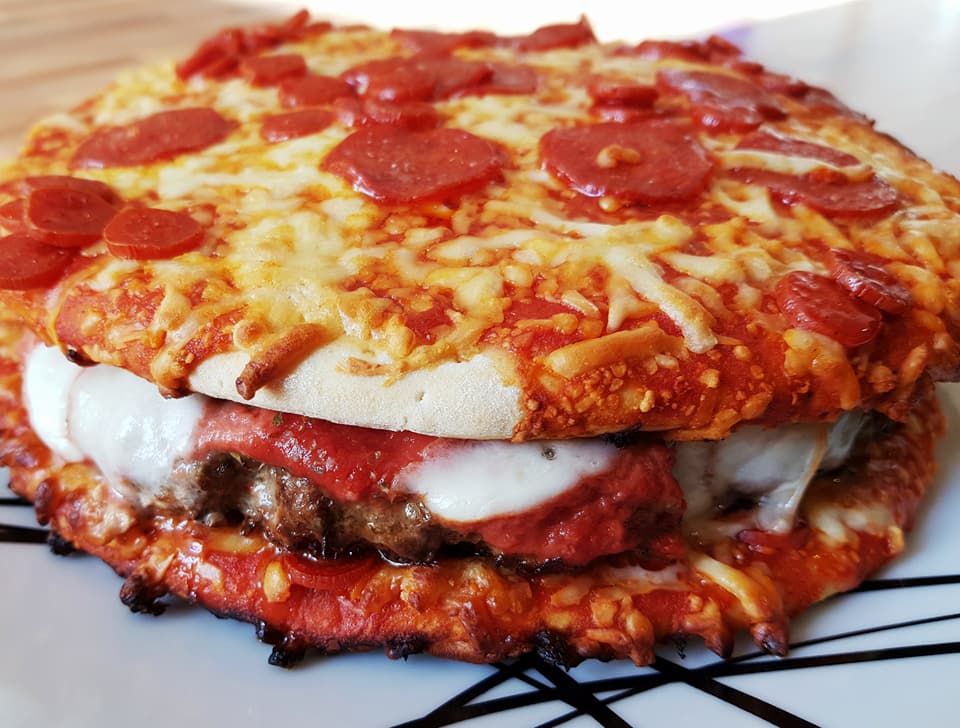 For all of those indecisive friends who can't decide on what type of heart attack they want, the answer lies within the two pizza pies. You can even get creative by mixing up the ingredients and toppings to show your bros how much of a renaissance man you've become. Please tell me you saved room for the desert in #1 or risk losing your man card.
1. Ben & Jerry's Vermonster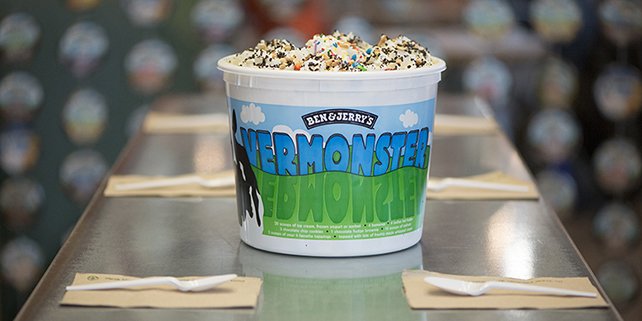 Can't decide on which Ben and Jerry's flavor to pick? The Vermonster gives you the option to choose up to 20! All topped with hot fudge, banana, cookies, brownies, and whatever else your little heart desires. You and your buddies are sure to end the meal with tremendous "broners" before going out to work on the next day's hangover.
WTR?
Well, if you're alive after that caloric avalanche of goodness, then congratulations, you're a man. You'll be a belching, farting, and possibly vomiting man, and some might call you a stupid man, but you've established your dominance, and discovered that your poor stomach can only hold so much. Do try and remember not to do this all at once Radasser's, but enjoy all the same.