Meet Elizabeth "Mimi" Haist
This is Mimi Haist. An 87 year old woman who used to volunteer in the LA laundromat she is seen in here. She got by on the tips left for her by the patrons of the laundromat.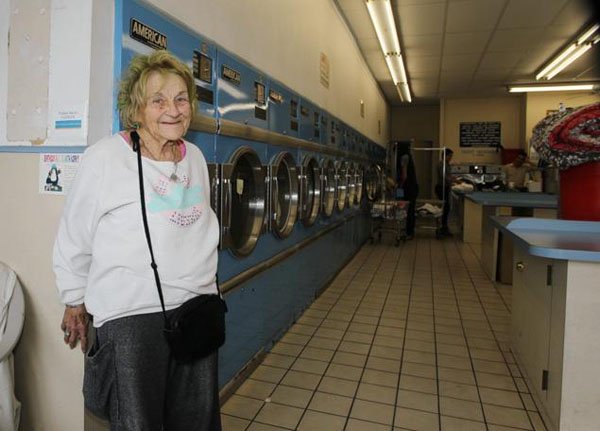 Now Mr. Zach Galifianakis
This is Zach Galifianakis. He was one of those patrons of the LA laundromat where Mimi worked. He met and befriended her in 1994 when he was still a struggling comic. With the success of The Hangover, Zach's life changed drastically and he lost touch with Mimi. That is until two years ago when he learned that she had become homeless.
After learning of Mimi's misfortune, Zach Galifianakis found her a one bedroom apartment which he pays the rent for. He also introduced her to Renee Zellweger, who furnished her apartment and buys her groceries. Here she is getting ready for a big night.
Zach and his date for The Hangover III premier in Los Angeles.
Zach has taken Mimi to the last two Hangover movie premiers as well the premier for his movie The Campaign. She says she is often mistaken for his "girlfriend."
Radass has a feeling that Zach has a special place in the "after life as we see it" whatever and wherever that may be. I am not only a huge ass fan of the work Zach does on the big screen but am now a huge ass fan of the person he his. I am sure he will keep up the work for what makes this world a better place. I love it when celebrities use their powers for greatness. Very inspiring. Zach, thanks for being you!!!