First off, let's get everyone's mind right when we're not stating that women belong in the kitchen and nowhere else as playthings for men and something nice to look at. Yes, a disclaimer is kind of necessary thanks to the current era being filled with a bunch of individuals that can't stand to see or hear about people having fun with something and need to label it offensive in order to make their point heard. So here are a few things we are saying about this subject, and if you get offended, that's on you, but if you're ready to just stare and possibly drool a little then let's do it:
A hot woman in the kitchen is a big fantasy of a lot of guys since let's face it, waking up in the morning to a hot woman cooking breakfast or preparing something for later is a good way to start the day. Better than Folger's, or at least close to it.
As a guy who does all the cooking in the house, I can't help but be turned on when my wife is in front of the stove or bent over looking at something in the oven. Yes, the kitchen can be a very erotic place since it does get hot and steamy from time to time.
If your girlfriend/wife likes or even loves to cook and doesn't worry about coming out to the kitchen in their underwear, then SHUT UP, because you are one of the luckiest sob's in the world.
Now, shall we continue?
The kitchen isn't a woman's only place in the home, let's get that straight
But it can definitely be one of the places where they're at their sexiest since I don't know about you, but something about watching a woman cook, whether they're in their delicates or not, is a huge turn-on that has nothing to do with a woman 'knowing her place'. Instead, it's something that's considered hot as hell if they want to do this and are ready to stand over a hot stove or a sink and simply contribute to the home. THAT is sexy, believe it or not, and whether they do it in their lingerie or not (it's appreciated if they do) a man should feel damn lucky that they have someone in their life that wants to share everything in this manner.
Besides, if you make her feel sexy in the kitchen then it's likely that she might want to keep up that sexy attitude wherever she is in the house, so long as she's in the mood though. Otherwise, it's bound to be sweatpants and sweatshirts. But if you think those can't be sexy, well, you might need a serious lesson in what can be done to make a woman feel sexy no matter what.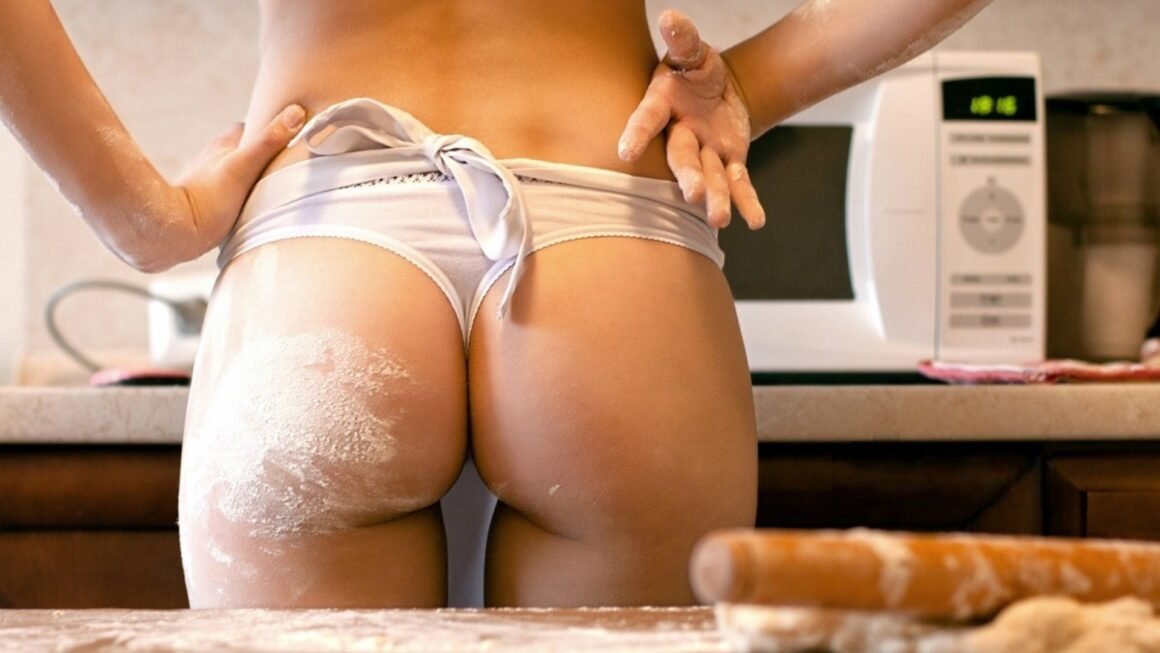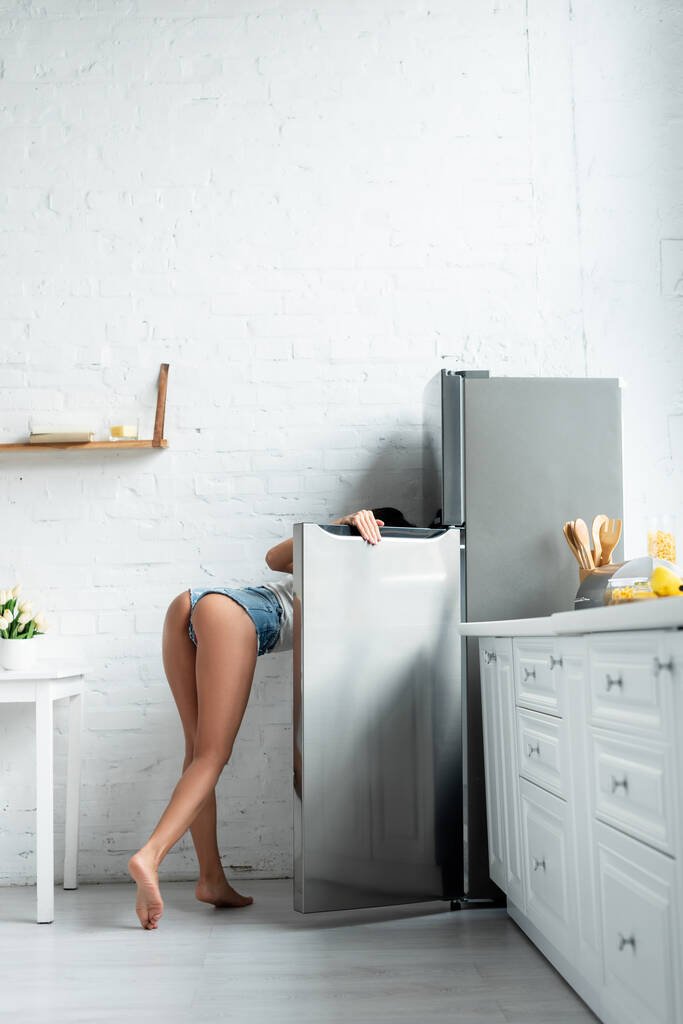 The booty is just the start.
It's easy to think that if your wife/girlfriend is in the kitchen and working on something that the first thing you're going to see is her fine booty, especially fine if she's doing something in her lingerie or underwear. It's a nice image, isn't it? It might make a guy want to reach out and grab a handful, or perhaps move even closer and wrap his arms around for a good morning embrace. Hey, I've done it, lots of guys have done it, but there's a way to do it right, which means avoiding any unwanted or unexpected injuries. Here are a few things to remember:
Go ahead and smack that booty, but make sure she's not cutting something or looking in the oven at the moment, since burns and cuts aren't all that sexy and they definitely don't lead to fun times in the next few moments.
Be aware if she's holding something that could break if dropped. If your significant other is especially excitable a gentle touch or even an announcement of your presence might be necessary before you go in for a standing spoon. Hey, the less messes the better.
Make sure she's in the mood. If she growls at the merest touch, just back away. The woman has access to implements that are both sharp and hard in the kitchen, just BACK-AWAY.
Otherwise, feel free to try to stimulate a bit of sex time in the kitchen, it might actually increase your love life just a bit since a bit of good play can be fun, if your partner is into it.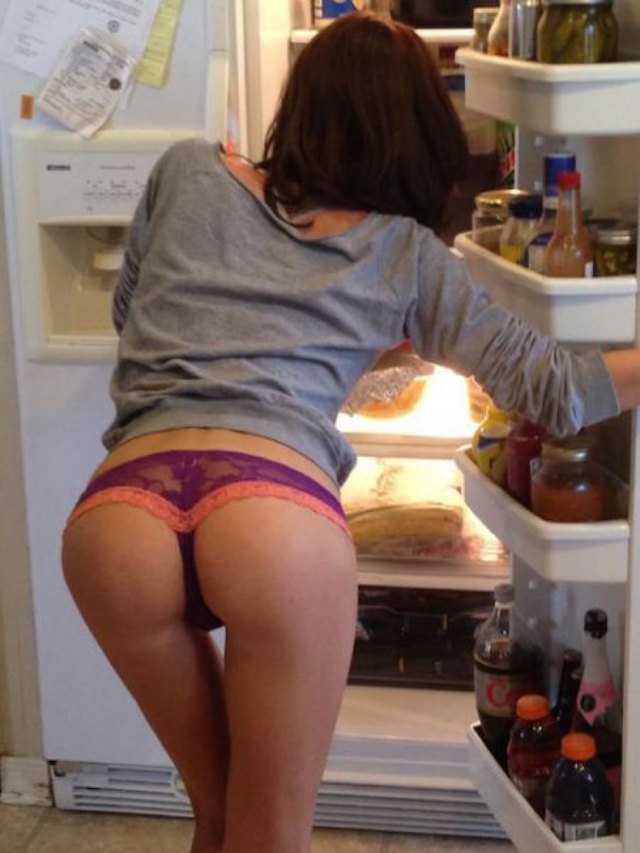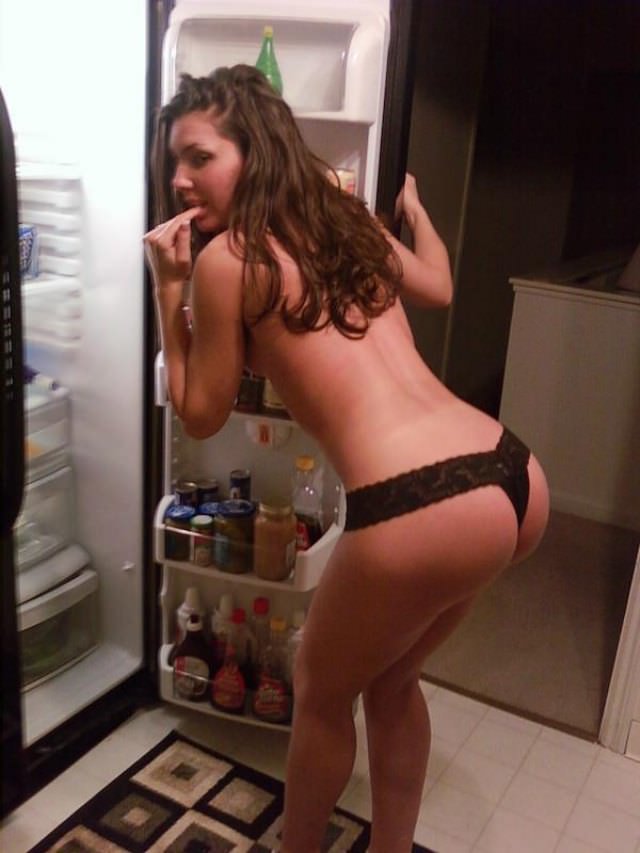 It's not so much that a woman is asking to be grabbed or caressed or handled with any amount of care when they show up in the kitchen in their skivvies, but it's definitely easy to be tempted to reach out and, well, show your utter appreciation for the gesture. Women do love to feel sexy, and they do love to be appreciated, so paying attention and giving them the type of response this would warrant is, well, easy. If it's not, then you might not need to wonder why you're alone, or why your woman doesn't want to do anything for you. Treat her right, hold her tight, and who knows, you could have a VERY happy morning.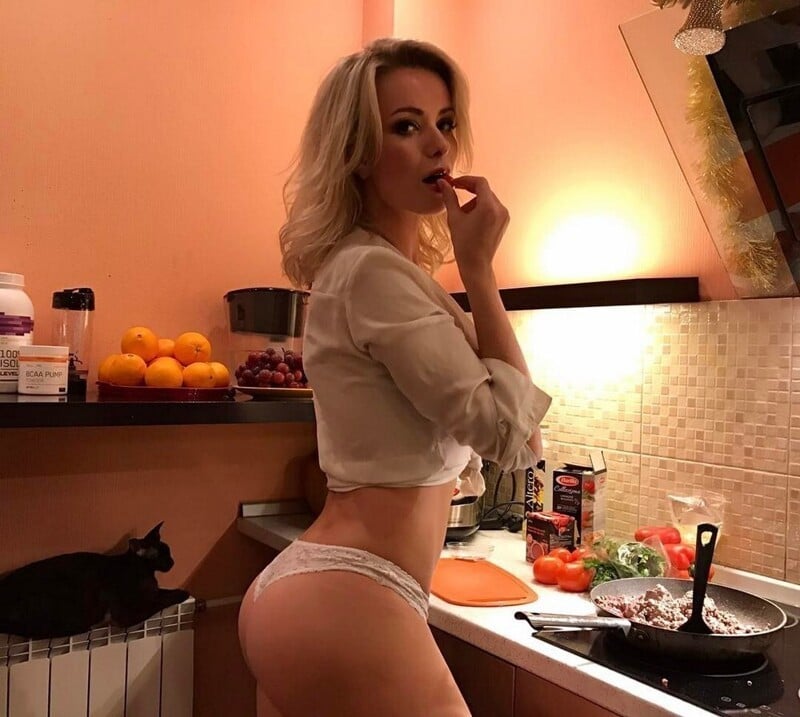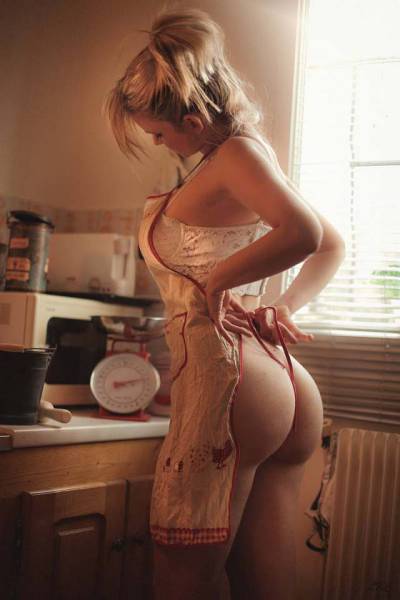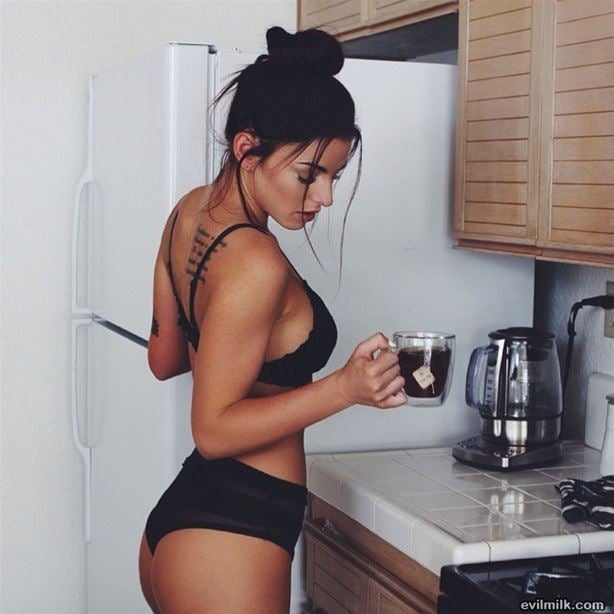 One thing that's easy to appreciate is that a lot of women tend that actually do find themselves in the kitchen now and then, or every day is that they tend to put their hair up. Now, to be honest, this is just a good idea since a lot of people don't tend to enjoy finding hairs in their food, but between you and me, there's something about a messy bun or ponytail with strands of hair hanging in a woman's face that adds to the sexy quotient and makes it even better.
I know, I know, a lot of women don't look like this when they're in the kitchen modeling for a picture or just getting a meal ready. But those that tend to get their boyfriends/husbands riled up in a way that's tough to explain since sometimes it doesn't take a face full of makeup and designer lingerie to get a fella ready for, well, you know. Instead, a quickly-made ponytail or hastily erected bun with dangling strands of hair in her face can make any woman appear sexy as hell, and yes, a lot of guys would agree with this since it's the truth. Ladies, you know what you do to us and for that, we appreciate you immensely.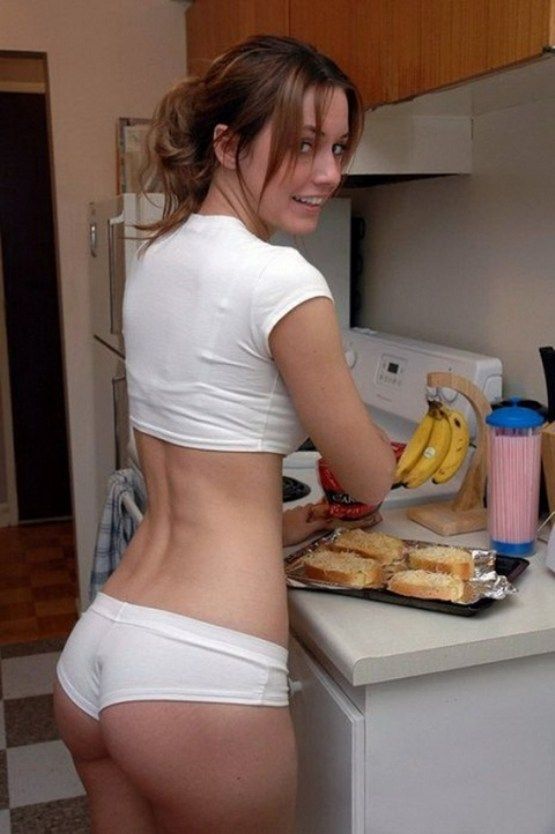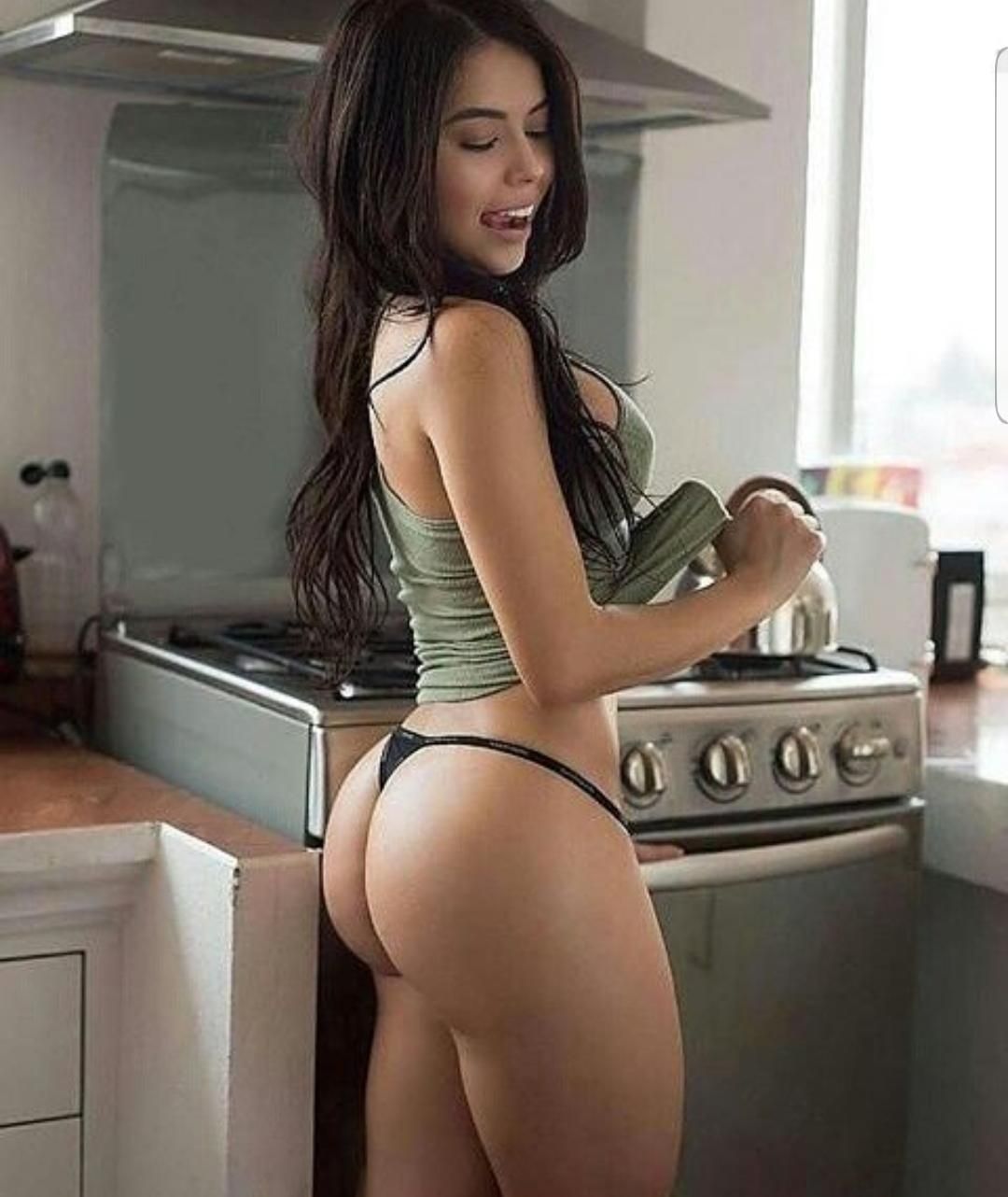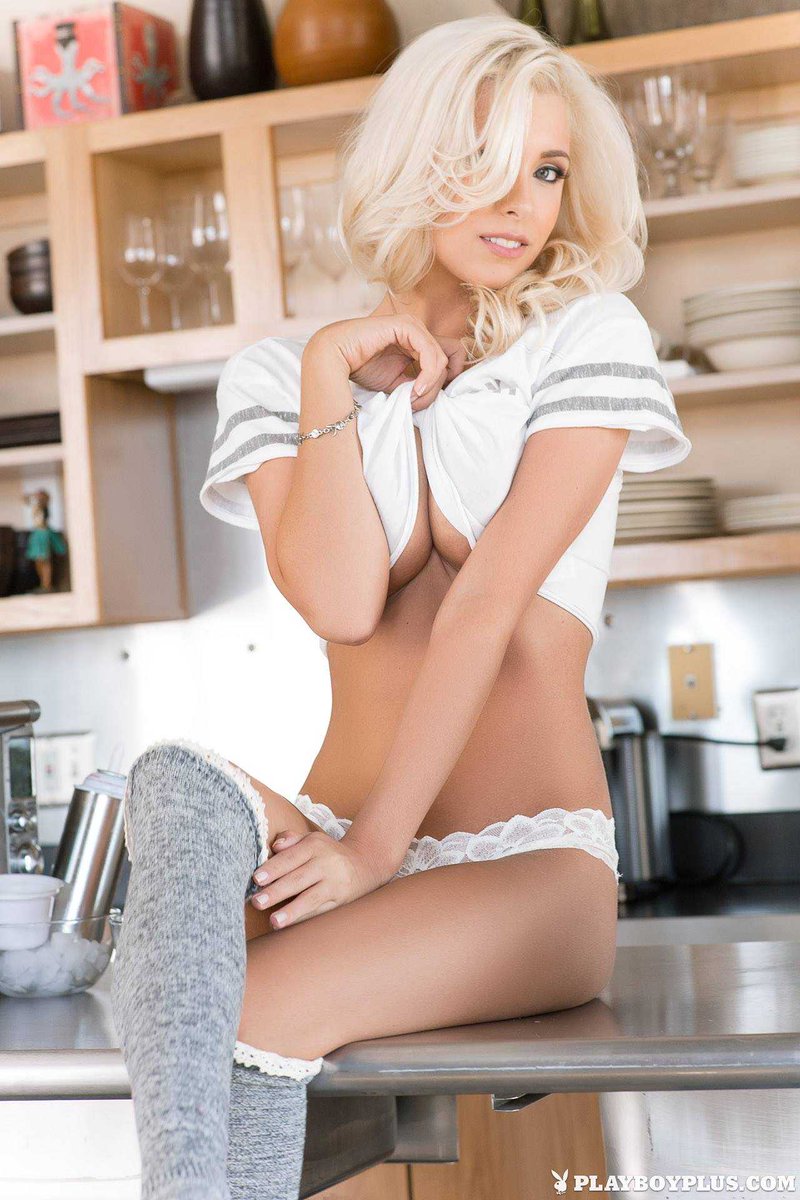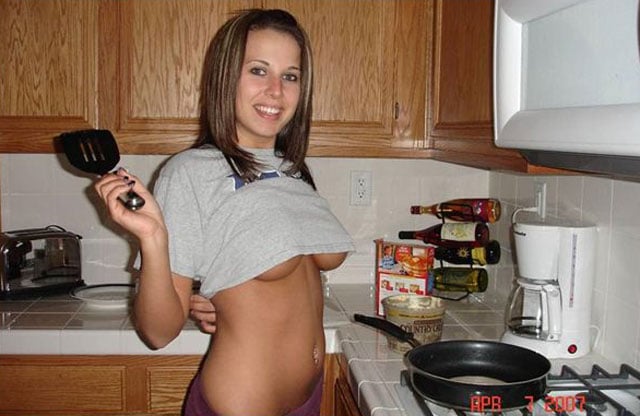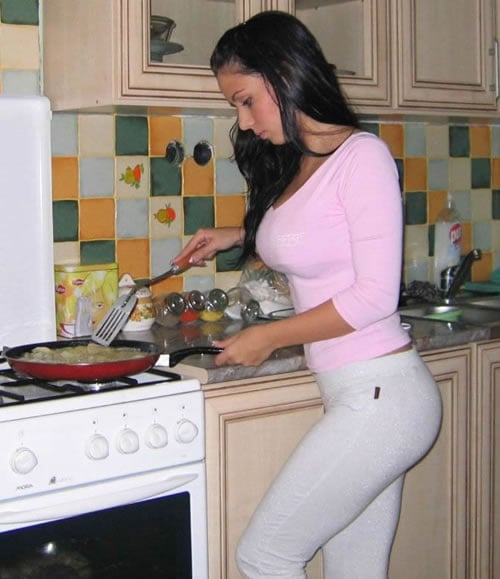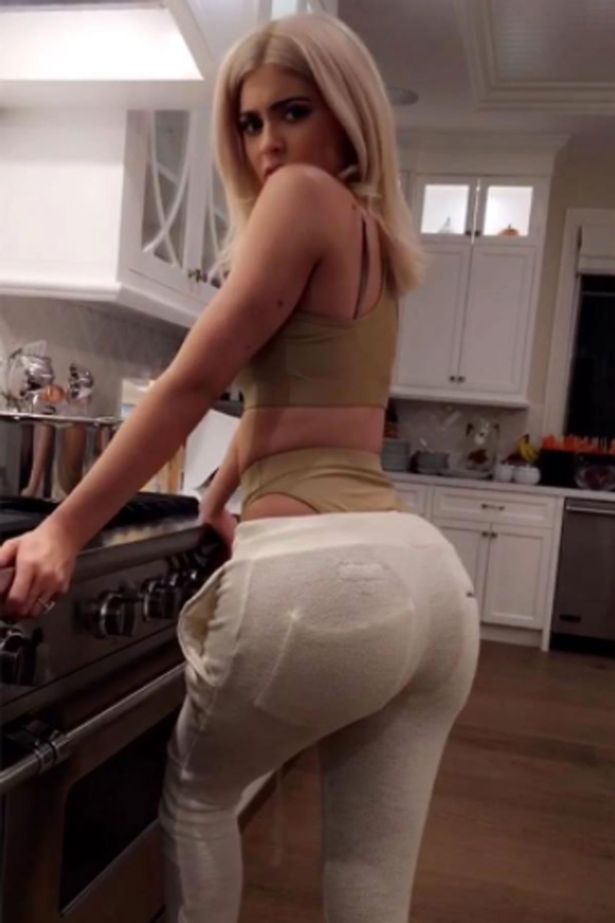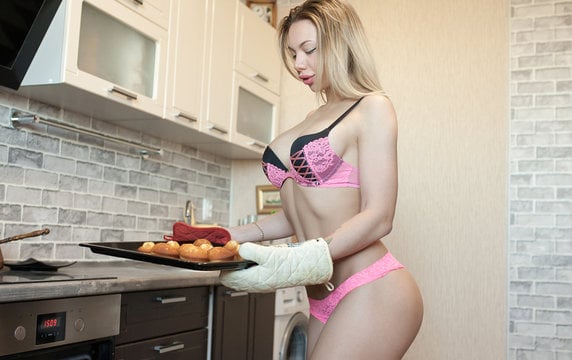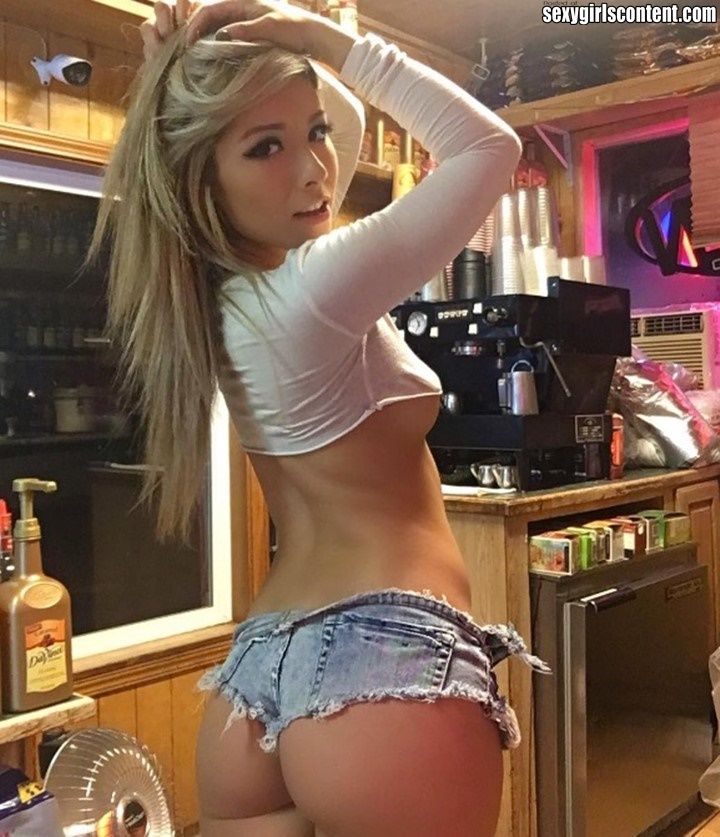 Here's to all the ladies that love or at least like to spend time in the kitchen, you're appreciated more than you know by the men that really know how to value your contributions.
WTR?
If you have to ask why that's Radass then huh boy, you need a serious lesson on what it's like to wake up to someone in your kitchen looking hot while cooking. But, just so you can get a better idea:
Hot women are ALWAYS going to be a part of Radass since we enjoy giving the ladies our appreciation.
Having someone willing to cook for you in their underwear is DEFINITELY Radass.
Maybe this will motivate a few guys to go out and find their own Radass moment that they can tell us about.
What do you think Radasser's? Does sound about right? We'd love to hear your feedback.