A lot of us have watched boxing, MMA, or some form of contact sport, right? There's almost always at least one or two people in the room that might think that the fighters on the screen, you know, the TRAINED fighters in the ring trying to pummel each other, aren't doing something right. Unless you're one of those people talking smack about pro fighters and how they have all this skill that they don't use, then you're likely the person rolling your eyes and figuring it's not worth the argument. The point of course is that the people who talk are usually the ones who couldn't fight their way out of a wet paper bag, but think that they know everything there is to know about fighting. That is, until someone calls them on their nonsense.
You might be asking how to do this. Well, it's not that hard really.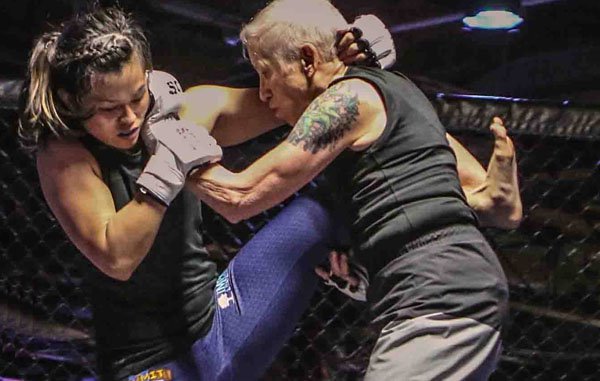 Professional fighters can destroy a streetfighter
It might be wise to remind your 'streetwise' buddy of this before they ever step in the ring with a professional fighter. The thing is, professional fighters don't always shy away from fighting average joes, since it can be a fun lesson in humility or a way to get in a short workout. Some pros might tell you to go to hell, others might bring a person in just to embarrass them, but the point is, if a streetfighter gets into it with a pro, expect a few things to happen, such as:
The pro won't make the first move. They'll want to move around a bit and take the measure of the other fighter. This is pretty common, since feeling out your opponent is smart, if only to see what they can do before the pro tips their hand.
Likely as not, the street fighter will get a little anxious and want to prove that they can take the pro down quickly and that street-fighting is a lot more vicious than professional fighting. There's usually a reason for this when you're in the street, where there are no rules, and anything goes. Inside a ring, the streetfighter no long has the street to back them up. Running is an option, but it's not the best one.
When something does happen, it's going to happen quickly and the streetfighter won't know what hit them. Depending on if the streetfighter goes hard or is tentative, the pro is bound to go easy, or try to knock the living hell out of the other fighter for the temerity of trying to bang seriously with them. Pros don't play man, they fight for a payday and for pride, not to waste their time with the wannabes.
Pros vs. Joes
There are a few good examples out there that people should take into account and watch a couple of times since they happen to be moments when average individuals, in terms of fighting, went up against trained fighters thinking that they were going to mop the floor with them, and ended up having to either run for their lives or be shamed in front of all those in attendance. Okay, so it's a little mean, but it's pretty funny too and it's a good lesson to anyone that might want to try this kind of thing. Here are just a couple of examples you should watch:
Charlie Zelenoff vs. Deontay Wilder
You've likely heard of Charlie Zelenoff and Deontay Wilder, since the latter is a pro boxer, while the former is, well, he's a professional goofball that thinks he's a boxer, or MMA star, but in truth is a mentally disturbed individual that thinks he's one of the best fighters in the world. The thing with Charlie is that he would come armed with his gloves, an extra pair for an opponent, and a person with a camera to record his 'fight'. Then he would ask someone to do some 'light sparring' with him, before proceeding to pummel the unsuspecting individual before they could get their gloves on. When he started communicating with Wilder though, Charlie decided that talking about his family and calling him out would be a good idea.
Yeah, it wasn't. Deontay would have gladly beaten Charlie down had Charlie not given up when he realized he was beaten. He kept running his mouth though, at least until Wilder chased him out of the room.
Bodybuilders vs Jiu Jitsu
Bodybuilders look tough, don't they? But on more than one occasion those muscles haven't availed them at all, as there are several videos online showing that unless a bodybuilder can use their greater mass, they're doomed to get choked or humiliated, or both. One such video showed a bodybuilder attempting to get a cheap shot in on a Jiu-Jitsu instructor before trying to shake his hand. You can imagine that the instructor didn't like this, as he quickly took the bodybuilder's back and, holding onto his midsection with just his legs, the instructor proceeded to slap the offender silly until he finally tapped. But that wasn't it, oh no. A woman half the instructor's size, also skilled in Jiu-Jitsu, then took the bodybuilder up on another challenge, and succeeded in putting the musclebound opponent to sleep less than a minute into their confrontation.
So, what have learned kids???
Do NOT challenge professional fighters
Great, you're a fan, you like to watch, and you enjoy a good fight. But before you feel the need to comment just get this thought clear: you are NOT a fighter. Unless you happen to be in training for a fighter, in which case most fighters won't talk smack unless it's for ratings or just because they're a bit too cocky for their own good, then don't feel the need to challenge people that could put you down with one well-timed hit. Enjoying a pay-per-view and imagining what you'd do in a given situation isn't the same thing as being a competent fighter. Settle yourself down and just enjoy the fight.
WTR? (Why's That Radass?)
No matter how tough you THINK you are, a trained fighter will, hopefully, remind you that you don't want this. Trust me, you DON'T want this.