It's been just 12 years since the Detroit Lions moved to Ford Field, a stadium constructed for the NFL team in downtown Detroit. But the Pontiac Silverdome, the Lions' old haunt, has quickly fallen into disrepair.
Head to the @UniquelyDetroit Facebook page for a chance to win a seat from the Silverdome! http://t.co/daqLNCHgO2 pic.twitter.com/rZfwmeRQ9w
— Uniquely Detroit (@UniquelyDetroit) April 29, 2014
So this is what the #silverdome looks like since the roof collapsed… #football #lions pic.twitter.com/oyBASRaLYy
— Mitten Addiction (@MittenAddiction) April 29, 2014
Atwell was at the stadium as fans came to pick up seats they had purchased as memorabilia. An online auction is planned for mid-May, selling off the stadium's assets, from a scoreboard to toilets, a popcorn machine to a sauna. There's been extensive damage to the Silverdome's roof, shown in chopper footage from WXYZ-TV last year and in the tweet below.
How would you like to own one of those blue stadium seats from the #Pontiac Silverdome? http://t.co/ZtWavZPCQx pic.twitter.com/WMYvs3YvkI
— The Oakland Press (@TheOaklandPress) March 19, 2014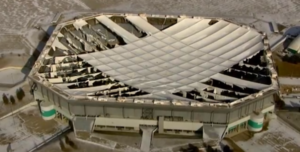 Only a couple decades ago, the Silverdome was home to some of the Lions' most memorable moments, like when Barry Sanders became the third player ever to rush for 2,000 yards or more in a season:
The Silverdome was built with public funds in the 1970s. Though the Lions left for Ford Field in 2002, the site was a venue for concerts and other events in years after. In 2009, Canadian developer Andreas Apostolopoulos' company Triple Properties Inc. purchased the property for $580,000 — a fraction of its $55.7 million cost.