This Mom Wears Nothing But Rubber Gloves When She Cleans
How would you feel if you came home and your mom was downstairs cleaning the kitchen butt naked? Little uncomfortable to say the least, amirite?
Now how would you feel if you found out your mom is cleaning other people's houses wearing nothing but rubber gloves?
Well, ask 25-year-old Emily Nikols.
Now, I'm sure you're thinking isn't this some weird fetish for creepy Internet dudes? Well, you wouldn't be wrong, but Emily says that her clients – who are nudists themselves – are totally professional..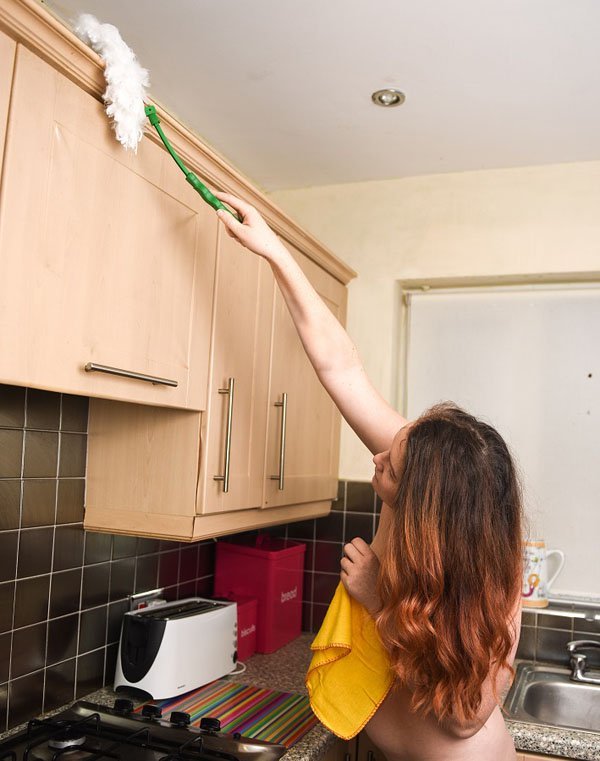 "Before my first job I was a little bit nervous but it was completely OK," she said. "The clients are naturists so for them it is completely normal to be naked, and that makes you feel normal and comfortable."
Just sounds like a dream come true, doesn't it?
Now, most women these days would freak out about someone other than their significant other seeing all their flaws out there in the open. But not Emily.
"I had a baby nine months ago and I'm sure there are people who would think, 'oh my god' at my body. But I'm not there to be a sex object – so it doesn't matter if I have a few stretch marks on my hips or a baby belly," she said. "Everyone has a naked body under their clothes, I'm not sure why we're all so uptight about it."
Fair enough.
"It's not about being sexy or about your own body, it's about making a naturist person feel happy and comfortable," she said. "They don't care if you are young and gorgeous or 65 and wrinkly, it's about being comfortable nude."
I mean, talk about confidence.
Company director Laura Smith said: "The majority of clients are male practicing naturists from the nudist community. They pay for this service so they can get someone who has the same views and the same beliefs. Our cleaners are from all walks of life and we are completely open in terms of age and body type, although we don't like to take on people who are very young. Our terms which the clients must agree to state clearly that we do not offer anything else, and never to ask this of our cleaners. We want people to understand this is not sexual – we do not do anything else than just professional cleaning. There has to be mutual respect."
Seems fair to me. Would you sign up for this cleaning service? Or a better question. Would you be cool with your wife doing it?