If you've gone around trying to find out what will work with a keto diet and what won't you're not alone, since plenty of people have been doing the same thing. The good news is that no one on the keto diet is going to starve since, well, folks are either going to go off of it by cheating since no one wants to go without eating, or they're going to find other options, which many places have been giving them for a while now. We've already gone over how one can find keto options at fast-food restaurants, so it should only be natural that an actual sit-down restaurant would be able to accommodate a keto diet, right?
But then you tend to think of how some of these places slather on the sauce and the carb-laden extras that aren't all that great for a keto diet. As most folks should know by now, a keto diet doesn't mean cutting out carbs entirely, but it does mean regulating their intake in order to allow the diet to work, much as it's been described when talking about the use of keto gt supplements. One has to let the supplements do their work, and that means laying off the massive intake of carbs that they might have enjoyed for so long.
But how possible is this at the Olive Garden? After all, quite a few of their dishes deal with pasta, which is pretty much all carbs, right? Well, you're not wrong on that count, but there's a lot more to the Olive Garden than pasta, and there are a lot of other options that you can look at while you're there.
It's not all pasta and breadsticks.
It's easier than you might think to stick to your keto diet at Olive Garden, as they do have a lot of options that are low carb and high fat. Some people take their low carb game to the extreme and might try to nearly eliminate their carb intake as with the Atkins diet, which is also low-carb but is seen as more extreme in relation to keto. But if you're looking to keep your carb intake down to 50 to 25 net carbs, there are options at the Olive Garden that you can select. A person is still bound to find the need to limit their carb intake throughout the rest of the day since the Olive Garden is more of a treat than a daily allowance when it comes to a diet.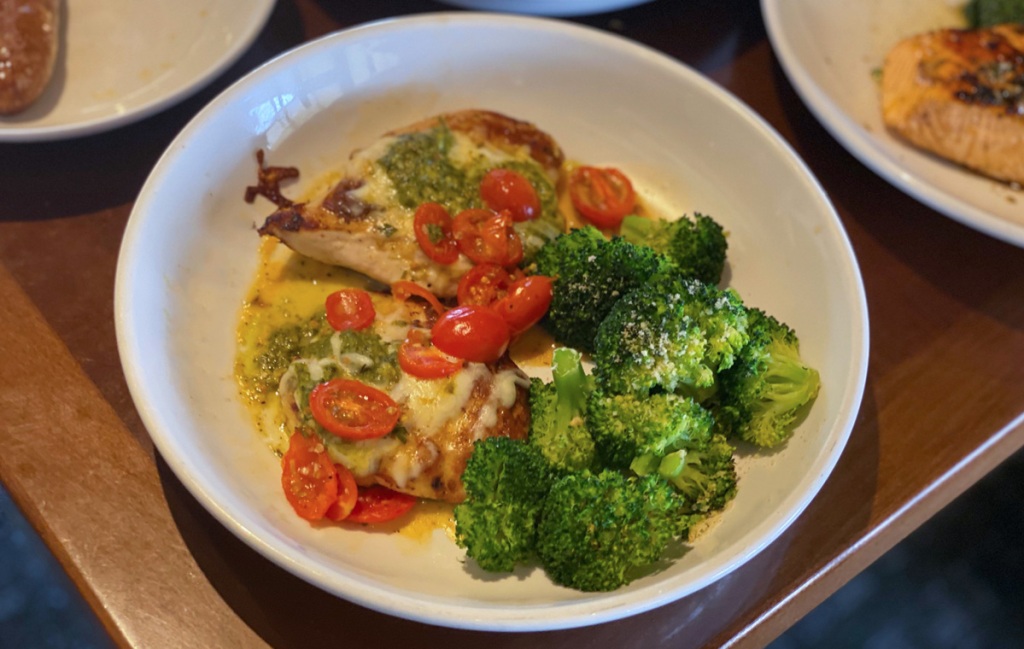 But with that said, here are a few meals that you might consider when walking into the restaurant:
Soup or salad: The minestrone, pasta fagioli, and zuppa toscana all have a good deal of carbs in them, but they're also among the best that the Olive Garden has to offer in terms of taste and the fact that compared to many other things they are fairly low carb and can fit with a keto diet. While the minestrone and pasta fagioli are definitely higher in carbs and aren't the best options, they're still capable of filling one's stomach while netting them the carbs they might desire for their daily allotment. The only way one could go wrong with the salad, which is typically quite delicious, is to include croutons, which are easily taken out. The only other part that might be problematic when it comes to carbs would be the dressing, but even this is manageable.
Grilled chicken margherita: Depending on how much you normally eat, this could be two meals, and it is quite satisfying since it does contain around 14 grams of carbs, but the fact is that apart from a couple of elements of the meal it is a keto-friendly and low-carb meal that you can fully enjoy.
Herb grilled salmon: Much like the chicken, this is a great sourec of protein with only a few carbs to worry over since such a meal is easy to season and serve with minimal need for anything that might resemble a carb.
6 ounce sirloin: While typically this would come with pasta, a person can easily ask for no pasta and substitute a side dish, which will take the carb count down in a big way. Meat dishes are usually quite easy to count on whe nit comes to sticking to a keto diet.
There's no need to cringe when walking into the Olive Garden, as the idea that you'll be leaving with the need to start your keto diet all over again is one that you can put to rest. There are plenty of options that you can take advantage of without having to stick to water and lettuce during your visit.
There are always options.
It's true that the Olive Garden is definitely heavy on the sauces, breads, and pasta because this is one of the biggest allures of the restaurant. If you're on a keto diet it's going to happen that some folks will wonder if they can even step into the place without feeling as though they're cheating on their diet. But one important thing to remember is that you're the customer, and the restaurant is bound to do what it takes to keep you happy. Whether it's because they fear a bad review or because they simply want to make certain that each guest is treated as kindly as possible, those at the Olive Garden are bound to do what it will take to keep you happy. A few things to remember would be: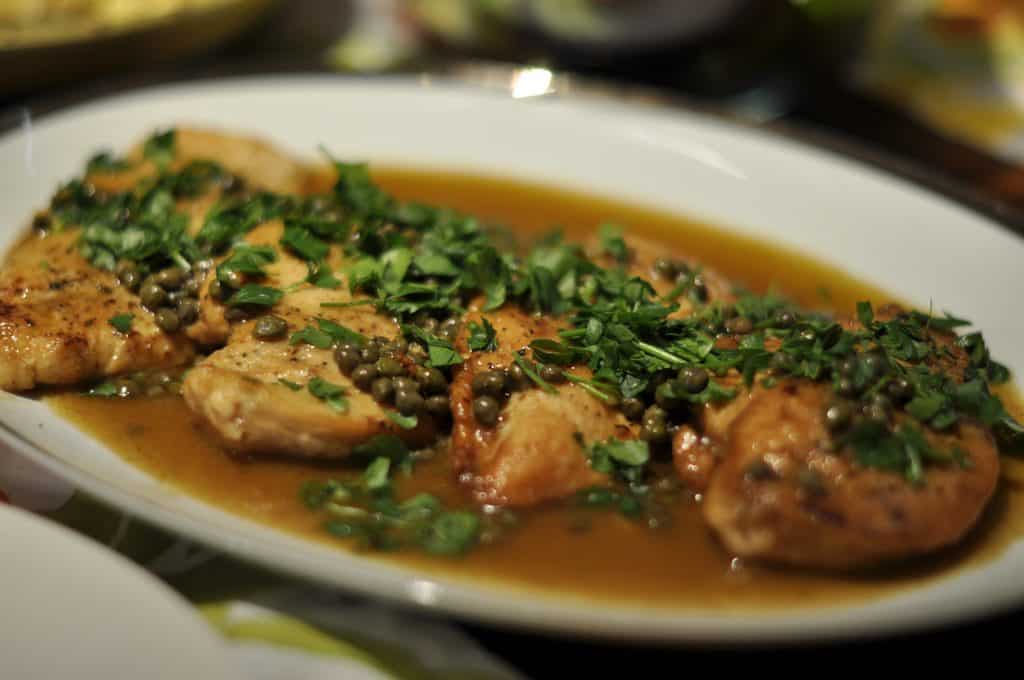 Make an entree out of your salad: It's not too much trouble to ask for a side of meat to go with your salad, as this is just one of many requests that many restaurants receive on a fairly regular basis. You're not the first dieter they've seen, and they've often learned to adapt.
Add more protein to your soup: The average soup in this restaurant doesn't have as much meat as you might think since the costs of the ingredients tend to vary depending on what goes in the soup.
Substitute your pasta with vegetables: This is a very simple request that the restaurant should have no problem with since again, it happens more often than people tend to think. It might come with a surcharge for the mild inconvenience, but it likely won't be that much.
Most places are starting to realize that catering to people who are on specific diets is still profitable since by offering meals that are modified or are keto-friendly in the first place, they still manage to satisfy their customers and make money at the same time.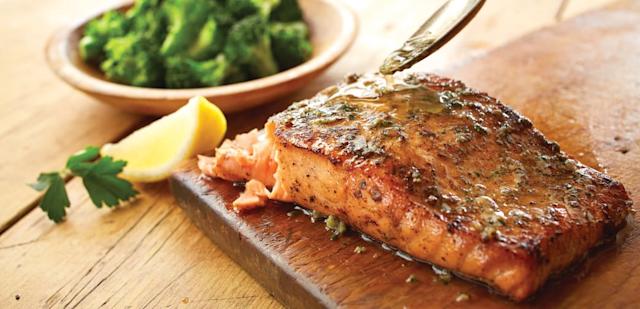 It is polite to remember that the restaurant is not responsible for your diet.
Believe it or not, some people are of the mind that walking into a place like this while on a keto diet means that people need to be receptive and respectful that they're attempting to lose weight and still enjoy themselves at the same time. This is where I would gladly roll my eyes at anyone like this and tell them that they came to the wrong place to be overly critical or to have any lofty expectations that the people around them would give any thought to their diet.
One thing that anyone on a keto diet should be able to get through their head is that servers and chefs at the Olive Garden will work with their diet if they're respectful enough to make their dining preferences known, but the moment that anyone expects preferential treatment or anything out of the ordinary simply because they want it is the moment that a person has lost the whole idea of what a restaurant is about. Here are a few things to remember when walking into an Olive Garden while on a keto diet:
Yes, you're paying for service, but not for obedience: The servers and chefs don't know you're on a keto diet unless you tell them. And when telling them, be respectful, since there's a good chance that you've caught the employees on a bad day or are simply rubbing them the wrong way if you decide to be snippy, picky, or otherwise difficult. You're paying for their time, service, and for your meal, and nothing else. It's wise to remember that just because you're on a diet and have certain needs, no one will care unless you're polite enough to let them know. If you can do that, then most people will gladly work a little harder to keep you happy.
If a mistake is made, be polite about it: You might find a crouton in your salad, or an order might get screwed up somehow and you could find a plate of pasta in front of you when you expected vegetables and meat. Be kind about it, let the server know about the mixup, and they'll switch it out and fix things. But being an ass because you're on a diet is a good way to alienate your server and possible inspire them to avoid you as much as they possibly can. Be kind to those that are handling your food, it's worth the extra effort.
Remember, these people are helping you to enjoy your experience and stick to your keto diet. Don't piss them off.
WTR?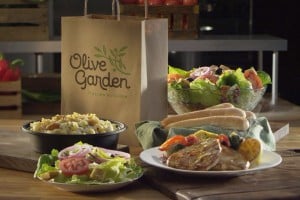 We're always here to help out when people need guidance or if they need a bit of cheering up, or even advice when it comes to a certain type of diet. We might not know everything, but we're willing to help the Radasser's out there with whatever they might need when it comes to health, happiness, and just having fun. That's always going to be radass.