You wouldn't believe what happens sometimes.
Well, if you go to the gym that often you might, but there are plenty of stories that kind of have to be experienced to believe. Otherwise, they become anecdotes that people might enjoy but are more or less stories to anyone else. One would probably think that the gym would be the last place that a funny story should be happening since comedy and weights don't always go together unless it's part of a skit with fake barbells and wooden or foam weights that people can't hurt themselves with as easily. But, like always, people would be amazed what other folks are capable of doing when they're intent on being as dim-witted as possible. Some stories are kind of interesting, but others make a person wonder what in the world folks might be thinking, and why they were thinking of it when they were working out. For example:
Learning how to use the equipment is kind of a must when visiting the gym.
"I smacked my head into the bar above the lat pulldown on the weekend. Everyone saw – it even made a ringing noise! Pretty embarrassing." – Wendy
"I was working out on a machine which lifts your whole body, except I forgot you have to add resistance to the weights. It suddenly pulled me up off the ground and I got stuck. Because it was a 24-hour gym, I was stuck there for 40 minutes before someone else arrived. That was the last time I went" – Molly
It's easy to believe that this is one of the most prevalent mistakes made when attending a gym. You'd think that people would read the diagrams that adorn the machines or possibly ask someone. But that would be simple, and a lot of folks don't want to do simple when they're out and about unless, of course, they can pull it off without looking like a noob. There are other moments in the gym when people tend to lose their heads, be it in a home gym or a professional space where there are far more people.
If you're new, ask someone what to do.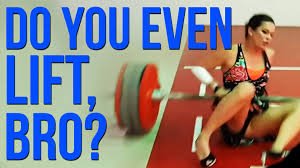 You wouldn't believe how many people actually make their way into the gym thinking that they're going to be able to start lifting and see gains and results within a short amount of time. I mean, some of the lifts are pretty self-explanatory, right? Even the ones that aren't are bound to be easy enough to pick up, yeah? Some folks tend to build themselves up in a way that makes it hard to believe they haven't permanently injured themselves yet, since the stories below are enough to make a person wonder how these folks get from their bedroom to the front door without a serious accident.
"The first day I walked into a gym, I mean first day, completely new and stuff, I didn't want to look like a complete idiot, right? So I watched what people were doing and decided I could do that. I mean, it was just lifting a big piece of metal with weights attached, right? Well, yeah, I tried bench-pressing 135 lbs. on my first day. I only weigh about 154 lbs., and the bar almost crushed me. I almost ran out of that place after being helped up, and I didn't show my face for the next two days." -Marlene
"I've never been a big weights person, I've always walked and ran and did yoga and stuff like that. I've kept in decent shape, I thought. Then I went on an elliptical and nearly broke my ankle, don't ask me how. All I know is that my foot went straight when the pedal went up, and down I went. I was embarrassed as hell, but I didn't want to show it. My ankle hurt like hell, but I finished my workout on a stationary bike." -Sherryl
"My brother, he's a gym rat, always told me that a lot of lifting was mental and only a small amount of it was physical. I thought I could go in with that mentality and imagined it was easy. My brother's such a dick, he laughed at how sore I was after lifting as hard as I could for thirty minutes."-Gordon
It's easy to laugh at someone who has no idea what they're doing in a gym, especially when they don't want to take the time to ask someone what the hell they should be doing. In case of injury though, at least make sure they're okay before you continue to laugh.
Eating in the gym is typically a no-no, plus it's not that smart.
When you're working out it does matter what you put into your body, but there are those individuals that can eat just about anything and not gain a pound. Yeah, a lot of us don't like those people, not really, but kind of, since some folks can down a bag of chips and a case of soda and b ready to go workout for a couple of hours, while some of us can look at a chocolate shake and feel our ass jiggle for days on end. But when it comes to the gym and food, there aren't a lot of people who are willing to forgive your little indiscretions.
"For real, this dippy b***h brought in a bag of Chex Mix and a Fresca and was sitting there on the stationary bike going slow as hell. She wasn't really fat or anything and she wasn't super-toned, but the rules for the gym were no food and no drink, other than water, on the workout floor. A few of us tried to remind her and she said she knew. Entitled much?"-Stacey
"I worked out with this guy from college for a full semester and after that I found a new gym. He wasn't a slob or anything and he wasn't a bad guy. But his locker always smelled like potato chips and Cheez-Its. This guy would do an hour to two-hour workout most days and then pound the junk food like it was going out of style. And he never gained a pound as far as I knew! I just had to get away from the smell, since sometimes the smell was just too much."-Brady
For the love of God, ask someone.
There are times when a machine can be used for another purpose that isn't listed, since targeting certain muscle groups are what the machines are for, but some folks have found different ways to make them work. But then again…some people are idiots.
"During my time at X College, I spent time as a personal trainer at a local health club while I was trying to get my degree. I didn't know everything and had to learn a lot of stuff, but there were days when I had to remind people to use the machines correctly to avoid injury, and these were people that had been coming to this club for YEARS. I mean, how hard is a biceps curl machine to use?"-Josh
"I actually came upon a guy that was using a piece of equipment to 'stretch his inner butt cheek' as he put it. Long story short, this guy waddled out of the club that day."-Richard
Remember, every piece of equipment in a gym is set there for a specific purpose. If you can make it work safely and efficiently in another manner, and don't end up hurting yourself or damaging the equipment, then go for it. Otherwise, just do as the instructions say to do.
Unfortunately, the gym isn't exactly dummy-proof.
A gym can be decked out with as many safety options as is humanly possible, short of wrapping everything in bubble wrap to maximize exposure to anything dangerous. But there are only a few ways to stay safe at a gym, and one of those happens to be the idea of using the equipment and the weights as they're SUPPOSED TO BE USED. It's not a dictatorship within a gym, where a person has to do what they're told or risk being booted. But to avoid any serious injury or being barred from the gym for being a dumbass, it's wise to pay attention and do what's expected.
"I was in the gym one day and was irritated to see a bunch of teenagers, probably 16 or 17, playing around on the treadmill. The employees weren't doing anything, and these guys weren't bothering anyone else, so no one did anything. I didn't have my phone on me that day, otherwise I would have caught some of the most hilarious images as they ramped up the speed on the treadmill and tried to match their own speed when they jumped on. It was better than watching the news to be fair."-Lois
"Sometimes I want to just shake my head and walk away, and then sometimes I want to shake the people that do stupid stuff and hear the last marble rattle around in their skulls. One day though I couldn't help it, I had to walk out of the room When a young woman trying to bounce on an exercise ball let one rip, right before the ball exploded beneath her. I was laughing so hard that people in the weight room could hear me in the locker room." -Jenny
Accidents can be prevented, but sometimes gales of laughter are harder to prevent, especially when people do such stupid things.
Yes, it does matter how you dress in a gym setting.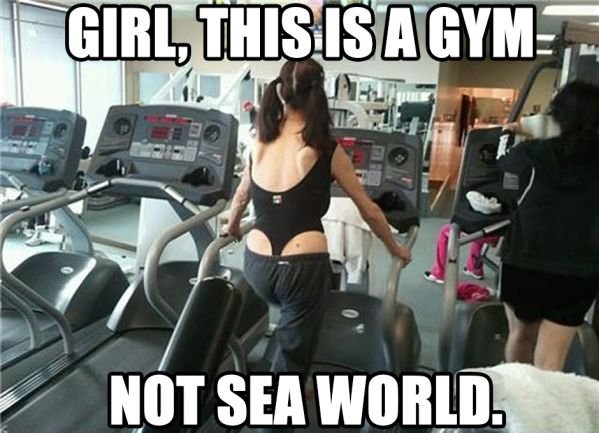 As much as possible, keep anything loose either tucked in or well away from the equipment since plenty of stuff in the gym will snag anything that happens to brush up against it. This is why you tend to see a lot of people wearing spandex, or at least wearing clothing that won't hang on them.
"We actually had a rule in the club I managed that there couldn't be any excessively loose clothing worn in the weight room. One joker had to get a haircut one day when his ponytail got caught in the pulleys on the cable machine. I don't know how he did it, but he wasn't hurt thankfully. He did leave the place with a shorter hairdo, and we had to spend the money to get the machine cleaned since his greasy ponytail got jammed into the machine. It was nasty."-Linda
"One day this lady came in wearing a sundress and decided to sit down and start using the leg press. I'm not sure how it happened, in fact I don't care, but she stormed out with a skirt that was half the size of her dress. The machine was fine, but she threatened to sue for damaging her property. Needless to say, she didn't come back."-Abby
Avoid injury and embarrassment. Don't wear loose clothing to a gym unless you arrive or leave in it before or after changing to workout.
WTR? (Why's That Radass?)
It's pretty simple, if you go to a gym, or if you work out at home, be safe, be smart, and try to be efficient. This means know what you're doing, ask someone, and for crying out loud, don't snack on a whole bag of chips before or after a workout. Getting in shape is up to you, and the more you do to ensure your own success, the better your results will be.