Is it bound for glory or another horrendous flop?
In 2017, two men had a plan to bring together a group of musicians and several supermodels to drive the idea of a music festival that would be one of the greatest parties of the century. The unfortunate truth is that despite all the buildup and the lead-ins to the festival, it turned out to be one of the biggest scams of the 21st century and an event that powered untold memes for a while before it was picked up by Netflix and Hulu. Even after several years have passed, Fyre Festival is still considered to be one of the most duplicitous moments in recent history since Billy McFarland ended up looking like one of the most crooked individuals in the world. But now, it would appear that Billy is back, and he's ready to give Fyre Festival another go. Not only that, but he's pushing the idea with a musical attached to it as well.
So are people going to give him another chance, or will his plans crash and burn like before?
It was celebrity-driven, kind of.
Billy managed to get the attention of several notable celebrities the first time around since it sounded like a good idea. Ja Rule, whose fame was kind of tough to justify at times but was still solid enough for many people, has already stated that he won't have anything to do with the upcoming festival. It's fair to think that Ja already felt like a big enough fool when the first festival went down in flames, metaphorically speaking. Not only that but his reputation was tarnished at least a little when it came to his involvement, though it does appear that by denying as much as he could, he saved his name from total annihilation in the media. But how many celebs will jump on board this time around? It's easy to think that at least a couple will find their way into Billy's company.
Are enough celebrities going to take this risk again?
Without trying to sound insulting, it does feel that a few celebrities managed to risk their credibility by placing their names and likenesses to Fyre Festival. But as it was noted, most if not all of them escaped unscathed since apparently, despite being closer than anyone to the festival, they didn't know enough about it to really feel the stain of Billy's fraud when all was said and done. But knowing what he's already done, it does bear wondering whether there will be anyone willing to step into this fracas again to see whether or not it can really happen. The upside could be that if Fyre Festival 2 does make an appearance and go off without a hitch, those who involve themselves will be able to say that yes, it's for real. But despite the fact that it could happen, there's a huge risk when thinking about the first time this was proposed. There's a risk when Billy is involved, which should say enough.
When fantasy gets its butt kicked by the reality it hurts
The saying that when something sounds too good to be true, it usually is, didn't appear to apply to this festival the first time around. It's unfortunate, but a lot of people, especially those who are able to raise money for festivals such as this, are a little too easy to fool with the promise of a good time, especially if it deals with privileges that not everyone can enjoy. When fantasy gets its butt kicked by reality though it's kind of amusing for those who don't get these privileges. It's petty for certain, but it's a reminder to many that having the opportunity to enjoy one's money in this manner doesn't mean that one is safe from fraudulent activities. Many felt sorry for those who were stranded at the festival with no apparent way home, but a lot of people still felt that it was foolish to trust a festival that gave so little solid information and turned off the comments on its site when people started to flood it with concerns. Wouldn't that be the definition of a red flag?
Are enough people going to believe in this idea again?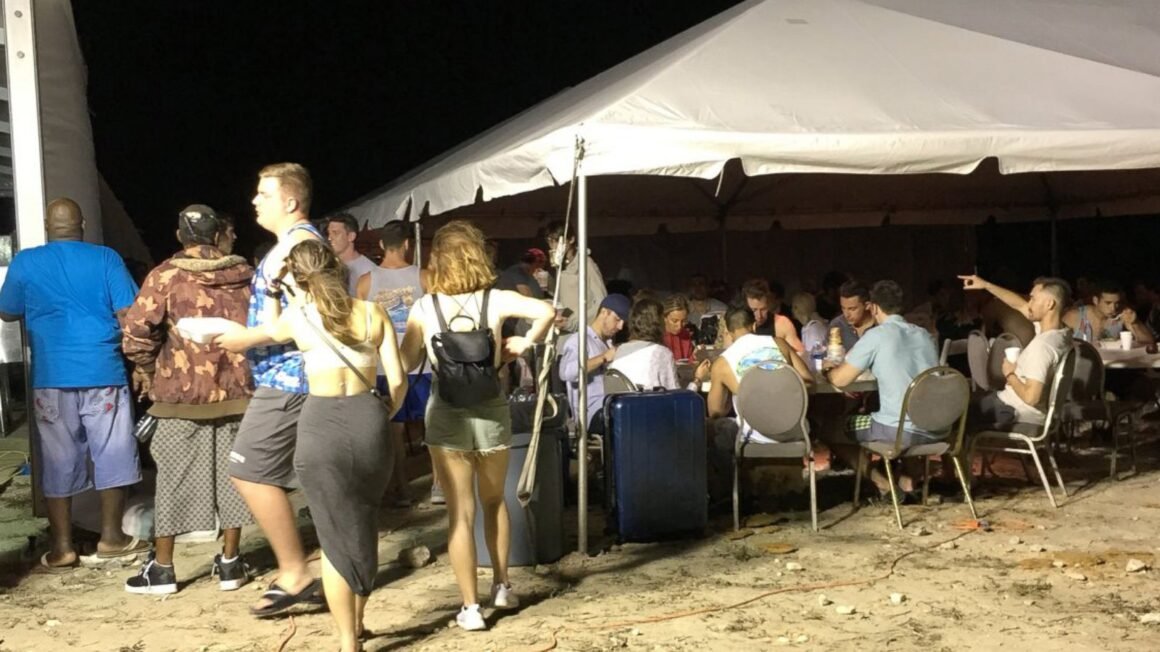 One thing that can be said is that if a large group of people are willing to give to something like Fyre Festival 2, it's proof that people simply don't learn from past mistakes. There's something to be said about having faith that things will turn out okay, but there's also a saying that was coined a long time ago, something about how a sucker is born every minute. The point is that it's tough to trust in something that was such a huge flop, to begin with, and turned out to be a terrifying experience for some folks. But thinking that anyone could trust this again is even worse since it will mean that people are willing to live solely on hope without the knowledge gained by past experience. Hey, it wouldn't be the first time.
How many bridges can be mended to make this work?
It's a known fact, or at least easy to research, that Billy McFarland owes a lot of money to those who he defrauded for this festival. One can only imagine how Billy felt when surrounded by the sea of disgruntled individuals who had paid more than was necessary to get to a camp that was little better than a bunch of refugee tents and waterlogged mattresses. Somehow though, it feels safe to say that McFarland felt that he was still in the right and was going to be able to talk his way out of it. At this time it feels easy to state that the bridges he's burned can't possibly be mended. But with enough money and enough smoot-talking, which he's been slick with for years apparently, anything can happen. Whether it will be enough to make this work has yet to be seen though.
It's not impossible, but it feels improbable
If Billy can go through the proper channels and actually raise the money that's needed for the venue, and if he can run the website properly, and keep from lying to people, then it's entirely possible to make this happen. The festival will still cost a bundle for those who want to attend, and it might not be as celebrity-driven as before. But good times in the sun, hopefully with actual accommodations and quality food service, is something to strive for when trying to entertain people and make money. So, as far as saying yea or nay to Fyre Festival 2, it's easy to say that yeah, it could happen. But there are a lot of what-ifs in this equation, and a lot of it has to do with whether people are willing to believe it's worth it after the first time.
WTR? (Why's That Radass?)
Throwing a music festival isn't a simple thing, but it was made to look like it could happen back in 2017. For all his talk and sense of flare, Billy McFarland appeared to forget that to become a legend, one kind of has to have the substance to back up the flash. If Fyre Festival 2 is going to happen, he'll need to make sure that it has legitimate backing, and a solid structure to build on.