If you're going out to eat, or you're ordering in, you NEED to learn this rule.
Let's get one thing straight right now, servers, cooks, and anyone that works in a restaurant setting aren't out to get you from the start. But if you decide to f around and find out, you might change their minds very quickly. It's not exactly a right to go out to eat, especially since you're not doing the work of cooking the meal, you're not plating it to make it look delectable, and you're sure as hell not running the place to make certain that everything is going smoothly so that YOU, the customer, are as comfortable as can be. The sad thing is that too many customers don't realize this since the mentality appears to be that since a person is paying for this privilege of being served, and yes, it is a privilege, they have the right to treat people like garbage. After reading this article it's a big hope that people will think twice, as they should be doing already.
As someone that spent a good 11 years in the food and hospitality industry as a host, a busser, a server, a bouncer, and a bartender, I've seen thousands of people come and go, and while a good number of them were moderately friendly to absolutely wonderful, the memories of the worst customers walking this good earth are the ones that stick out. It's funny how that happens, yeah? I mean, you would think a night spent serving a gorgeous flight attendant as she slips you her extra room key after asking what time you get off would stand out…Pardon me, I got carried away. But seriously, some of the worst customers usually stand out since they tend to give the worst headaches and demand the most of those that they decide to torment. And yet, employees tend to get payback at times in ways that these customers don't tend to understand, or even suspect. This is why being a dick to a server, or a bartender is a very, VERY bad idea.
It's not the goal of any food service employee to be vindictive, cruel, or even willing to harm their guest. They're not there to be on guard for the worst guests that come through the door; this isn't good business and it's not what they're trained to do. What they are there for is to serve their guests as best they can and make certain that they're as happy as they can be. The unfortunate part comes when the guests don't want to be happy and decide to nitpick about anything and everything they possibly can. Granted, mistakes are going to happen, and there are going to be legitimate gripes that pop up now and then. But so long as the employee doesn't lose their cool (it happens) they can usually hold their head by saying that they tried and that some folks are simply determined to be assholes. Yes, that happens too, and there's not much a person can do to stop a person who's determined to remain unhappy.
But barring the outright negligence of a bad employee, here are a few things you should think about before you do them.
Sending your food back comes with a lot of risks.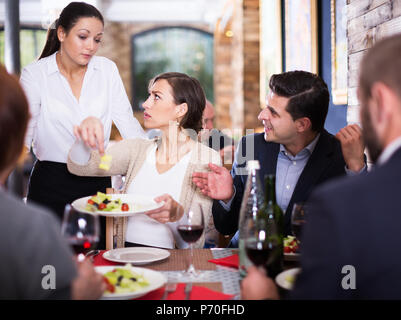 Having been in the food industry in the past, and seen several different things, sending food back was actually one of the least shocking things to occur. Hey, sometimes a meal isn't cooked right because the chef isn't having a good day, a replacement chef doesn't know the system, a server mucked up a salad, and so on. But what customers should be wary of is sending a plate back more than once, since this will tend to irritate the hell out of a chef, as well as the server that has to get it in the neck from the customer. Keep sending that plate back and you can bet that the chef is going to start thinking of ways to 'enhance' your dining experience. Trust me, the movie 'Waiting' is way more realistic than people want to think.
Oh, that's cute, you think that's bad….You have no idea.
Seriously, have a real complaint if you need to make one.
Another trick that's very amusing unless you're the one that has to deal with it is the customer that will eat half to all of their meal and then complain about it. You've got to figure that if someone doesn't like what they're eating that they'll make comment and send it back, yeah? Not quite, because some folks will 'suffer' in silence before deciding that it's not sitting right, and won't sit right until they get their meal comped, or paid for in other words. This is one of those tricks that can cause a bit of trouble to be fair since calling the person a liar is a bad idea, but so is giving in to them. Some folks, especially these days, will threaten a bad review. But thankfully it's easy to laugh at such things given that one bad review doesn't close a restaurant.
Another great trick is the bug or the garbage in the food.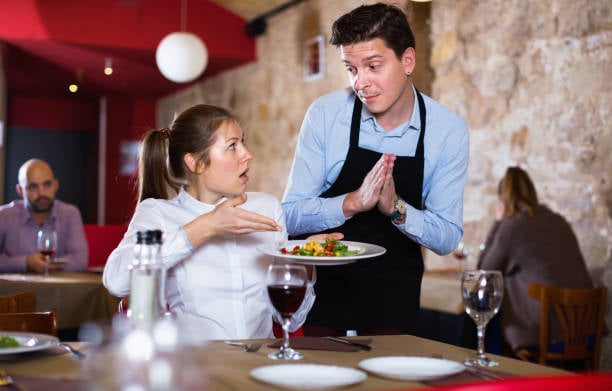 Believe it or not, and it's not hard to believe, some folks will put stuff in their own food to get a free meal. Why do this? Hell, I don't know, and I've seen it happen a dozen times or more. But this is why a server needs to check the food after it's been plated, and a manager to at least check the food now and then to maintain the quality. But how a wadded-up paper towel can be found in a salad, or how bugs that weren't present during the entire cooking process and the trip to the table suddenly appear, is amazing. The lengths that people will go to at times to get a comped meal are beyond insane, especially as it doesn't make one damn bit of sense. They want a free meal, right? There are easier ways to do it, and ways that servers know all about. So you want a free meal? The garbage is out back, bon appetit.
Tell people how to do their job, they just love that, wink wink.
Even if you've been a restaurant worker at one time or another, don't bother telling people how to do their job. To be realistic, if you've ever worked the job, then you SHOULD know better since you likely didn't enjoy people that did this to you when you were wearing the apron and delivering the food to those who wanted to remind you how to hold a tray or put down a plate, or how things should have been run, and blah, blah, blah. What's worse is that those who have never been a restaurant worker in their life telling a server how to do their job is kind of like an entry-level employee telling an expert how they can do their job more efficiently. You can imagine that people don't like this, and might actually ask the chef to make your order a 'little special'. Trust me on this one, anything you do or say on the main floor is going to travel back to the kitchen in one way or another. And woe to those whose server is well-liked by the chef…
It's not a bad thing to ask questions about your order.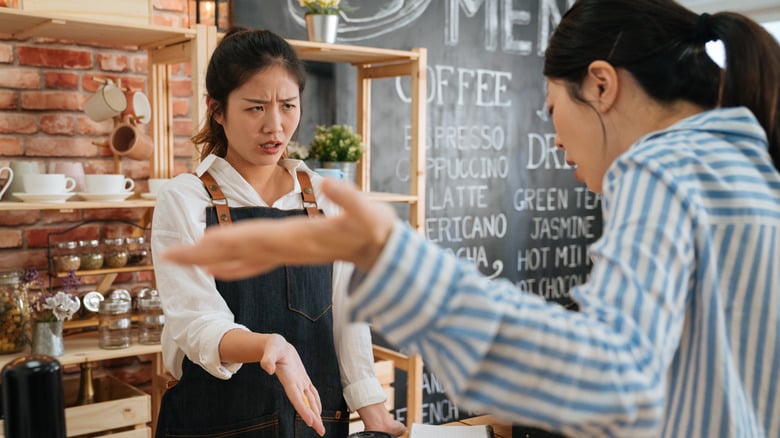 There's nothing wrong with asking questions, but the thing is that you should probably think of doing it while the server is taking your order, not when it's too late and your order has already been delivered. The server is there to answer your questions and take care of any concerns, but they're not there to take your abuse, no matter what the money you're paying with might be telling you. There's nothing to be gained by arguing with the employee when you didn't make your wishes known ahead of time. Keep in mind that the servers are being paid a minimum wage and hoping for great tips as they cater to your every need. They're not there to deal with a customer's bullshit unless they're insanely nice and don't mind having their pride stepped on occasionally.
Just don't be willfully difficult.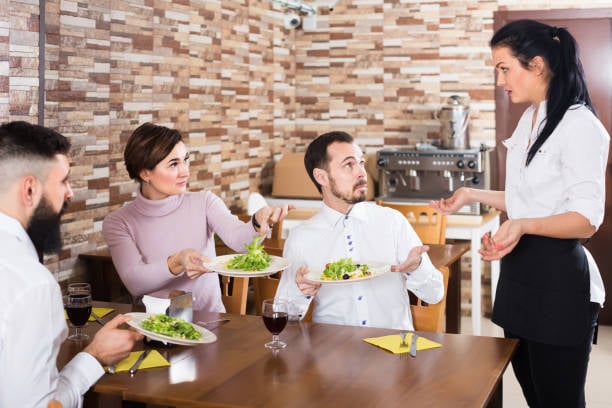 The customer is not always right, but the fact is that any eating establishment is going to make a few mistakes now and then. The customer's job is pretty easy, they sit back and enjoy the privilege of being able to pay for their meal, and have it brought to them, without having to do any of the work. But apparently, some folks feel that this isn't enough, and will take out any and every frustration they have on the servers that are doing them a favor. It's one thing when your server is a douche and doesn't care about the needs of the customer. But for those that want to be nightmare customers, one thing should be on your mind no matter how thick it might be: restaurant staff knows how to get back at you without causing any serious damage, and plenty of them will be laughing when that 'chef's surprise' is delivered to your table.
WTR? (Why's That Radass?)
Walking into an establishment is easy, respecting your server is easy, and enjoying a pleasant dining experience is easy. The Cardinal Rule is simple as well since it reminds people to not f around with those that handle their food. Trust me, I've seen things, disgusting things, hilarious things…things that would make you bleach your eyes and never set foot in a restaurant again. But hey, enjoy.