Leave It To Florida To Ruin Faith In Humanity
As America's trashcan, Florida is unsurprisingly the leader in redneck atrocities. This story only adds to that fact.
We've all heard of those stories from women who fake pregnancies to keep their men around. You gotta get them to commit somehow amirite?
Sometimes they find out you're a pathological liar and break up with your psycho ass. But sometimes your lack of moral compass prevails and the scheme works. And this woman, who listed an ad selling positive pregnancy tests, will help you make it happen.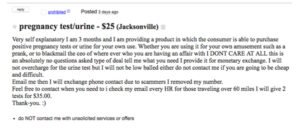 For a measly $25, you can fool your boyfriend into marrying you with a fake pregnancy test. And if you're driving more than 60 miles, you get a killer deal with 2 for $35!
Though the ad was removed, it was going towards a good cause. The money she made ($200 a day) is going towards her college fund. I wonder if she's majoring in Business. It's a pretty genius idea, but for obvious reasons, it's also pretty screwed up.
If you ever listen to The Woody Show on 98.7 FM, you'll know they highlight the freaky things people post on Craiglist during their Craiglist Freak Of The Week series. And I mean there are some real weird creeps on there. From women looking for men to suck on their lactating boobies to men looking to "fill you up with air tight penetration," it doesn't disappoint.
Unsurprisingly, a LARGE majority of these posts come straight out of Florida.
So as if Craigslist wasn't sketchy enough, this Florida post is making me question all of humanity.