It's brutal. It's weird. It's pounds of sweaty, muddy testosterone, ready to kill for the ball. Calcio Storico is all that and more.
Anytime that weird and dangerous sports from around the world make a great comeback in the mainstream arena, we can't ignore it – especially when it oozes war and inspires the need to fight. My fellow Radasses, this is not a soft story, since we're talking about a custom that's been going on in Florence, Italy for centuries. Calcio Storico is a preserved tradition that gives us a tiny taste of what gladiators must have done, with a minimal body count.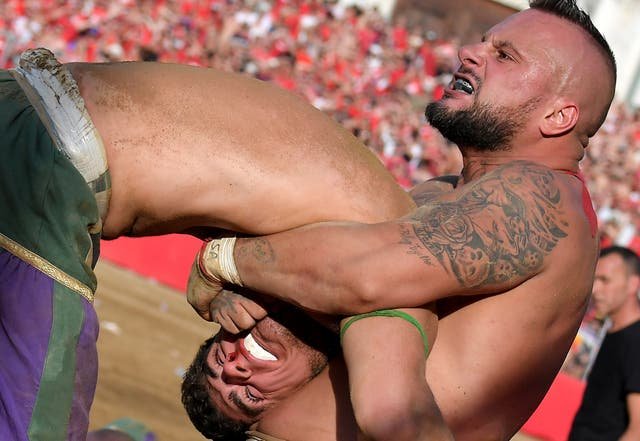 The rules of the game are kind of brutal.
Imagine the movie Fight Club set on a field and you'll have an accurate glimpse into what Calcio is about. It might translate to soccer in Italian, but the level of aggression goes way beyond what you might be expecting. In the scenes of what looks like Fight Club set with raging, blood-thirsty fans, we see something that has Calcio (Italian for soccer) in the title, but seems more like a brutal, MMA, rolling-in-mud kinda take on it. Yes, the participants are holding a ball, but they seem ready to slit each other's throats to get it to the opponents' side and score. Well, let's not get carried away – they're not using weapons. However, pretty much everything else is allowed.
The rules aren't really that hard to grasp, since the fun takes place on a sand-covered field surrounded by fans. Each team has 27 members, making 54 of them in total, and one ball. The match lasts 50 minutes, and to make the ball go into the other team's net, they can do anything. Fistfights, scratching, tripping, wrestling, roundhouse kicking, Bruce Lee type of shit – everything is allowed. And they go in hard. Even though it seems like there are no rules, there are a few. To make it fair and square, when the fight starts, men go one-on-one, so you won't see a crowd of raging men jump on one dude. That adds some, dare we say, class in this game. If you're gonna drive your elbow into someone's ribcage, roll in the mud, or receive punches, it will be from one enraged Italian at a time. Seems legit. However, punches and kicks that can be fatal are prohibited, so technically, you can't die by playing the game. Not anymore, at least. Hey, Fabrizio, is that an eyeball you're holding in your palm, or did someone kick you too hard in the nay-nays? Just kidding…maybe
A couple more rules are worth noting. If the team misses a shot, the opponents get half a point. Also, the fighting and blood spill has a purpose – once two guys get into a punch-and-kick-fest, the guy who gets dropped needs to stay on the ground until someone scores a goal. That's another way to stay 'stay down b****!'.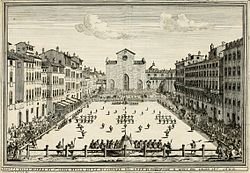 History of Calcio Storico
Dating back to the 16th century, Calcio Storico (also known as Calcio Fiorentino) is an early form of football, as the English like to call it, and it is a one-of-a-kind fusion of soccer and rugby after we multiply the violence by 10. It's kind of obvious that the Renaissance men loved to pick a fight. And, because it's thought of as a type of gladiatorial sport, we can't neglect one difference. While gladiators fought in front of imperators, Calcio Storico was a game that rich aristocrats played (source: Wikipedia https://en.wikipedia.org/wiki/Calcio_Fiorentino). The crème de la crème loved to get down and dirty, kicking each other's asses for sport. Isn't the Renaissance amazing?
The game was popular and hot until sometime in the 17th century when it was set aside, only to regain its popularity in Mussolini's Italy in 1930. Even in the 20th century, these matches resulted in serious injuries and deaths, but the rules have been changed so no one can die on the court anymore. That kind of kills the whole vibe as most people might agree.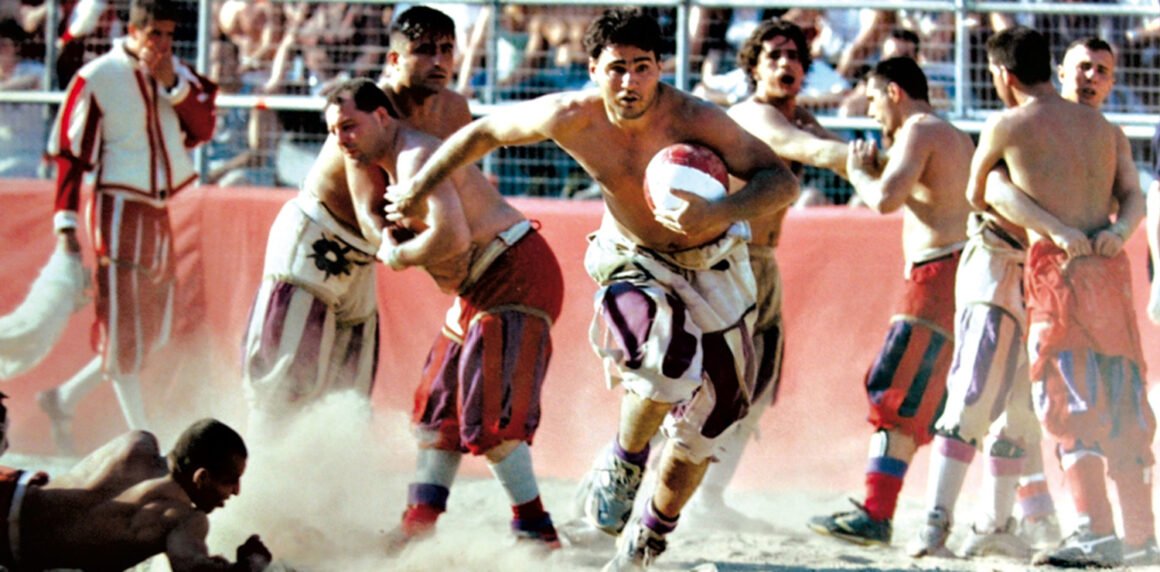 What Kind of People Play the Game?
While, yes, there are tattooed, typical bad-guy types on the playing field, many men who take part in Calcio Storico are average Italian Joes who have their professions, families, and boring daily life. Not only that, they get a dangerous, combat-type alter ego (cue the Fight Club references again) when they get on that field once a year, but they do it for pride and to preserve the tradition. They don't get paid to get beaten senseless, scratched, all dirty, and sweaty. They do it for the history.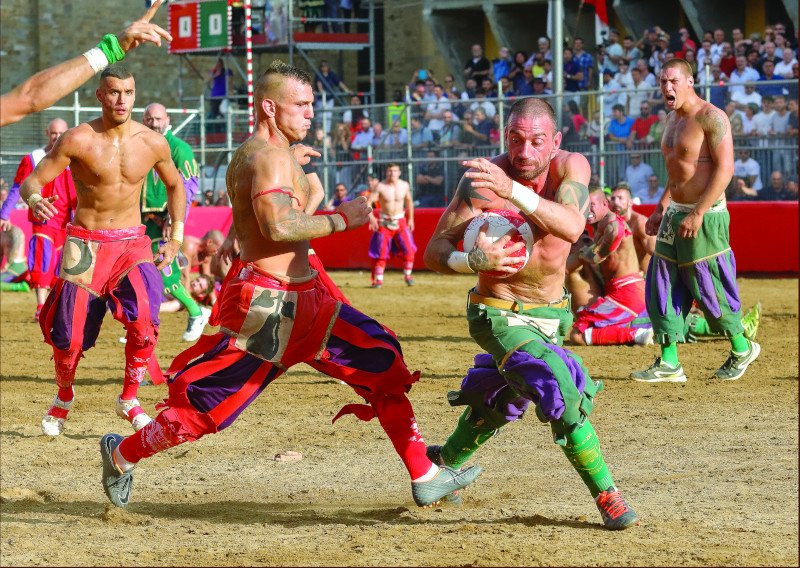 The Verdict: Is Calcio Rad or Nah?
Based on all the brutality and the violence, the amount of sweat, testosterone, and rawness mixed with history, pride, and tradition, our Western, American asses would say – this game is rad. Abso-freaking-lutely. Would we watch this blood-spilling madness live? Let's just say Florence has become a fun place to visit post-COVID. Would we play it? We think we need more training for that because a member of this team might really lose an eyeball.