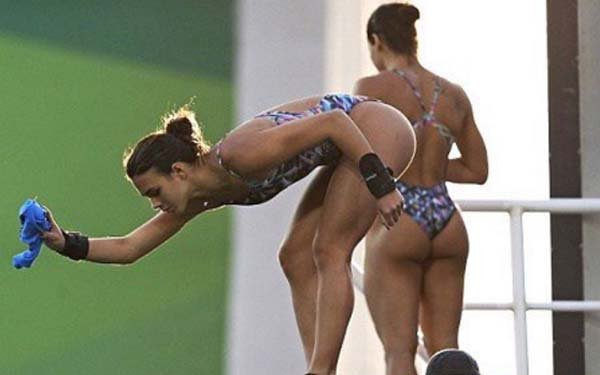 This Brazilian Diving Duo is About to Become Famous
Despite coming in last place in the women's 10-meter synchronized diving event last Tuesday, this Brazilian diving team is going to become the most famous divers from the Olympics. I mean, how do you not instantly want to read this story with a headline like that?
Giovanna Pedroso, 17, was kicked out of her room in the Olympic Village by her partner, 20-year-old Ingrid Oliveira. Oliveira gave her the boot so she could have a late-night sexfest with Olympic canoeist Pedro Goncalves. Pedroso wasn't allowed back in her room as Oliveira and Goncalves had a "marathon sex session" that lasted all night.
Brazilian Diving Duo Split Up After One Partner Has "Marathon Sex Session" With An Olympic Canoeist. (1)
From the NY Post:
"After the Olympics, I will focus on my individual," she told Brazilian newspaper O Globo. "It's good because I will not need to depend on anyone. Then I will be able to improve and evolve more." Goncalves didn't comment on the sexcapade, telling GloboEsporte, "My personal life, I do not speak about."
I get it would suck to be kicked out of your room. But I remember being 17 and 20-years-old. Finding something to do so your friends can hook up is part of life. Plus they had already competed and came in last place. If she can't go home with a medal, at least let her go home with wobbly legs.
Brazilian Diving Duo Split Up After One Partner Has "Marathon Sex Session" With An Olympic Canoeist. (3)
Source: Barstool Sports