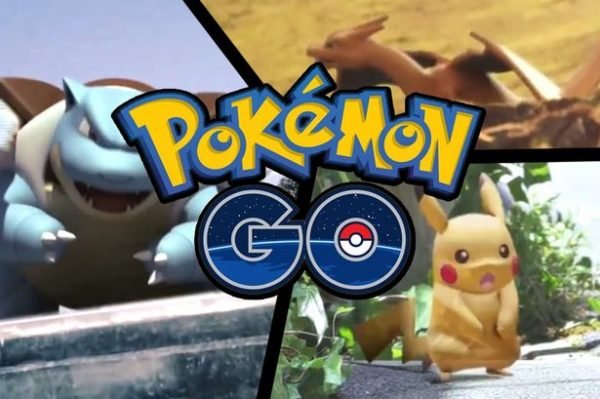 In just a few weeks since it launched, Pokémon Go has become the most popular mobile game of all time. The free-to-play augmented reality game turns your city into a giant, interactive game map full of creatures to capture and train and other players to test your Pokémon against.
Most users don't have to look much further than down the sidewalk to catch a Pidgey, Zubat or Squirtle. The creatures are stuffed in nearly every nook and cranny in your neighborhood and beyond. To wit, players all over the world have been finding Pokémon in some pretty weird places. Places like …
10. Wal Mart
While you're at your local Wal Mart, you're free to shop for daily goods at the lowest prices, pick up some of the latest Blu Rays, do a bit of grocery shopping, and yes, catch a few Pokémon while you're at it. This Snorlax was snapped by a user just hanging out by a rollback kiosk, minding its own business.
7. In The Middle Of A #BlackLivesMatter Protest
Pokémon can be pretty socially aware, apparently. This Pinsir showed up to join his African-American brothers and sisters in solidarity against police brutality in Oakland. Even though he got pretty close to the cops, no Pokémon were taken into custody that evening. Police were probably fresh out of Pokéballs.
6. In Your Chicken McNuggets
Image your surprise to find a Pidgey popping out of your chicken nuggets at McDonalds. Apparently, you don't need to buy a Happy Meal to get a little extra out of your lunch break. Next time you're at a fast food restaurant opening up your food, make sure you check it thoroughly for Pokémon before chowing down.
5. Washington D.C.
Pokémon Go turns local parks, businesses, and even historic landmarks into gyms where users can test the Pokémon they've captured in battle against each other. The White House and the Capitol Building in Washington D.C. are both gyms, meaning there are plenty of Pokémon like this DoDuo wandering around for the catching.
4. Doing Some Volunteering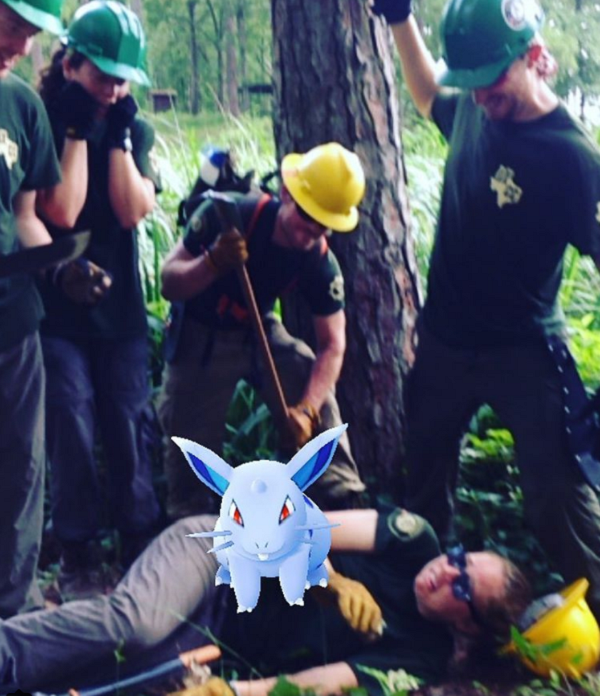 Volunteering is a great way to give back to your community. Some dedicate their entire lives and careers to helping out. This AmeriCorps volunteer ran into some unexpected trouble while cleaning up a local park in the form of a wild Nidorina. Her fellow-volunteers look like they're trying to help her out, but someone should tell them that the object of the game is to capture, not kill!
3. The Tampon Aisle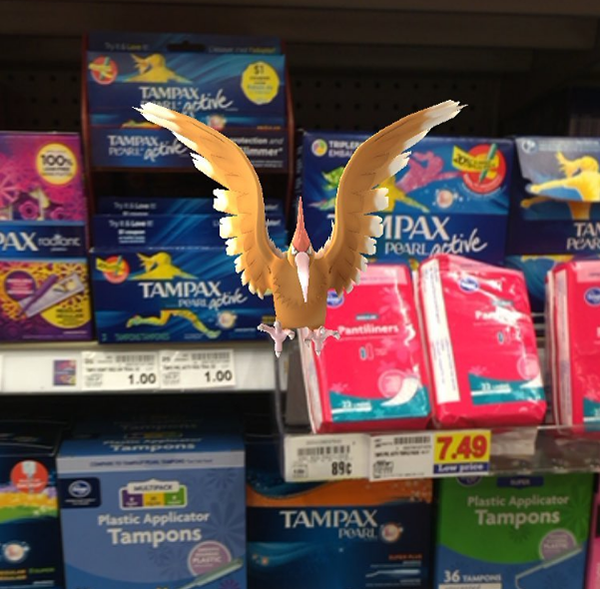 Apparently nothing is sacred when it comes to Pokémon Go. This Fearow could be playing a strategic con by hanging out in the one place it knows male players won't be looking for it — the women's hygiene aisle. Alternatively, this could be a great way to get men to pick up some feminine products for their girlfriends.
2. The Dentist
Additionally, if you need a good reason to finally get that check-up, Pokémon like this Pidgey could be spotted at your local dentist's office. It probably goes without saying that no one enjoys getting their teeth scraped and checked for cavities (sorry, dentists of the world), but this could be a whole new reason to embrace your oral hygiene.
1. A Graveyard
This Diglett has a solid strategy. One, no one is looking for Pokémon while they're visiting their deceased loved ones in the graveyard, right? And on the off-chance that they are keeping an eye on the app while visiting grandma, they're not likely to spot a Pokémon like Diglett who blends right in with the headstones, right?
This list just goes to show you that when it comes to Pokémon Go, no area is off-limits for exploration and capture. Look both ways before crossing the street and be safe out there, trainers! Let us know the weirdest places you've spotted a Pokémon in the comments below.