It's possible to watch women's volleyball with innocent enjoyment.
Volleyball doesn't appear to be that hard, does it? A lot of people enjoy playing this game in their backyard, especially when the ball isn't coming at you as fast as possible and you can just enjoy the game with friends and family. There are bound to be at least a couple of competitive players in the bunch, but one can always hope that they're able to tone it down a bit in order for everyone to have fun. Seriously, seeing a ball about to be spiked into your face kind of saps the fun out of the game, especially when you were trying to take it easy. How many people have seen Meet the Parents? Yeah, that tends to happen every now and then.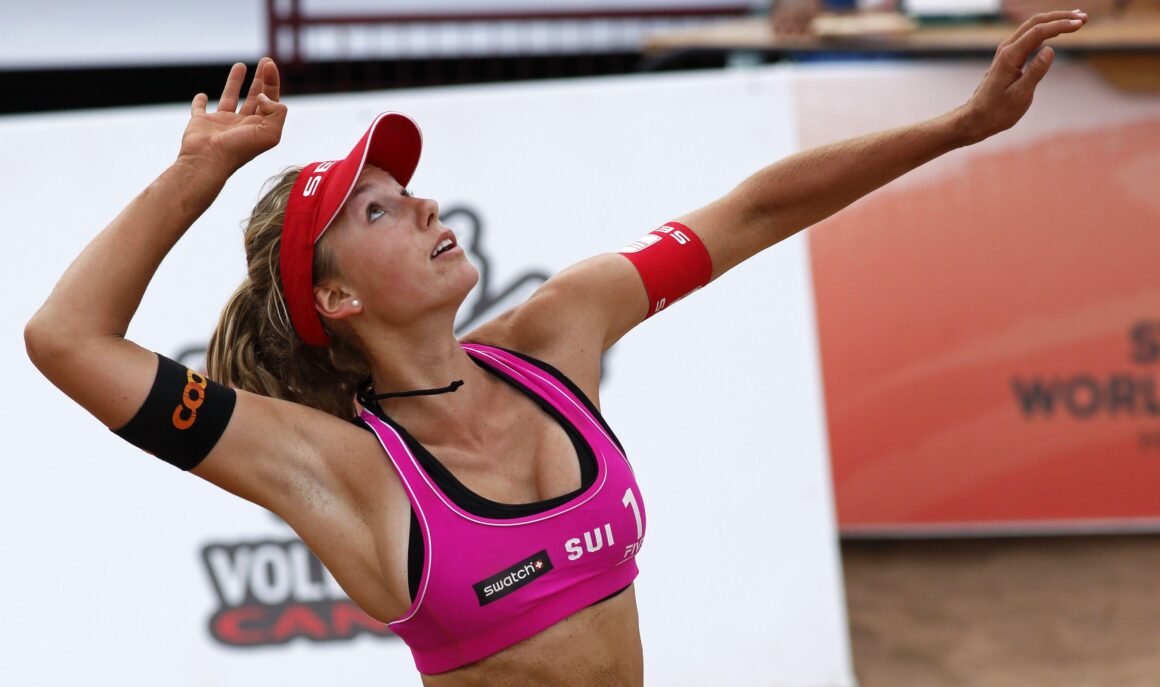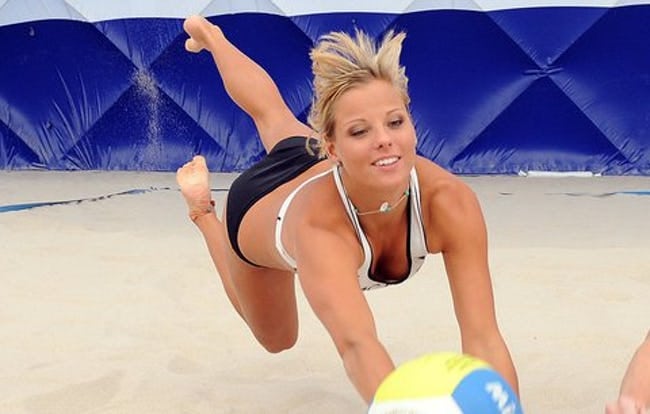 It's not just about looking good
Granted, women look great when playing beach volleyball whether they're pro or just having fun. But when it's time to go pro, or even just to go a little harder, the speeds on that ball can increase exponentially according to the skill and power that the person serving the ball has. If a woman knows how to play volleyball, not just the basics and the overall point of it, but the tactics and techniques that a pro would exercise, she becomes dangerous on the sand, and here's why:
The speed of a serve can reach up to well past 100 mph. You think I'm joking, right? I kind of wish I was, but having taken a serve from a top-tier college volleyball player, I can tell you that a pro might actually cause your arms to shake if you tried to stop that ball with a bump. A college player, a good one, can leave your arms stinging and create a red mark on your forearms, or wherever it hits, so just imagine that a pro can leave a bruise that will sink INTO your arm and show up on the other side. So yes, medically that would be impossible, but it would be funny if it didn't sound so painful.
A spike will come at the same speed and with so much more force that some people might just run if they were in this position. Female volleyball players are no joke, they're tough as nails and have trained and trained for this game, so they're not afraid to take a hit. Plus, think of it this way, all that training has toughened up their skin a bit and they know how to take it.
Their conditioning is insane. Have you ever walked on sand? Have you ever tried to run on it? They don't play on the wet sand that's packed hard and easy to move on, they play in the dry stuff that's going to get kicked up into eyes, mouths, and noses…and other places.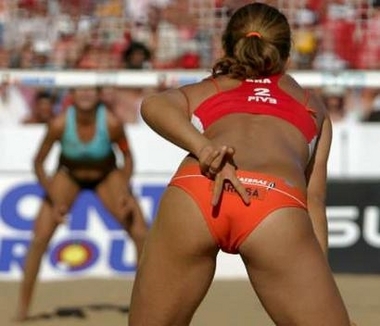 But seriously, a lot of people enjoy how good they look
To be honest, if a heavier person were able to move about like the women that are seen on the beach volleyball teams it would be amazing, but it wouldn't be profitable. Like it or not, we live in a society where beauty and fitness are prized and women's volleyball, and men's to an extent, are a chance to look at what a lot of people would call 'eye candy' and enjoy the physical prowess that goes into the game. A lot of guys might say 'I really come for the competition'. If any dunderhead with a big, goofy smile on his face says to you, just say 'that's nice' and find someplace else to sit, since enduring his drooling and heavy breathing would kind of take away from the actual game. There is an inherent beauty in the game itself though, and it's enhanced as well as provided by the women that are willing to play. Hells yes they look great in their bikinis, and damn right men are going to be ogling them, but not if they have their SO sitting alongside them keeping tabs on just how hard they might be sweating. The thing about being there for the 'competition' is that you don't need to mention it and you certainly don't need to get as excited as a young boy seeing a pair of boobs for the first time. The competition is great without a doubt, but so is the view.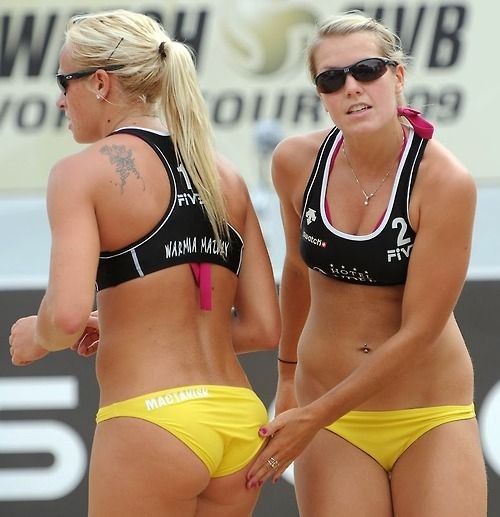 WTR? (Why's That Radass?)
It's less of a compliment to the sport of women's volleyball when guys sit and stare with their tongues hanging out than it is to simply sit and cheer the ladies on. The sport is one that takes conditioning, desire, and a great deal of discipline as well, so enjoy it, but recognize the skill.