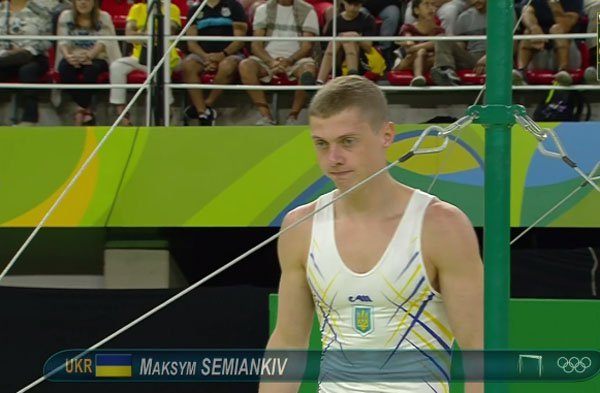 Team Ukraine Doesn't Give a F**k
The Ukraine's men's gymnastics tanked a match in team competition by deliberately using an injured gymnast. Maksym Semiankiv injured his hand before the competition. So he walked up, grabbed the bar, then hopped down. Then he nodded at the judges and went to chill as he was given a score of zero. No seriously. You can watch it here.
The weird thing is that the team could have replaced Semiankiv with a healthy team member, such as Vladyslav Hryko or Andrii Sienichki. All they had to do was alert the medical staff and fill out some forms. Theorists are having a field day as to why the Ukrainians would throw the competition.
From SB Nation:
Many are calling the loss an intentional one by Ukraine. A fair statement considering the Olympics is a time you probably want to check up on the rules, or at least question them. If this is the case there are a few reasons why they might have done it.
This could be a statement made four years after Ukraine was stripped of its bronze medal in the all-around competition in London. A controversial ending saw Japan file an appeal to get a review on Kohei Uchimura's pommel horse score. He was granted an additional .7 points which bumped the Japanese up to second while knocking the Ukrainians off the podium. Uchimura competed again for the Japanese again on Monday. On another strange note, Siminakiv lists Uchimura as his hero/idol on the FIG gymnastics website.
Or this could also just be a strategy to conserve the energy of gymnasts, as Bucher suggested, who have a chance to medal in the upcoming individual competitions.
I had no idea someone could be so salty that they would give up a chance at a gold medal to prove a point.