Talk About An Exotic Animal
They say everything is bigger in Texas, and well this "pet" is nothing short of bigger.
Ronnie and Sherron Bridges have a 2,500 pound pet buffalo named Wild Thing and it roams freely through their home.
It even has its own room complete with television AND eats breakfast at the table.
But to the Texan couple, Wild Thing is more than just an animal. He was also the best man at their wedding.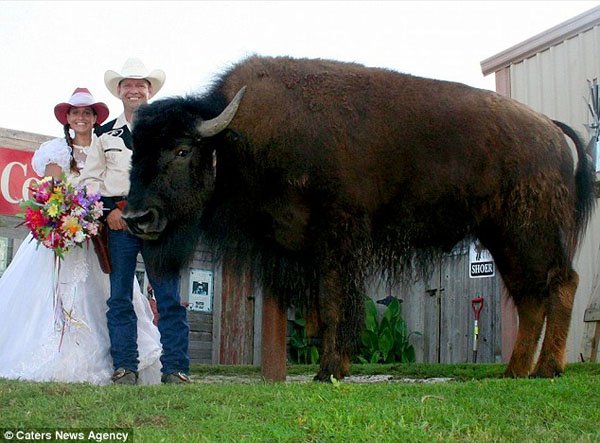 "It was my idea to bring Wild Thing in the house when he was a young calf I said we should bring him in," Sherron said. "I told Ronnie, he only lives once so we might as well do something different with him."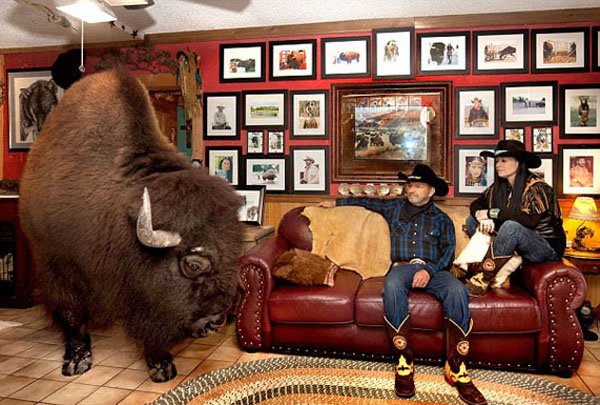 "He is the real life bull in a china shop although I'm surprised he doesn't do more damage with his 400lbs head when he comes and goes as he pleases," Ronnie said.
Wild Thing is now entering middle age at the age of 11, and has now even become good pals with Ronnie and Sherron's pack of wolves.
I'm sorry, they also have a PACK OF WOLVES??? WHO ARE THESE PEOPLE?????
Anyway, the couple admits the buffalo is not the most docile, despite being in their care for more than a decade.
"It's taken ten years for him to let my wife brush him and he's not safe for other people to come near," Ronnie said. "Something spooked him and he hit me between his horns and carried on running with me holding on, my wife thought I was dead!"
Still, the couple doesn't seem phased by their near-death experiences with Wild Thing.
"We wouldn't have life any other way. He's our pet and we love him."