Amanda Nunes Defeats Ronda Rousey by First Round TKO in Just 48 Seconds
This was honestly hard to watch. Last night, Ronda Rousey returned to the octagon at T-Mobile Arena in Las Vegas to fight Amanda Nunes for the women's bantamweight championship. The fight was highly anticipated after the weigh in just a few days prior when Nunes mocked Rousey by wearing a Lion mask. Ronda stayed quiet during the weigh in despite Nunes' stunt.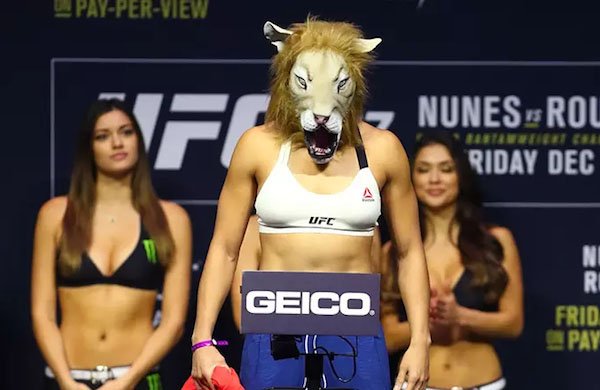 I have to say, when Ronda walked into the ring with a mean look on her face, it almost seemed fake. She seemed nervous and even scared. Maybe she was thinking about her last time in the octagon with Holly Holm when she was knocked out cold.
Last night Rousey was simply out matched. She threw punches but had nothing to offer. He defense was sluggish and allowed Nunes to land 23 of 35 strikes, most of which were to the face. Just a poor showing for Ronda. I just don't think Rousey was in the right mental state to prepare for this fight. After her defeat to Holly Holm, she went on interviews and confessed thoughts of suicide. Props to her for getting back out there for a comeback fight, but it might to time to hang up the towel. It will be interesting to see what happens next for Ronda Rousey.
Ronda Rousey knockout
Ronda Rousey should've just retired after she got rocked/shocked by Holly Holm and talked of suicide. No way she was ready for this.
— Skip Bayless (@RealSkipBayless) December 31, 2016
Skip has a point here. Ronda Rousey was looking to make a big comeback but it was too soon in my opinion. She really struggled with her loss to Holly Holm and although she may have felt physically ready to fight again, it was clear she was not mentally ready.