The most astonishing pictures of 2013: Reuters releases its best photographs of the year.
Royal baby: Britain's Prince William and his wife Catherine, Duchess of Cambridge, appear with their baby son Prince George outside the Lindo Wing of St Mary's Hospital, in central London July 23, 2013. Kate gave birth to the couple's first child, who is third in line to the British throne, ending weeks of feverish anticipation about the arrival of the royal baby.
Bali New Year: A Balinese man kicks up fire during the Perang Api (Fire War) ritual ahead of Nyepi day, in Gianyar on the Indonesian island of Bali, March 11. Nyepi is a day of silence for self-reflection to celebrate new year.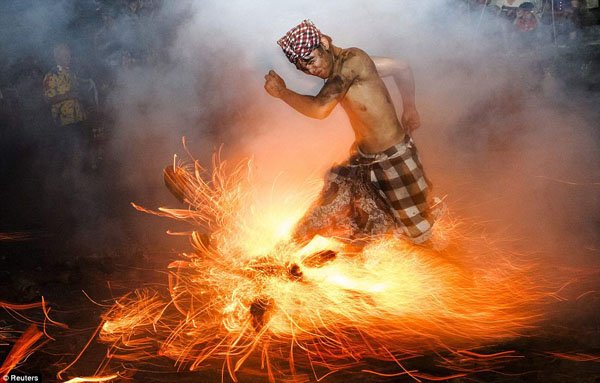 Myanmar clashes: A man stands in front of a mosque as it burns in Meikhtila March 21, 2013. The central Myanmar town declared a curfew after clashes killed 10 people, including a Buddhist monk, and injured at least 20.
Westgate attack: A child runs to safety as armed police hunt gunmen who went on a shooting spree at Westgate shopping centre in Nairobi September 21.
California fire: Fire-fighters spray water near a burning house in the Twin Pines Road area where the Silver Fire raged, near Banning, California August 7, 2013. The fire blackened more than 5,000 acres.
Mayor race: New York mayoral candidate Anthony Weiner and his wife Huma Abedin at a news conference in New York, July 23.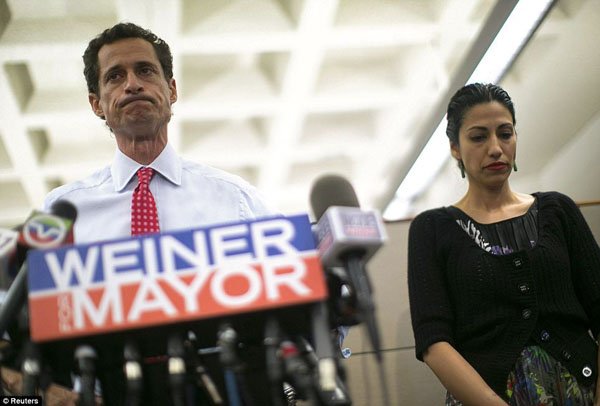 Autumn time: A passenger aircraft, with the full Harvest Moon seen behind, makes its final approach to landing at Heathrow Airport in west London, September 19.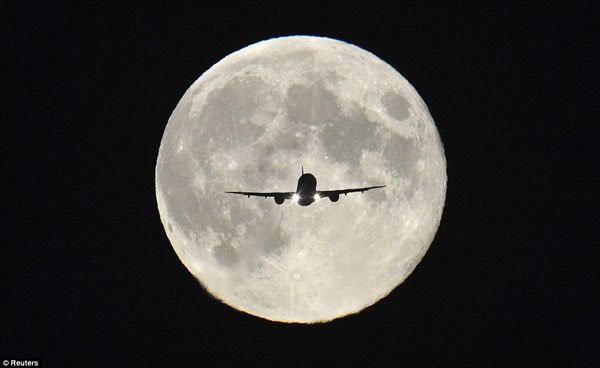 Miss America: Miss New York Nina Davuluri (L) reacts with 2013 Miss America Mallory Hagan after being chosen winner of the 2014 Miss America Pageant in Atlantic City, New Jersey, September 15.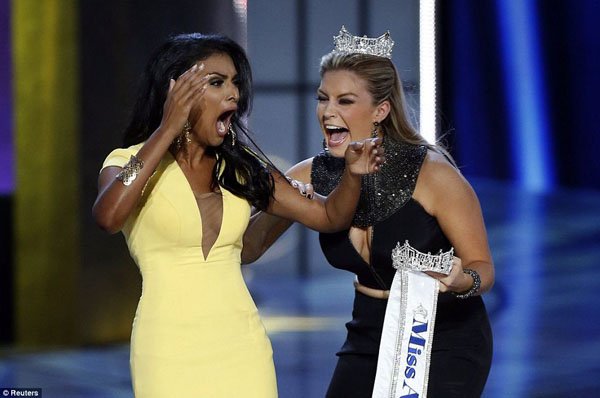 Row to safety: Evacuees displaced from their homes due to fighting between government soldiers and Muslim rebels are seen in boats during sunset at a wharf in Zamboanga city, southern Philippines September 14.
San Diego Chargers Eddie Royal (11) is hit hard by Houston Texans cornerback Brice McCain (21) and defensive back Shiloh Keo (31) to force an incomplete pass during an NFL football game in San Diego, Sept 9.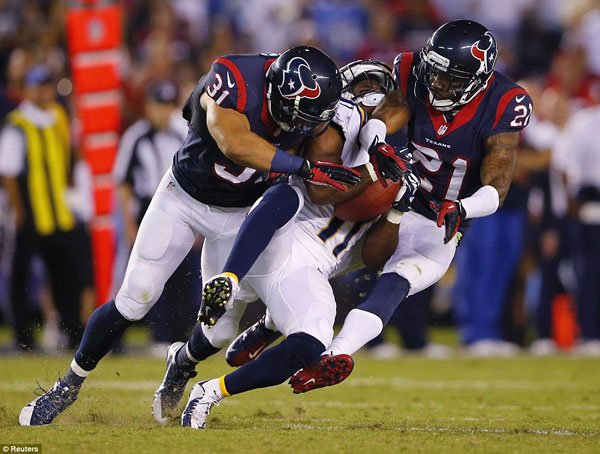 Hunger games: Nuns sit at a fast food restaurant downtown of Guatemala City August 28.
Greasy tradition: A man runs up the 'gostra', a pole covered in grease, during the religious feast of St Julian, patron of the town of St Julian's, outside Valletta, Malta, August 25.
Baseball: New York Yankees third baseman Alex Rodriguez in the visitors dugout before the Yankees' American League baseball game against the Boston Red Sox at Fenway Park in Boston, Massachusetts August 16.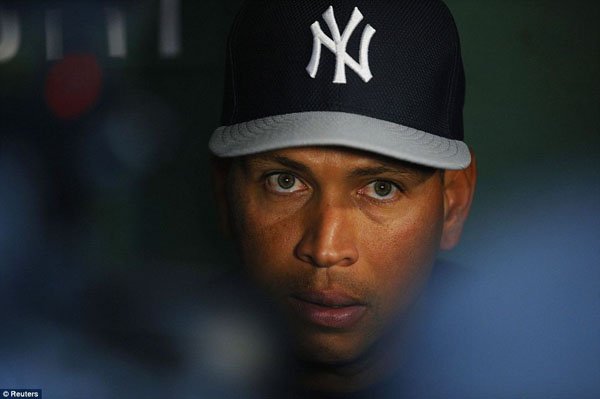 Quick snooze: Labourers who work nearby nap on a road as cars drive past in Chongqing Municipality, China, July 23.
Running of the bulls: A 31-year-old runner gets gored by a bull on Estafeta Street during the sixth running of the bulls at the San Fermin festival in Pamplona July 12.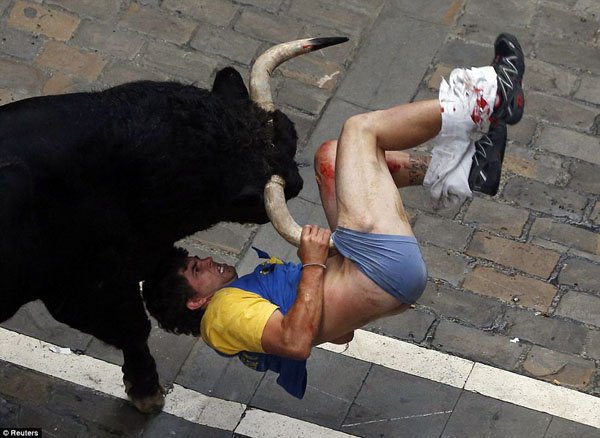 Not too happy: President Barack Obama (L) meets with Russian President Vladimir Putin during the G8 Summit at Lough Erne in Enniskillen, Northern Ireland June 17.
Amazonians: Munduruku Indians, many of whom are flying for the first time, board a Brazilian Air Force plane to fly to Brasilia, Brazil, for talks with the government, in Altamira, June 4.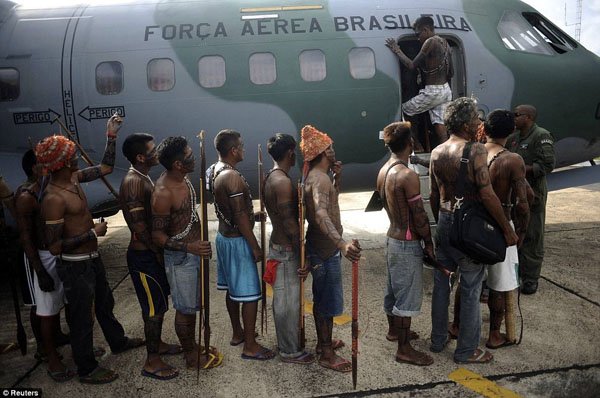 Columbia: A billboard with pictures of a lingerie model is seen in front of the Commune, northwest of Medellin city March 12, 2013.
When in Rome… Wolf researcher Werner Freund bites into a deer cadaver next to a Mongolian wolf inside an enclosure at Wolfspark Werner Freund, in Merzig in the German province of Saarland, January 24.
Rock 'n' Roll: Women, dressed in fifties-style outfits, cool off their feet in a swimming pool during the 19th Rockin' Race Jamboree international festival at Disco Apartments Buensol in Torremolinos, near Malaga, southern Spain February 9, 2013. About 2,000 people attended the four-day festival, which is a music party for rock 'n' roll music lovers.
Mass Mexican wedding: A newlywed couple kisses as their baby sleeps during a mass wedding on Valentine's Day in Ciudad Juarez February 14, 2013. About 3,400 couples tied the knot in the mass wedding ceremony organised by the Civil Registry and the state government to formalise their relationships by entering an alternative legal status and to commemorate Valentine's Day, local media reported.