If you've worked retail, then you know.
There are a lot of unsung heroes in society, but while a retail employee isn't exactly a hero, they're also a necessity that a lot of people couldn't do without. Think about walking into a store and seeing that you have to unbox everything that's come from the distributors, and things get mucked up and messed up beyond belief, would you go back to the store? Retail workers are there for more than the abuse that people want to give them, and to ring up purchases. A retail employee could be anything from a general manager all the way down to a newbie that's working in the back of the house sweeping up the messes that people make. But the point is that retail workers aren't there to be abused, especially given everything that they have to put up with on a given day.
Do you ever wonder why some retail employees don't appear to smile convincingly at their customers? There's a big reason for this, and a lot of it has to do with the customers, since the job isn't that tough to be fair, and it's easy enough to learn. No matter what part of the job you're in when it comes to retail, the only true difficulty from the number of responsibilities that one has to keep up with. But the hardest responsibility, hands down, that anyone in retail has to deal with, has to do with the customers. Why is that, you ask? Because the customers are one of the few things that can't be controlled in this business. The customers are unpredictable, they're demanding, and they can make a good day darken quickly like a storm cloud rolling over a pleasant meadow, just waiting to lob a lightning bolt into the serene and uplifting scene just to mess with the calm and balanced moment. Seriously, customers love to do this for some reason, or at least the worst of them do.
It's not just the dreaded Karens that do this, but they are among the worst. For one reason or another, some people will come into your store, cause trouble, try to get away with theft, ruin products, and just be a general nuisance. Things only became worse with the arrival of the coronavirus since the issue of masks and the idea that people didn't want to wear them for various reasons made retail even harder to deal with. But no matter if there's a pandemic, no matter if business is booming, or if you're in the middle of a liquidation, customers are capable of being absolutely wonderful and easy to deal with, or they're going to be willing to do and say whatever it takes to get their way and get away with what they want. It's not cynical and it's not a fabrication. If you've been there, you know, customers wear a lot of different faces, but they can be great, or they can be the kind of people you'd love to toss out of your store without another word.
The smiles aren't always genuine, and there's a reason.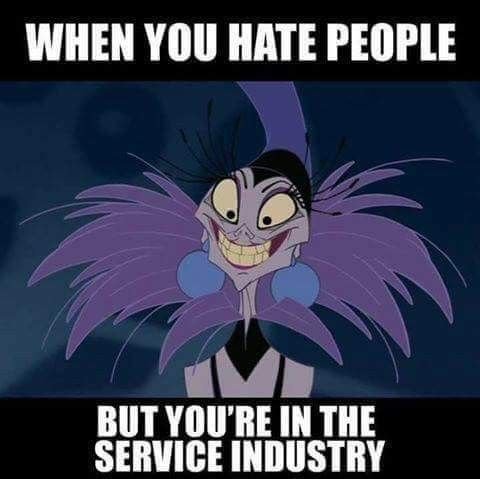 Have you ever been talking to a retail employee and found that the smile they were wearing wasn't quite reaching their eyes? As a retail employee, much as it happens with those in the foodservice industry, you're trained to be upbeat, to be friendly, and to do the best they can to satisfy the customers to the best of their ability. It doesn't mean that they're happy to be there. It's true, some folks do love their job and don't mind showing up to deal with the customers every day since they know how to graciously accept the best of the customers, and how to patiently handle the worst of them. But the average retail employee will, after at least a year or two of being on the job, present a hardened but pleasant face to the customers. You know what that smile and hard gaze say?
"I've been through the shit, you've got nothing on me." Well, that's what it meant when I was in retail, and I doubt I'm the only one.
Yes, customers really can be that rude.
I'd like to say that this is a fantasy, that it's not true, that people aren't really this rude, but if you've been there and you know, then I won't try to lie and convince you that 'not all places are like this'. Yes, every retail store goes through this, and in a couple of other articles, I will continue to go into this, because anyone that works in the service industry knows that I'm telling the truth. How we deal with it is bound to be different since some folks will take all the shit the customers can dish out and will smile. For some of them, it's because they do love their job and won't let a POS customer take that from them. For others, it's because they've likely used their imagination to think of the many ways they could get payback on the customer, in their minds of course, only in their minds. People are rude sometimes, and retail employees deal with it as best as they can.
Customers can also be unbearably stupid. No, I'm not kidding.
I wish I was kidding about this, but for one reason or another, a person can be smart as a whip but somehow turn dumb the moment they walk into a store. It's fair to think that people are going to have questions when they walk into a store they're not familiar with, or a store that's been updated and renovated, or even the average store that shifts merchandise now and then to make sure that trends are followed and what's popular and selling well is upfront and noticeable. But there are plenty of questions that, when asked, can make a person wonder just where a customer's brains have gone upon entering the store. When they ask where a clothing section is, or where kitchenware is, while they're standing right next to the section they're asking about…yeah, it gets that bad.
You will be tested, there's no doubt.
Retail is no joke when it comes to dealing with people. Not only do you have to deal with your fellow workers, but you've also got to deal with some of the meanest, most petty sonsofbitches that currently reside on God's green earth. I've got to relay the secret that I had that allowed me to survive a short career in retail since it's one of the only edges that a retail employee could have in this industry. As a young kid, I worked with a brother that was older than me by a decade, and the guy was unbelievably hard on me. At a young age, I was doing things that grown men had an issue with or being forced to do so, by a brother that was more like a drill sergeant than a family member. Several summers spent with this guy created an immunity that made it nearly impossible for anyone, be they fellow employee, boss, or rude customer, to get to me ever again.
So seriously, if you can't bother a retail employee, it's likely because they've been hardened by something worse than you could ever be. It's still not an excuse to be a horrible customer, but it is something to think about.
There are things that retail employees are grateful for.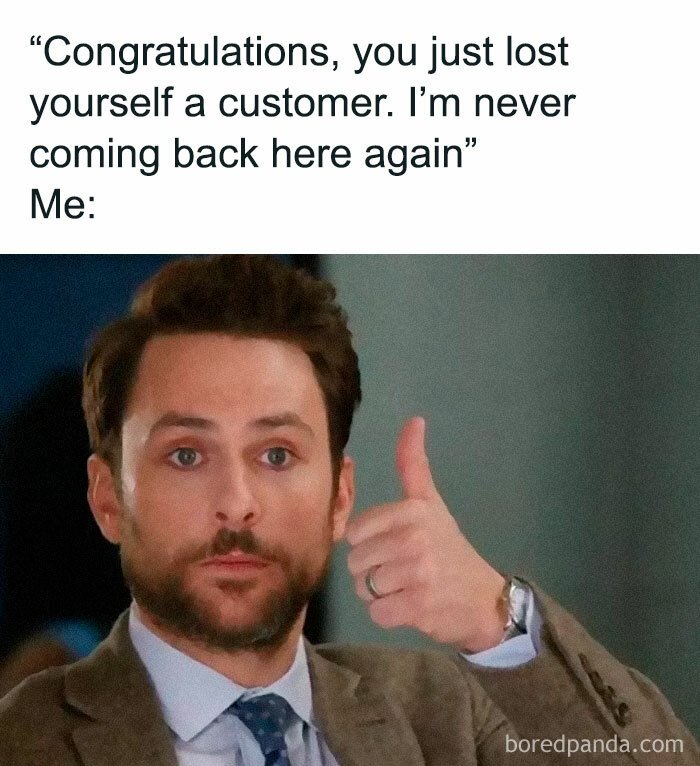 Retail customers are taught to be grateful. Or rather, the training videos and sessions that they go through during their time in the business are meant to make them grateful. But do you want to know what they're really grateful for?
Their paycheck: Of course, this is numero uno with a lot of people since folks don't tend to go do things without a reason. A person can be charitable and do things without asking for anything. But one of the reasons that a retail employee will put up with the noise that they get from the customers from time to time is because they're getting paid. Do you want to go to work and get shouted at by someone that doesn't like the fact that you don't have the brand names they want? Hell no, you'd want to be paid. So they're grateful for the check, but perhaps not the amount. That's another can of worms I'm not going to get into though.
Having a job is nice: Of course, having a job is nice, it means that you're going to get paid and that you're going to be able to keep the lights on and food on the table for a little while longer. I mean, that's just common sense.
The camaraderie between employees is nice: It's great to know that the people you're working with have your back. It doesn't happen all the time, since employees can be petty as hell to each other and can even be worse than customers. But when things are clicking and you can get along with people it's great, because there's another buffer between you and the customer.
Oh, did you think I'd say they were grateful to have customers? Sure they are, so long as the customers stay in their lane and remember that the nice, clean store they come to visit is due to their efforts. Customers are great to have since they essentially pay the workers, but customers also need to be reminded at times that among the hundreds, thousands, even millions of people that make the retail industry possible by their patronage, they can easily lose the assholes.
One final note on this.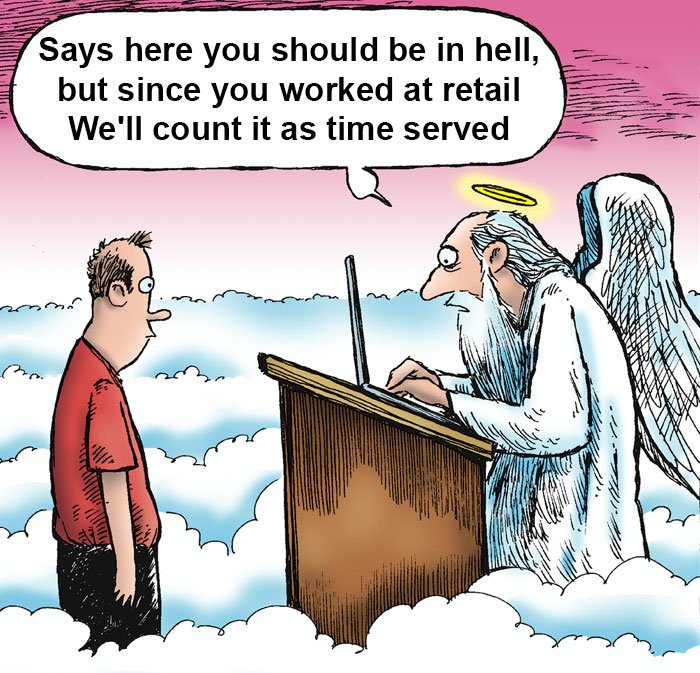 I'll be honest, there are a good number of retail employees that don't need your pity and don't really deserve the respect that others do. But the average retail employee is doing what they do to earn a living. Dealing with people that have little to no respect for them isn't something that these employees should have to deal with.
WTR? (Why's That Radass?)
There's a lot of respect that needs to be given to the working individuals that make stores look nice and welcoming to the customer. The moment that customers forget this and believe that their money makes it possible for them to act like douches is when they lose the plot. Be kind to retail employees, please.