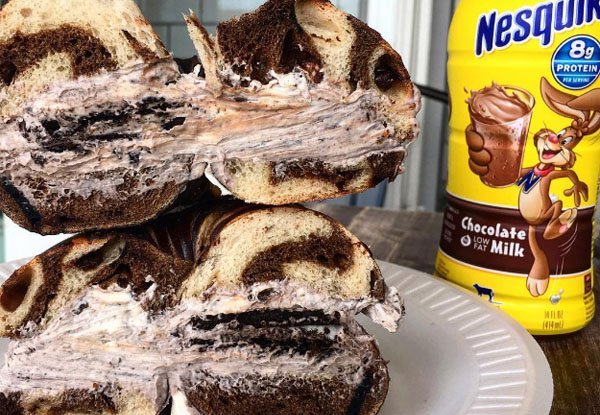 I feel fatter just looking at this and for all the right reasons. A magical bagel shop in New Jersey called The Bagel Nook are making Oreo Bagel With Cookie-N-Cream Cream Cheese. Yes, you read that right. Just look at how beautiful it is.
A PHOTO POSTED BY ALLISON (@ALLISONRCPHOTOGRAPHY) ON APR 26, 2016 AT 1:51PM PDT
They call it the "Oreo Overload Bagel." This delicious beast has a vanilla-chocolate swirled bagel with cookies-n-cream cream cheese.
Since moving to L.A. 8 years ago I have argued all the best food comes from the east coast. This further cements my point. I appreciate the efforts people make out here to eat healthy, but how bout once-in-awhile you treat your mouth to an ecstasy-level of food?
Just Look at it again.
OREO BAGEL WITH OREO CREAM CHEESE AND OREOS INSIDE. HELLO ALL OF MY DAILY CALORIES IN ONE BAGEL ????????????????????
A PHOTO POSTED BY HANNAH (@HANNAHOUIMET) ON MAY 4, 2016 AT 10:09AM PDT
LOOK AT IT!
OREO BAGEL WITH OREO CREAM CHEESE ???? PHOTO CREDIT: @JILLYYYX #OREOBAGEL
A PHOTO POSTED BY @DEVONSDESIGNS @DEVON_RUSHTON (@FOOD_ILYSM) ON MAR 31, 2016 AT 5:49AM PDT
Source: BroBible