Just because you're the customer doesn't mean you're infallible.
Some folks don't appear to get the idea of customer service. For very obvious reasons there are plenty of people who think that they can abuse customer service employees without any repercussions, because they're paying for that privilege, right? Amazingly, there are employees out there that won't ever speak up or stand up for themselves or their fellow employees since they're of the mind that the customer is always right. Believe me, this is irritating as hell for the rest of us that happen to think that irritable customers have forgotten just what they're risking when it comes to the service they expect. After all, how likely is it that someone is going to be that enthusiastic about serving people when they're being abused over and over?
To be fair, the idea of customer service is one that does take a certain type of person since dealing with people does take a great deal of patience and the type of attitude that can weather a storm of complaints and other irritants that don't appear to get the idea that paying for something doesn't mean that they need to disregard their manners. There are quite a few different businesses that offer customer service of one type or another, and all of them tend to come with the need to deal with people face to face. Some folks can deal with this since they have the patience of Job, while others might need to reconsider if they really want to deal with people every day.
Customer service is a people business after all, and it's not something to be taken lightly. But as disciplined as employees need to be at times, they don't need to be weak-kneed simpletons that will pass on a smile every day and take the abuse that some customers are so willing to dish out. It's true that some employees take this attitude too far and either offend the customers before the customer can in turn offend them, or they do the worst thing possible, they get aggressive and create a hostile work environment. The unfortunate truth is that customer service is the type of industry in which a person will be expected to kowtow to the customer and do whatever they can to please people to keep the business running smoothly. It's not too difficult to be nice to people, especially if they're willing to be nice in return. But the moment a customer finds it necessary to become aggressive in any manner and refuses to be placated on general principle, then they've forfeited the chance to be right about pretty much anything. An employee is expected to do a great deal to please people, but the fact is that some customers refuse to be pleased at all.
There's no set formula. Sometimes customers are just wrong.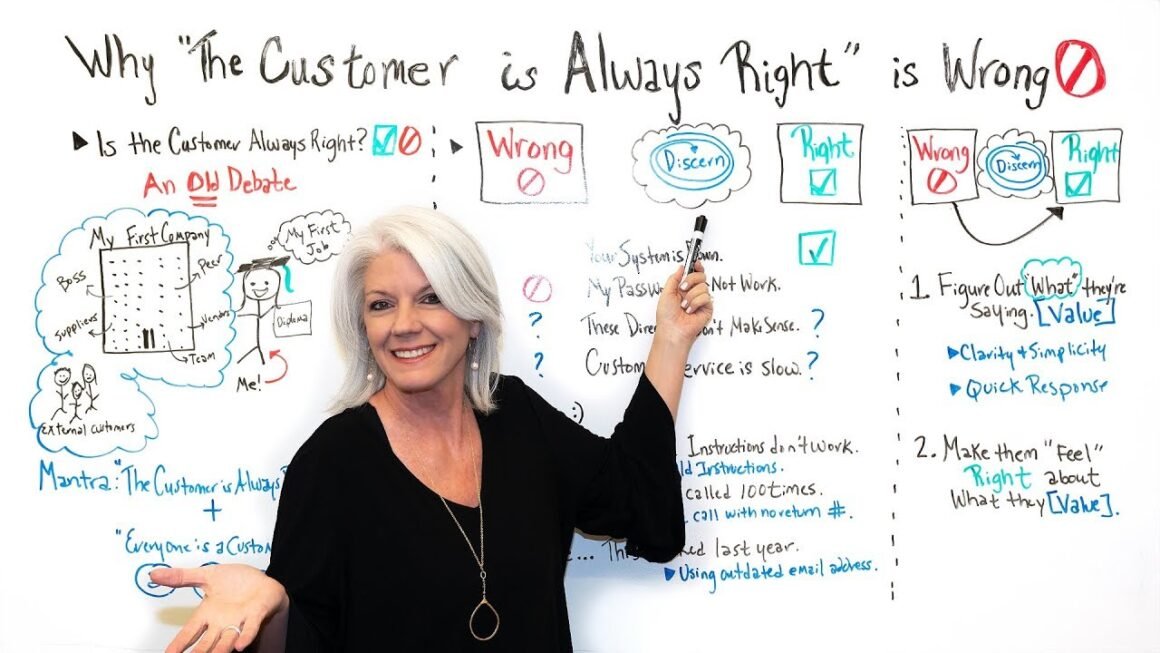 So why do customers feel the need to be assholes at times? If you ask the customer, they might give you so many reasons that it would take days to list them all. Customers could be bent out of shape for pretty much anything, be it a bit of food that they believe was too cold, too hot, or didn't look like the advertisement. If one asks the employees, they might get a collective "I don't know" since the truth is that coming to work each day could and usually does present another unique challenge that employees need to navigate their way through. If you've ever been a part of the customer service industry then you already know that there are good days, and there are bad days. Then there are days that you swear were made just to torment those that have to deal with people face to face.
There are a couple of things that customers should understand before stepping into a store.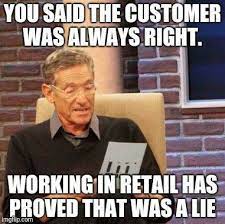 Having been in retail, hospitality, and the food industries, it's fair to say that I've seen what many still understand to be the most trying individuals walking the earth today: CUSTOMERS. That's right, the same people that we depend on most often when working in any type of customer service are also the greatest bane of any employee since while a lot of folks get the point that the workers in an establishment are doing them a solid by being there to provide a service, others somehow get this feeling that they're entitled to be dickheads because they're paying for the service, and don't have to be courteous in any way, shape, or form. These folks might need to be reminded that:
Employees are there for a paycheck: It's true, people go to work to get paid. It's amazing, right? This can backfire since it might make a poor employee, but it can also give the customer the feeling that the person doesn't care since they're making a living, kind of, and therefore the customer doesn't owe the employee much of anything. To be fair, this is a rather dumb view to take, since we're all out to get a paycheck. It doesn't mean we can't be decent to each other.
Get aggressive, the cops are just three numbers away: For some reason, a lot of people tend to think that they can abuse the employees, and the store, and not suffer any consequences. Keep in mind, the store is not your home and the property in it isn't yours until you've paid for it. Get feisty with the employees and the men and women in blue will want to have a word with you.
If you want respect, you've got to give it: The understanding is that employees will, ideally, treat their customers with hospitality and respect since it's a part of their training and it's expected of them. But if the customer isn't willing to return that respect, the employees will only take it so long before they start reminding the customer of their place.
The best way to approach a store or other business is to remind yourself that you're walking into someone else's house. It's best to show respect until it's no longer worth the effort.
Walking into a restaurant with little to no respect is a good way to get kicked out.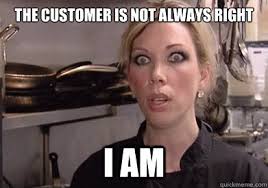 From small cafes to fine dining to bars and taverns that serve drinks, and food, and are expected to be places of hospitality in which the customer's needs and wants are to be met as much as they can be. This is where customer service gets a bit sticky since the idea that one can satisfy everyone is kind of impossible at any given moment. But most establishments do try their best, and they do kowtow to people in a way that has always been irritating to me. The truth however is that it's necessary to bow down to the customers in a way since this is part of the business. But being abused? This is never okay, since the idea of being polite, kind, accommodating, and ready to satisfy the wants of the customer is all well and good, as it's a part of the business.
But being abused in any way is never okay. Some might be capable of diffusing a situation and making things okay, but others will gladly stand up and tell a customer exactly what they think. It's a touchy subject, but one has to know when to placate, when to walk away, and when to let the customer know that they're acting like an asshole.
Training is an important element in customer service.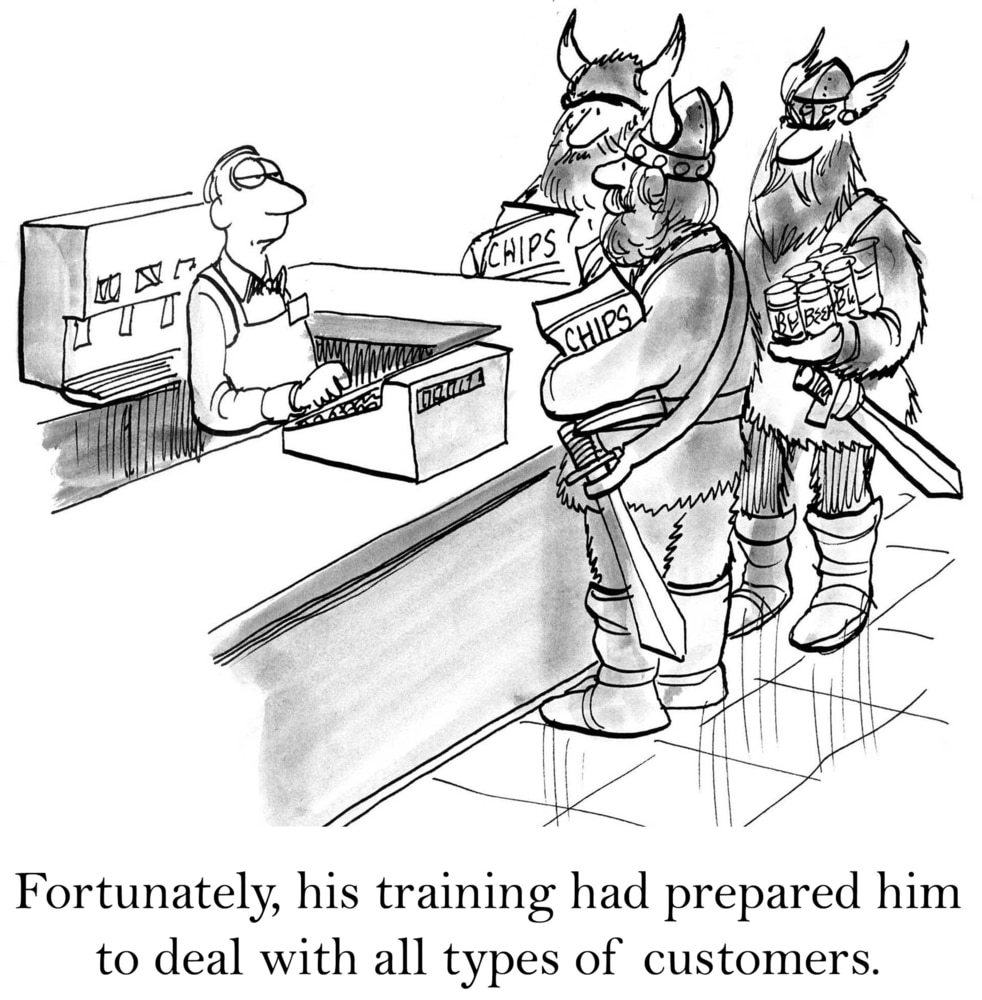 Training is very important when dealing with people since otherwise, one might find it necessary to respond to rude and demanding customers in the same way one might react to those that seek to intimidate them in some way. Humans are animals, and as such, we're still prone to the fight or flight response, which will take over when customers decide to behave poorly and without reason. You can see this in many TikTok and YouTube videos when customers and employees are pitted against one another, usually because the customer has decided to become offended by one thing or another. What irate customers tend to forget at times is that unless other people have a reason to see things from the instigator's perspective, they're simply there to shop and won't want to get involved. Or, and this is worse for the irate customer, other people will side with the employees and make it known that the asshole customer is the only problem that can be seen.
Trust me, trained and experienced employees usually know how to assess and handle a situation, be it calming the customer down, or calling the cops.
You would think that respect would be a simple thing.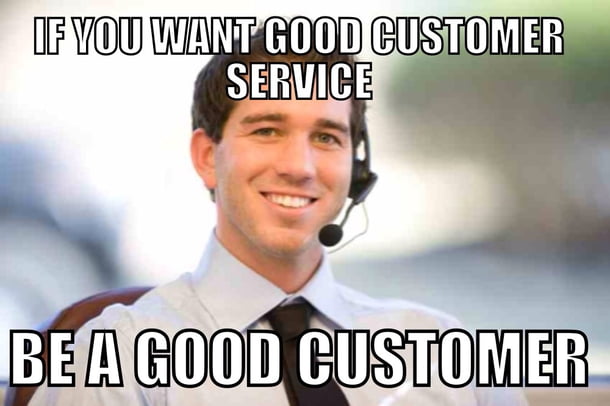 Respect isn't such a hard thing, is it? Some folks might agree that it's very easy to be respectful, but whether some folks are having a bad day, or just don't care about the person that's trying to help them. There are a lot of pitfalls when it comes to working in any position where one has to deal with people. These jobs can be trying since the fact is that a lot of people are going to at least make an attempt to be decent and understanding, and some will even be completely easy to deal with. But then one has to deal with the true pain in the ass customers that appear to be there just to cause trouble no matter the reason. If there's one thing customers should remember, it's that most businesses have this slogan "We reserve the right to refuse service to anyone" either hanging in their business or as a part of their policy.
In other words, if you're a decent customer, then people will bend over backward to serve you. Act like an asshole, and the best you can hope for is a refusal of service.
WTR? (Why's That Radass?)
The point in all this is to remember that people in the service industry are there because they need a job, not necessarily because they want to be. But the middle ground that needs to be recognized is that if customers want to be respected, it pays to be at least a little bit kind to those that are providing the service. If that can be accomplished, then there's no need for a problem. And even better, THEN the customer can be right.