We thought you could use the view.
Sure, a lot of pictures on the internet are staged when it comes to women working out in the gym, but that doesn't make them any less enjoyable. When you do get the chance to work out in the same gym as ladies of this caliber though, it usually means that you've found the means to enter a place where the workouts are serious and no one is there to do anything other than lift and get shredded. The idea that a gym is a safe place to work out is absolutely real since family gyms and other locations that are all about inclusivity and a decent monthly rate are those that everyone from your teenage kid to your grandparents might go to. But if you're looking into places that show you how to shred your abs and gain this kind of definition then you're likely looking into the types of gyms that might have state of the art equipment and trainers that make more in a month than most gym employees would make in two or three.
It's not necessary to find a specialized gym to gain the type of figures that are seen below, since no matter where you go, it's all a matter of your own dedication and personal attention to your body and health that makes the difference. But a specialized gym might have the type of equipment a person is looking for and perhaps the types of trainers that can help out the most and maximize a workout. The thing about getting into fitness at this level is that it takes more than just the individual sometimes to make things work, as a little help in learning how to gain the definition a person wants can be achieved by seeking out the assistance of those that have been trained in this type of thing and are knowledgeable when it comes to targeting certain muscle groups.
At this point, you're probably looking more at the pictures and less at the text, but it needs to be said that this level of dedication isn't for everyone and those that try and fail aren't doing any wrong per se, unless they're not listening to any advice and are doing exactly what they want. Some folks find it easier to attain this type of body either because they have a great deal of free time, a solid life goal that involves using this level of fitness for more than just recreation, or are somehow able to hit the gym for hours out of the day without needing to do much of anything else.
You don't get this type of body by spending a half hour to an hour in the gym.
While men might be called gym rats, women can be known as gym bunnies and there are plenty of ladies that will spend an inordinate amount of time in the gym trying to gain that trim and ripped form that they believe guys love. Hey, they're right, there's something about a muscular woman that's a big turn-on for a lot of guys since it implies that she's healthy, she's determined, and she's dedicated to her health. But it also says that she spends a LOT of time working out. Depending on what she does and what her values are, it's fair to say that the time a woman spends in the gym is for her betterment, and in some cases, it might directly affect her job. Making assumptions isn't what we're all about, but everyone has a reason for spending that much time in a weight room.
You should already know this, but ogling is not okay.
You probably hear this all the time right? The thing is, it can't be said enough since there are still plenty of douchebags out there that don't mind staring at women working as they're likely imaging the ladies without their clothing. I get it, some hot women look so amazing in their workout clothing that guys might want to wonder what they look like without said clothing. Personally, I like the clothing look since it leaves at least something to the imagination and sends a rather clear message a lot of times, one that says: I want to look good, but I'm here to work out'. People can take that as they will, but the thing is that if a woman is actively lifting or looks like she's between sets, it doesn't mean that she's standing around waiting for someone to hit on her, or eye her up and down appreciatively.
Selfie's annoy some folks, but the best way to avoid this is to mind your own business.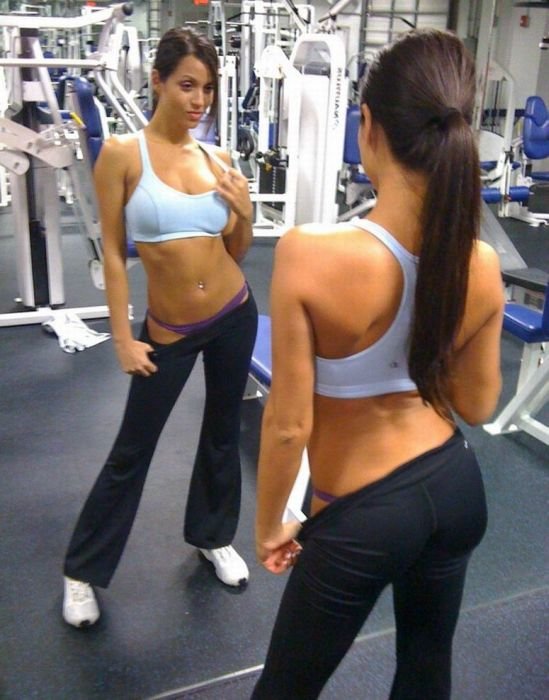 Let's put it this way, women come to the gym because they want to change something about their body, just as much as anyone does. When they start seeing results they might want to showcase that with a selfie. I've written a couple of articles in the past that have focused on the idea of a selfie-and how it might not belong in the gym at a given time. But the truth is that people who are making progress want to make sure that they don't miss a chance to document it, and as a result, they want to take a picture when they happen to notice that all the hard work is paying off. In that respect, a selfie isn't a bad thing, no matter who's watching. So long as the individual isn't bothering others, meaning she's not taking up a machine or too much space in the gym, then it's no one else's business.
Now, to be fair I've got to mention this bit. If a person, woman or man, is taking up too much space in the gym and taking the time to document every possible angle they can to get their inner diva on, then yeah, it becomes an issue. If the gym is busy and said selfie-taker wants to pose with a set of weights or a machine that another person needs to use, then it's time for that person to find a quiet corner and reflect while taking their precious selfies. But in the long run, this hurts no one and it's not that big of a deal, so chill.
Don't underestimate women.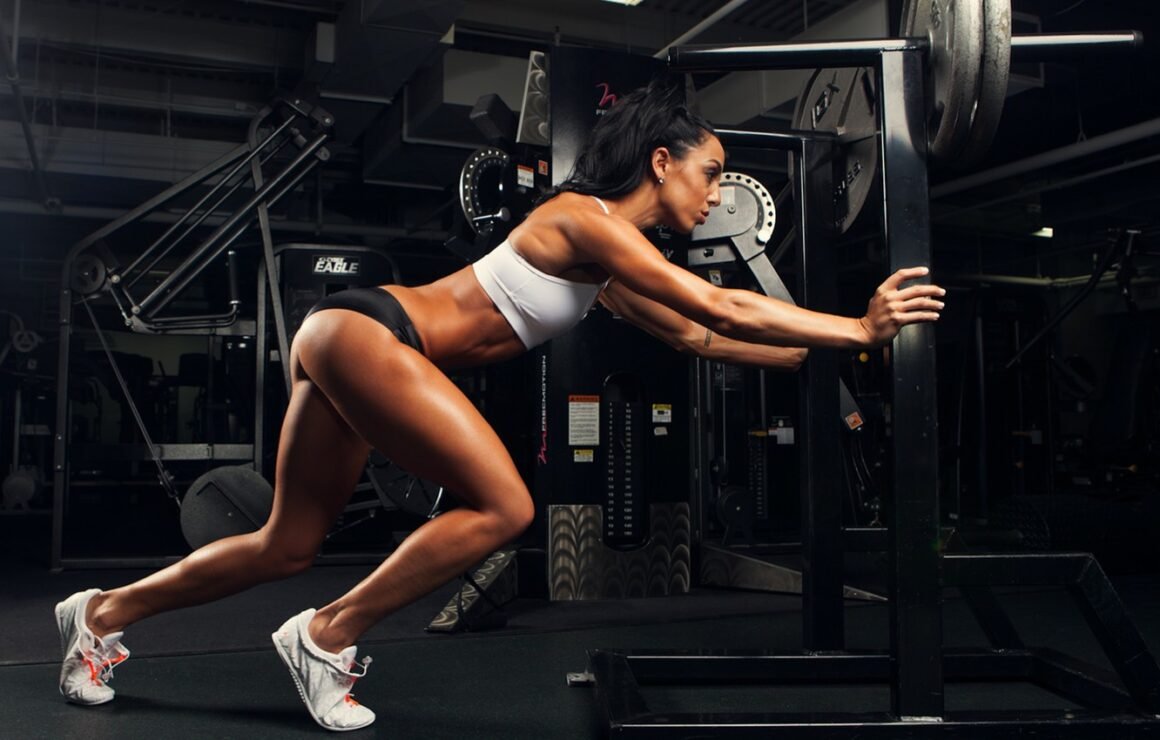 Have you ever been at the gym and seen a woman taking on a set of weights you didn't think she could handle? Or maybe you've seen a group of guys acting like dickbags as they laugh and chuckle at a woman that's setting up a set of weights. The best part is when she blows everyone away and starts lifting and the guys' jaws just drop. The few times I've seen this I've simply said 'damn' and gone on about my business. One thing you don't ever do is underestimate a woman at a gym since she's there for a purpose and it's not to be eye candy for a bunch of guys that think she's a frail little thing that can't lift more than a ten-pound dumbbell.
If you're intimidated by buff women, that's your problem.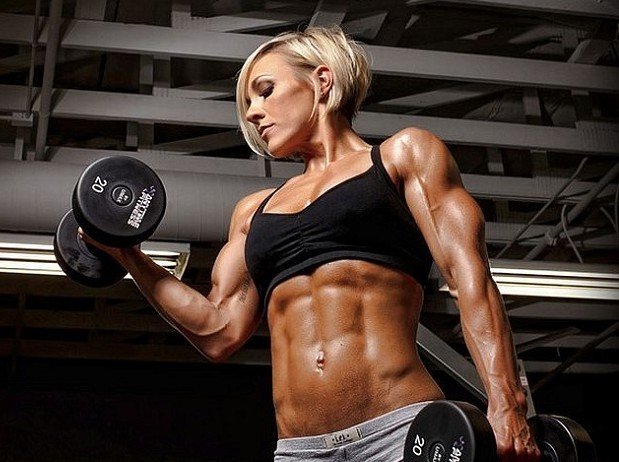 If you can't look at a buff woman and think that she's hot because you're afraid she might kick your ass or that she'll embarrass the hell out of you, then you've got an issue that goes beyond being masculine. Women that lift are still feminine in their own ways and for all you know they might be a housewife that decided to get into shape or a corporate exec that doesn't care one damn bit about your puny little hang-ups. Women don't go to the gym to deal with your insecurities, and if that's your problem then you might need to lift a little more and worry a little less about the hot, buff women that are working out in your gym.
Not every woman wants to get ripped.
It is true that some women want to maximize their muscle definition and trim as much body fat as possible. But some ladies are out to reach the athletic look and don't much care if their biceps curl into a hard, compact ball of muscle. Each lady that goes to the gym has a very distinct goal in mind when it comes to what they want to attain, and to be fair, most of what they accomplish is extremely sexy. Some get veined out and so damned buff that they look like chiseled statues, but hey, to each their own. Everyone has a different goal when it comes to hitting the gym, and everyone has a look they want to attain at the end of the day.
It's not for everyone.
The popular saying is that if it were easy that everyone would do it, right? Well, there's a lot of truth to this when it comes to gaining the type of body you want. Ladies are no less dedicated to getting those flat, rock-hard abs and are every bit as ready to work so that every muscle in their body can stand out when all is said and done. But make no mistake, no matter how hot they are and no matter how tempting it is to watch them, respect is to be given to women in the gym, just like anywhere. Plus, some of these women could probably kick your ass.
WTR? (Why's That Radass?)
Do you really need to ask? Respect for women is a big thing with us here at Radass, and we'll keep spouting that philosophy as much as possible. Admire women, respect them, but disrespect them and you might find yourself wishing you hadn't.