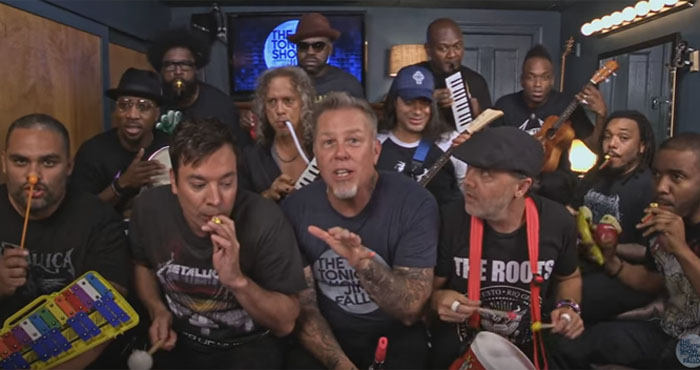 Metallica Makes Children's Toys Sound Tough
Old me would be so mad at this. How could Metallica go soft and do a mainstream television appearance and perform their metal with kid's toys?!?! But current me thinks this is f'in awesome.
It has to take some serious rehearsal to learn a song playing only children's musical instruments. Plus watching legendary bands like Metallica and The Roots performing together is an added bonus. Curious what each person is playing? I got you.
James Hetfield – Vocals, Toy clarinet
Jimmy Fallon – Vocals, Bass Drum, Casio Keyboard, Kazoo
Lars Ulrich – Fisher Price Drum, Toy Cymbals
Kirk Hammett – Melodica
Robert Trujillo – Baby Electric Axe
Questlove – Hand Clappers, Kazoo
Kamal Gray – Xylophone
James Poyser – Melodica
Captain Kirk – Ukulele
Tuba Gooding Jr. – Kazoo, Banana Shaker, Apple Shaker
Mark Kelley – Kazoo
Frank Knuckles – Bongos
Black Thought – Tambourine, Brown Hat
Jimmy Fallon has the best job on TV right now.