Lexa James is a part time author and full time party girl. We conducted the interview at a café in Hollywood. Lexa's only request was we meet somewhere that served booze. Normally my interviews wrap up in 20 minutes. This started off like normal then next thing I know it's 2 hours, several drinks later and I'm drunk in the middle of the day. The sexy Lexa definitely lives the life you read about in her book and on her Twitter.

You have a book titled Sexcapades & Champagne which we'll get into a little later. But based off that title, if you could only have one of the two for the rest of your life, sex or alcohol, what would you pick?
Can I do other things than have sex?
There are no rules against loopholes.
Ok then I would choose sex.
If you can only have one shot for the rest of your life: What is it?
One shot? Of alcohol? I'm not really a shot person. I'll do a tequila shot if I'm already wasted.
Ok if you could only have one cocktail the rest of your life, what would it be?
Cocktails I'm really weird about. If you ever see me drinking vodka and Sprite, I'm set to get blacked out. But that's a rare occasion. I'm more of a champagne and rosé kind of girl.
That kind of answers my next question but what is your favorite drink?
Anything with bubbles in it.
How did the book Sexcapades & Champagne come about?
It came about in a very interesting way. I met somebody on Twitter. Not like a romantic, sexual situation. But he's a writer. He saw some of my tweets. Then he messaged me and we started talking. He was like, "based on your tweets I feel like you'd be a funny writer." I was like, "I live in LA and everybody is trying to be a fucking writer. I am not one."
So, sadly he got very sick. I kind of helped him through it. He didn't have anybody as his support system. We became friends over social networking which is strange. But we got to know each other well. Via phone, via text, and via Twitter. He had me send over some journal entries. I've been journaling since I was a child. I just sent some random things over to him. He read them and he loved them and he's published a few books. He got me a publishing deal and then it kind of just went from there. I wrote my whole book from an iPad.
I picked stories out of my journals form ages 14 to 30. I handpicked the ones that I thought would be more exciting and not negative. Then we rewrote them together because it was reading drunk, sad, or wasted chicken scratch.
Where the drunk scribbles starting at 14 or was that more like, 20?
Oh I'm sure they were drunk at 14.
So you started partying young.
Oh ya. Lots of drinking, weed, and I think cocaine. I think I started it all early.
Where are you from?
Oregon.
Your twitter is hilarious. Two things you obviously love are food delivery and Xanax. Is one more beloved than the other?
Nope. They go together. If there were such a thing as Xanax and food delivery I would be their #1 client.
Give me a teaser of one of the sexcapades that can be found in your book.
One of people's favorites would be this fetish DJ guy that I frequently had sex with. It just got really crazy. He's still around. He's not in my life but still around. It started as normal sex. But then it turned into…. not foot fetish where you want to rub someone's feet, but like he wanted to be jacked off by my feet and cum on my feet. Everything feet oriented.
How long did that relationship last?
Oh, like 6 months. It wasn't a relationship thing. It was just a sex thing.
Who's your favorite hip-hop artist?
I grew up listening to Wu-Tang Clan, Mobb Deep, obviously Biggie, 2Pac. So I have those in rotation. I also love, and people are going to hate that I said this, but I'm also into Drake and I love Nicki Minaj. But my soul is really into old R&B music. Mark Morrison's Return of the Mac is in my top 10.
You told me the last time you had anal sex you got a vibrator stuck in your ass and it had to be fished out by hand and you almost ended up in the ER. What the fuck happened?
It was during a storm in New York. I was dating someone in New York and I lived [in L.A.] So our relationship was very honeymoonish. I would fly there. And when we got together it was all sex, pills, and drinking. And he had never had anal sex before. So I took 3 vicodin and drank a bottle of tequila and was like, "Ok. Let's do this."
They make these finger vibrators but they are for stimulation of other areas. But instead he put that in my ass and my asshole engulfed it. I could feel it inside of me vibrating in my spine basically. I thought I was going to die. It wasn't low where your ass is. It was up inside of me. I could have vomited it up it was so high. I started freaking out that I was going to be this girl who goes to the ER in this storm with a fucking vibrator up her ass. Then I was thinking that there's a battery and it's going to explode inside of me and I'm gonna die. He had to fish it out. Like, full fisting. It's gone. It's out of there.
Was that painful?
I would say God bless vicodin and tequila.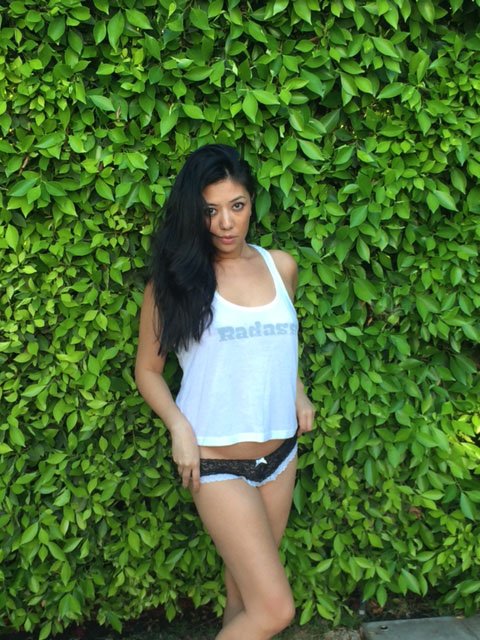 Why should people buy your book?
My book is not meant to be serious. It's just funny. I feel like every woman has experienced some of the things in my book. All the good dates, bad dates. Good sex, bad sex. One night stands. Relationships. It's an easy beach or pool read. It's not anything intense. Its just a fun, easy read about sex as a woman. I feel its relatable. We've all been there. Maybe not a vibrator stuck up their ass, but you know.
What is your type?
I don't have a type. I date people all over the place. I typically fuck younger but date older.
If you could punch one celebrity in the face, who would it be?
I thought about this because I read your other interviews. I knew it was going to come up. And this person I don't know if they are really a celebrity. But I would punch, not only punch but take a dildo and shove it up his ass, Scott Disick.
He tried to ruin my 30th birthday party. My friend owns this club in Hollywood and they had given me this table with bottle service for all my friends to come to. Free of charge. Everyone's plastered. There's a band or DJ playing. This guy comes up to me in a suit, takes (who was Scott Disick) my bag, and just threw it. I was like, "Excuse me? Are you touching my stuff? And do you have a job? (No reply from Scott.) Because I do."
You can buy Alex's hilarious book at Amazon and Barnes & Noble.
Also follow James on Twitter for some hilarious tweets.