Kelly Clarkson Is Overcome By Emotion As She Performs On American Idol.
Kelly was the first-ever winner of American Idol, and after her performance Thursday night, she should be voted the champion of all American Idol winners. Kelly brought the building to tears as she sang "Piece by Piece", a song she wrote about being abandoned by her father as a child.
"I actually wrote it pregnant with my little girl and now I'm pregnant with my little boy," she told host Ryan Seacrest. "So if I don't make it through and I start crying, just laugh. It'll make me feel better."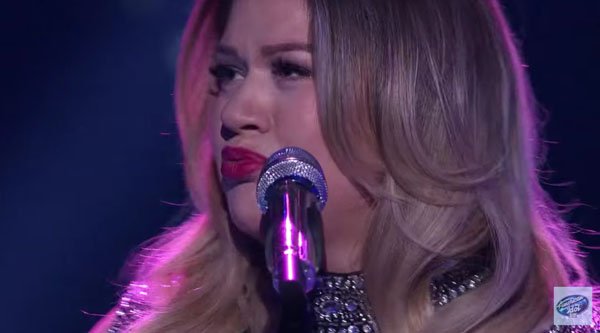 Of all the people brought tears by Kelly's amazing performance, Idol frontrunner La'Porsha Renae was probably the one touched the most. Clarkson predicted she will be the winner of the final season after her show-stopping performance of Rihanna's "Diamonds" earlier in the show.
Renae said the praise from the Kelly was extra special to her.
"I watched Kelly Clarkson, who came from such humble beginnings, sing her heart out. Her winning moment was very pivotal because I actually started believing that would be me," Renae explained. "Now, all these years later, Kelly Clarkson is actually watching me on American Idol. Not I just have to win like she did."
The judges were equally as emotional as Renae. Jennifer Lopez and Harry Connick Jr. both welled up as Keith Urban openly wept as Kelly delivered what could be the best performance in Idol history.
#IdolTonight with @kelly_clarkson, @KeithUrban 's face sums it up. I think this
is how we all felt. pic.twitter.com/O1caimwZ5d
— Colin Dyer (@ColinDyerMusic) February 26, 2016.