That power between your legs is addictive.
There's no way to deny it, a lot of women love motorcycles, even if some of them won't admit it. The fact is that women either love the thrum of the bike beneath them, or they enjoy hanging out with the men that ride the bikes because, let's face it, women love bad boys even if they know better than to go with them. But something about a motorcycle, in general, appears to get a lot of women going in the right direction, either because they happen to love what's going on beneath them while riding and how it makes them feel, or because they just enjoy the lifestyle. It's hard to tell with everyone, but kind of like fancy cars, motorcycles can draw women who have a taste for adventure and are for some reason drawn to those vehicles that can provide this.
It's hard to dispute the observable phenomenon that is the flush that creeps up a woman's neck and causes her cheeks to turn red when it comes to the powerful vibrations that one of these powerful machines can bring, but lest you think it's all sexual, there is also the thrill of it, the exhilaration and the feel of adrenaline that comes when thinking about riding in the back of a biker or riding one's own high-powered machine down the road. Whatever it is, some women can't help but be drawn in by the feeling of something powerful beneath them, and some of these pictures make that kind of obvious.
So is the engine running, or is she just imagining it?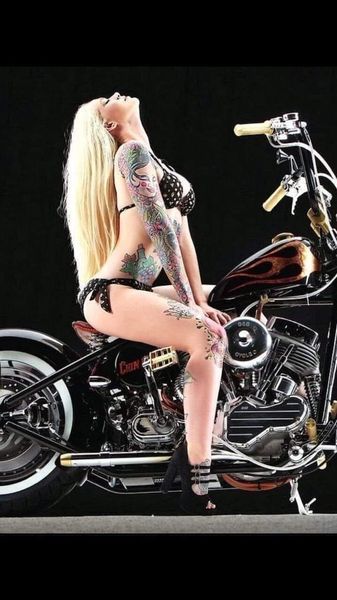 It's like I said above, a lot of women love the power between their legs (take that as you will) and how it makes them feel when that engine is growling beneath them. It's a very natural feeling since unlike a car you're riding atop that thing, and the vibrations, as well as the force of it, are going to affect pretty much anyone.
Women, short shorts, and motorcycles go together so well.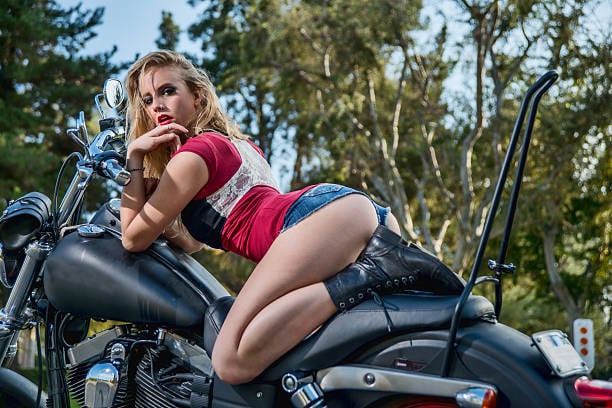 Women tend to lose themselves when they get around motorcycles, at least sometimes. Those women that happen to love the big bikes are those that will often strip down to their short shorts and pose in the most provocative manner to showcase their beauty with that of the bike. Some of them are posers looking for exposure, but others genuinely love this type of lifestyle.
Posing with bikes is one thing, but loving the life is important.
Let's face it, no guy is going to kick a woman off a bike when they look this hot. But when it comes to a photo shoot vs. actually living the life, there isn't going to be a lot of respect for those that are doing this just to make themselves look good, or tough, since posing in any profession is kind of frowned upon since it's a serious sign of disrespect that most people don't like, but will tolerate if it doesn't affect them directly.
Window dressing isn't such a bad thing really.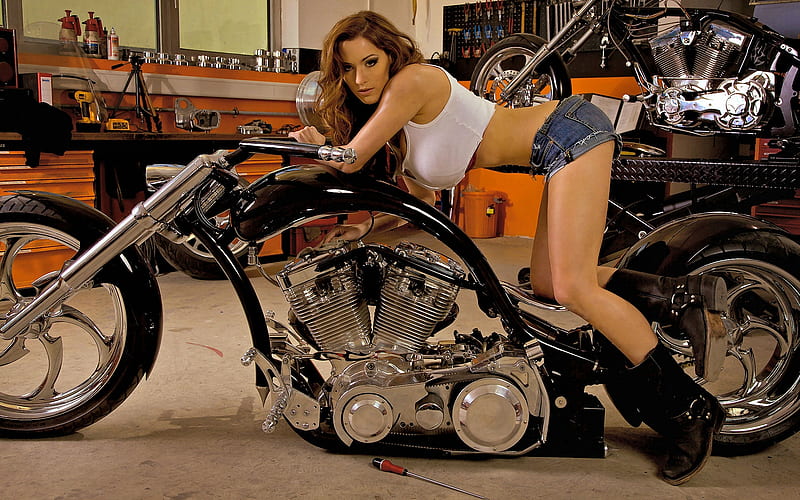 To put it plainly, window dressing isn't that big of a deal unless it starts to disrespect the lifestyle that's being depicted. Really, who wouldn't want a beautiful woman trying to stir up interest in a lifestyle or a business, especially if that woman was part of the lifestyle she's depicting in the picture? Window dressing is used for quite a few businesses since like it or not, it's usually rather effective given that it can gain the kind of attention that a lot of businesses need. For something like this, the chances of getting a woman that's really into big bikes is an added bonus.
Don't bother pointing out mistakes in a picture.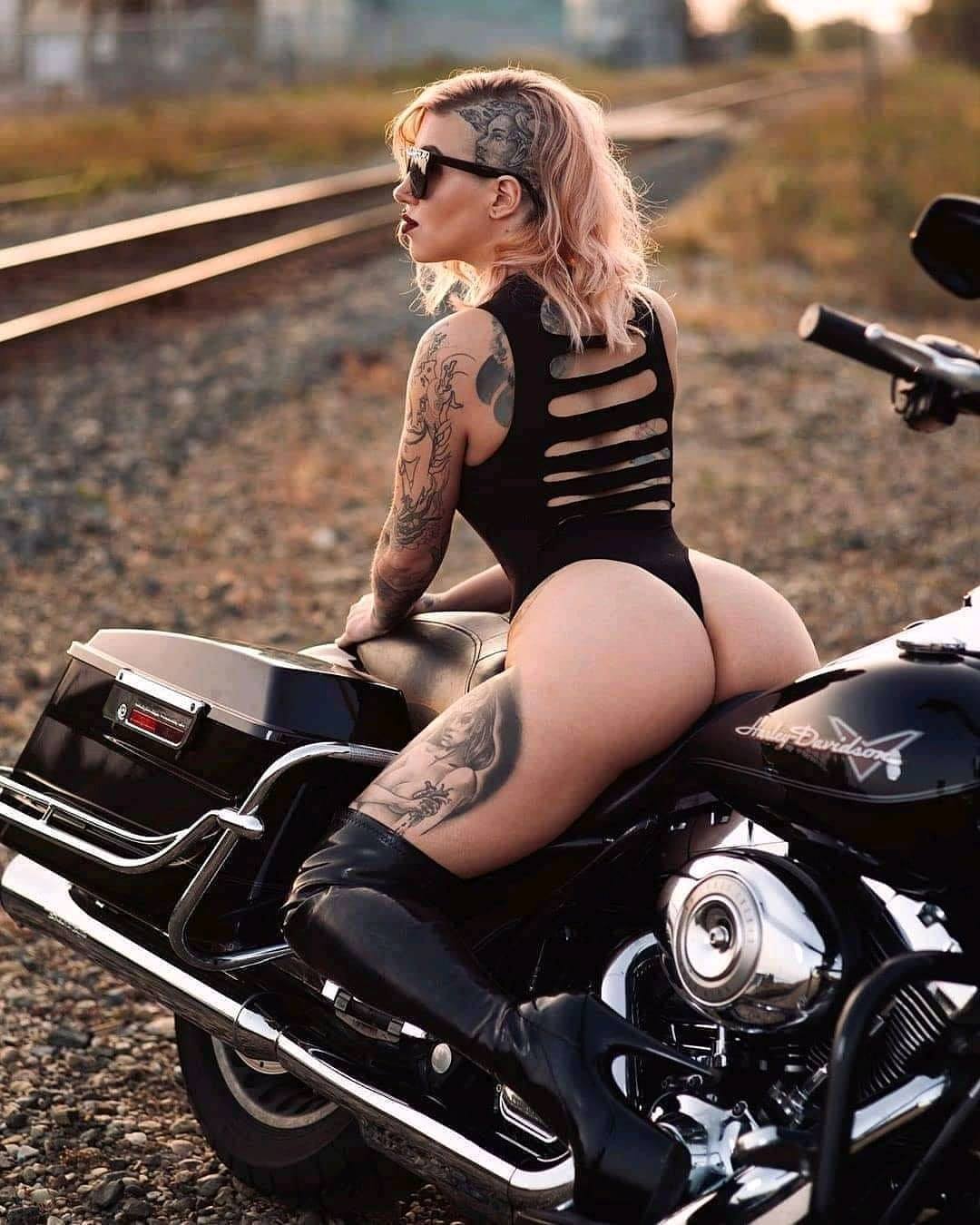 One thing that anyone should be able to tell is that these types of pictures aren't going to be accurate since few people are going to head down the road in attire like this at high speed. Why? Think about sticking your head out of the window when going 50 mph or faster down the highway. Does that answer your question?
Enjoy these pictures for what they are, awesome pictures of bikes and hotties.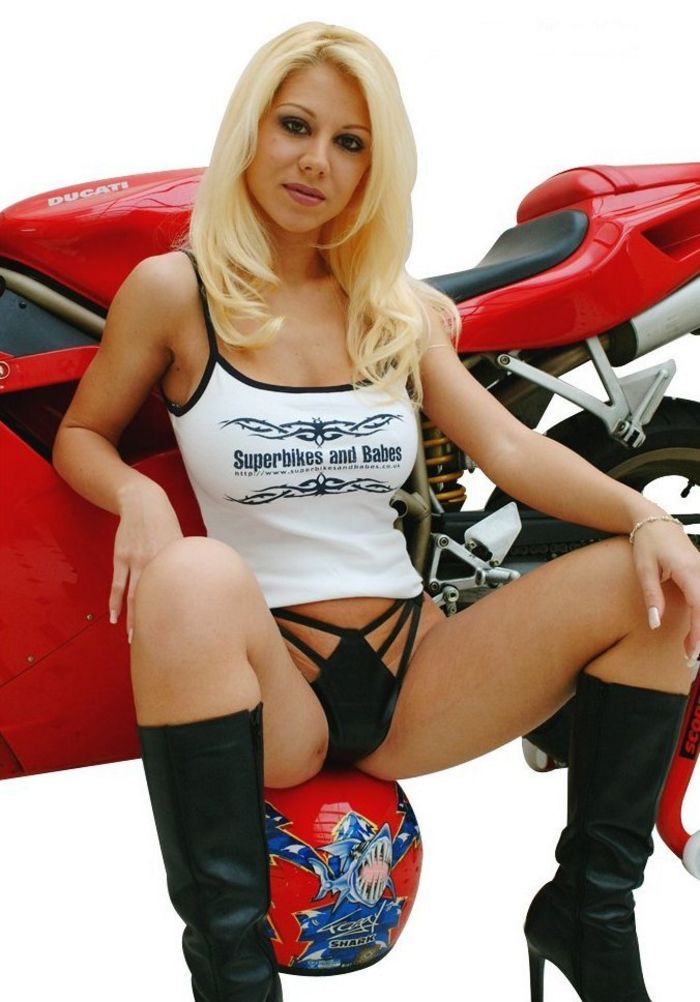 That's what they're here for, after all, to get you looking and keep your attention for a little while, whether it's for this site or other sites where they might pop up. Hot women and big bikes mean big business for a lot of folks since they're enticing to look at and might actually inspire some folks to enter the lifestyle if they're of the mind to do so.
Never underestimate the strength of an image.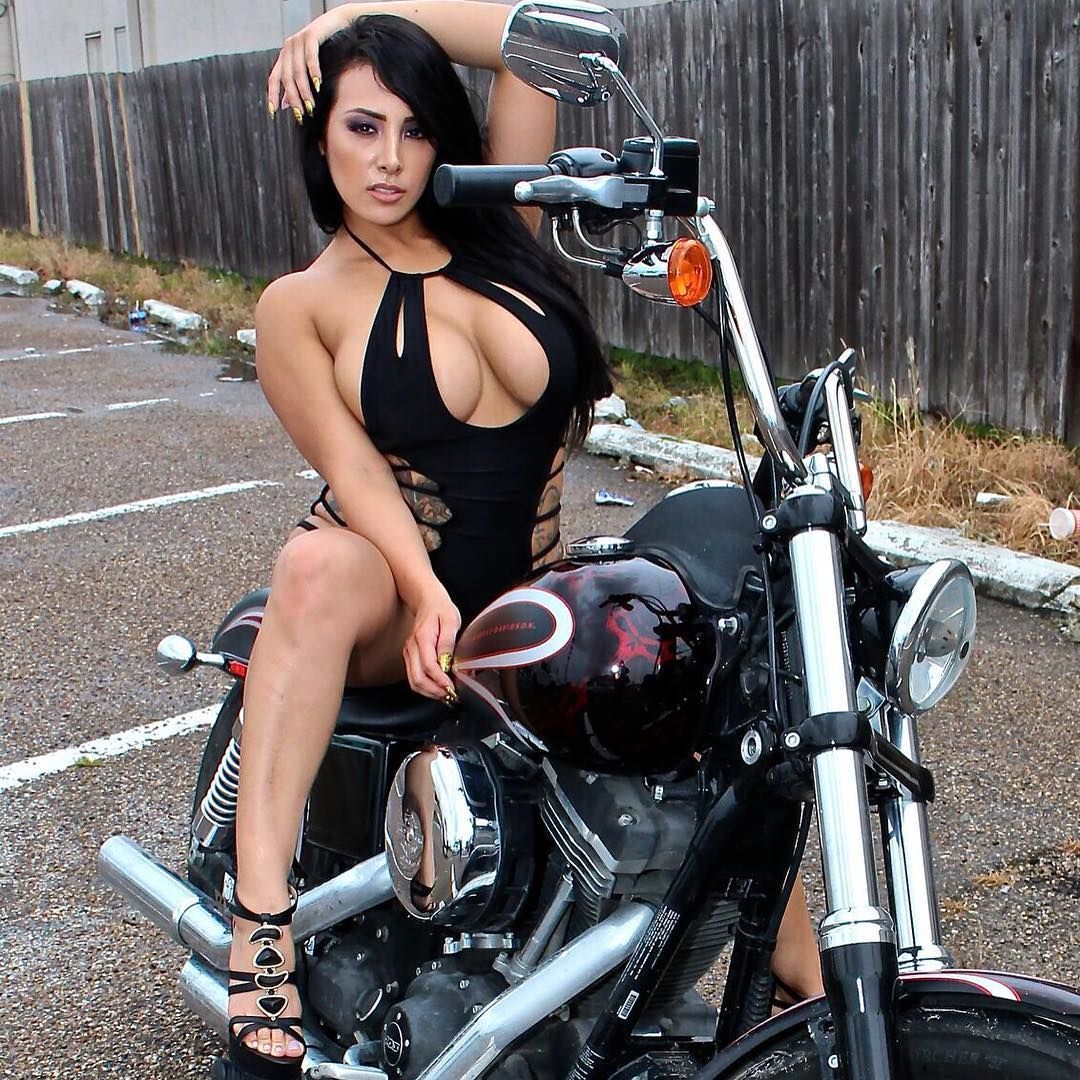 There's actually a great deal that goes into an image since posing in one way versus another can make a huge difference. Placement of the model, the bike, and even the difference between shadows and light in the image can go a long way toward affecting one person or another. There is a science to it, you can believe that.
Tattooed hotties are also a great sell for this type of lifestyle.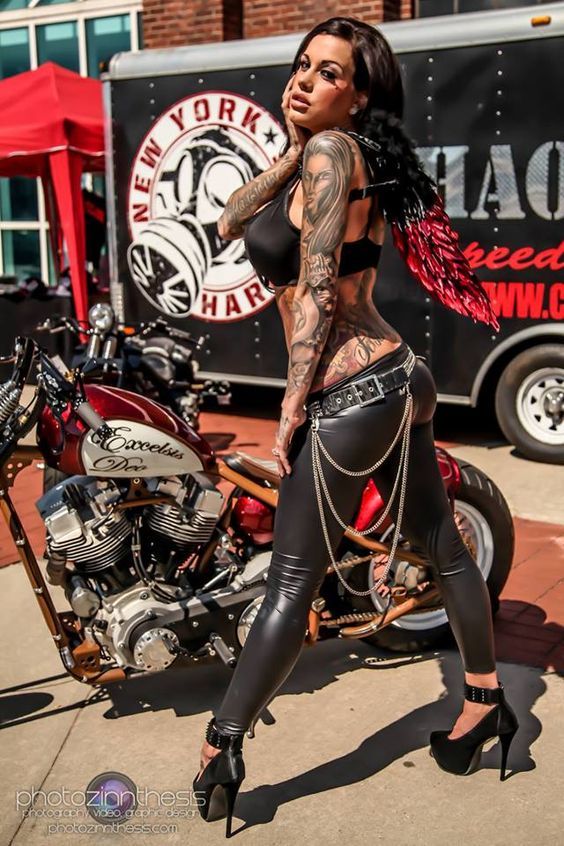 What are a few things that bikers are known for? Drinking beer, being tough, and sporting ink, right? Okay, they're known for a lot of other things than this, and some of them are stereotypes, but the fact is that an inked-up biker is pretty common, as is a hottie that's been under the needle a few times. When promoting this lifestyle in any way, it's fair to say that using a woman that's been heavily inked is a great way to make it work.
Yes, the sexier the picture, the better.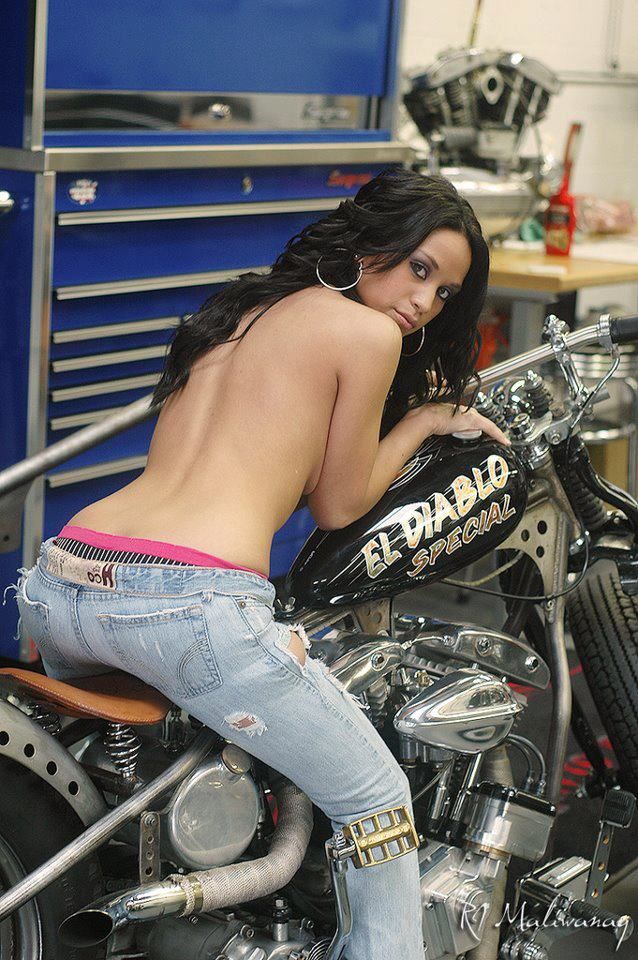 Really, if you walked into your garage to work on your bike and saw this, would you be able to think about the task at hand any longer? A real biker might, or they might not, but the point is that these pictures are selling a fantasy that a lot of people are interested in and that people want to believe in more often than not.
Hotties that love bikes are often seen as tough, and some of them actually are.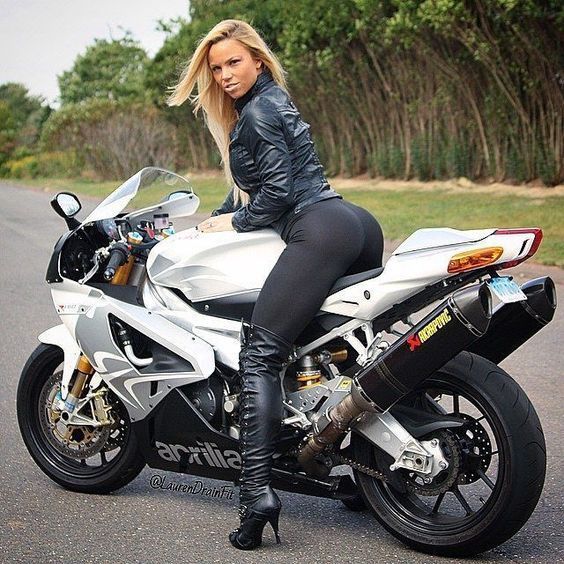 There are plenty of women that ride their own bikes and don't rely on men to take them for a spin down the highway. These women aren't all insanely tough, but some of them are definitely rough enough to take down men that aren't ready for them. And if they're hot as hell on top of that, you might find yourself falling in love, if you can handle it.
It's a fantasy for the most part, but it's a pleasant one.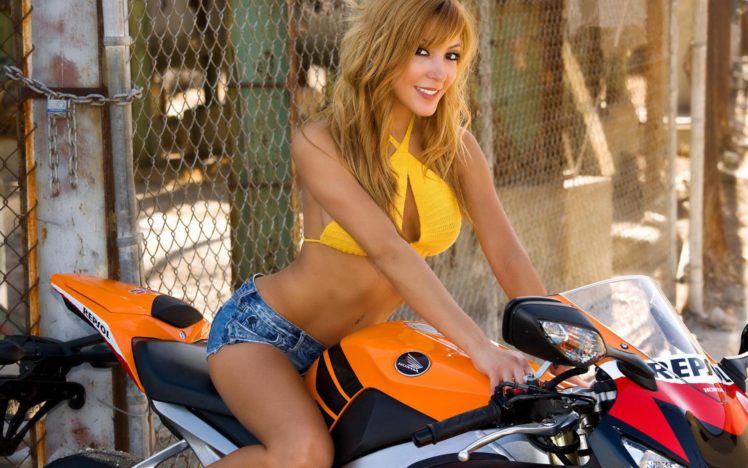 Honestly, women that look like this do like bikes, there's no doubt about it, but if you think that you're going to run into a few of them at a time just by random happenstance, keep dreaming. But if you know where to go and how to act, then you might get lucky.
Women that ride bikes aren't all tough, but don't take them for granted.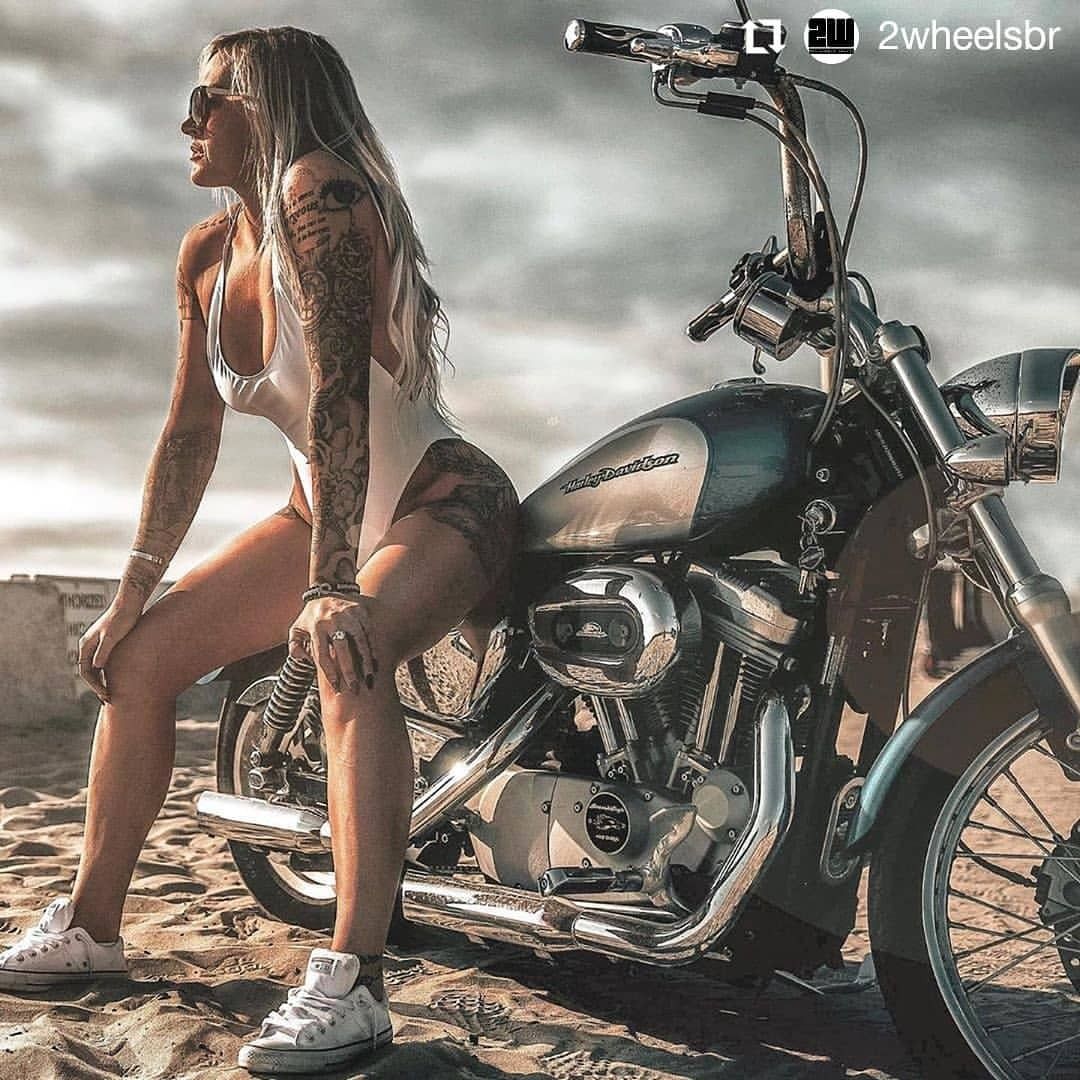 Not all biker babes are going to be absolute hotties, but some might look like nice, friendly ladies up until one acts like a jerk around them. Then that person might find themselves on the ground wondering what the hell happened. Hey, you don't get to be a biker by being weak, remember that.
A lot of women that love bikes are down for the ride.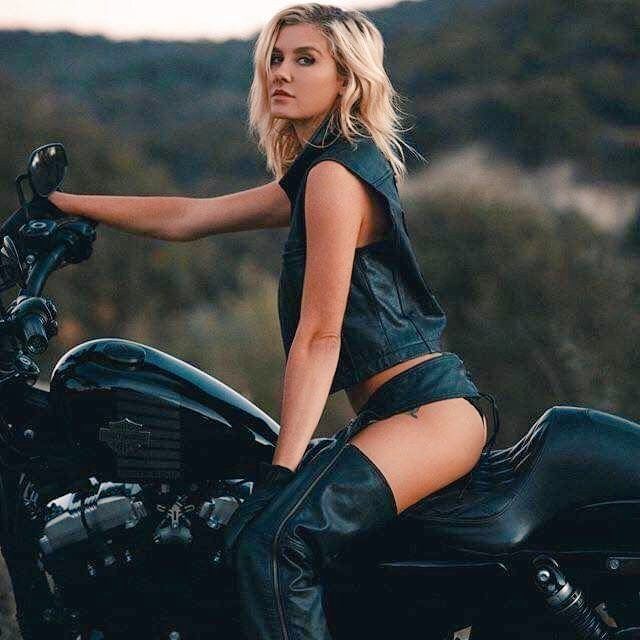 Ask any real biker and you'll likely hear that there's something innately spiritual to riding, as the open road affects a lot of people very differently. Some like the idea of being a biker simply because it gives them a chance to be an outlaw of sorts. But others enjoy the freedom of riding, as there does appear to be something more appealing to it than just the vroom-vroom of the engine.
Just a nice pic to end with, no reason other than that.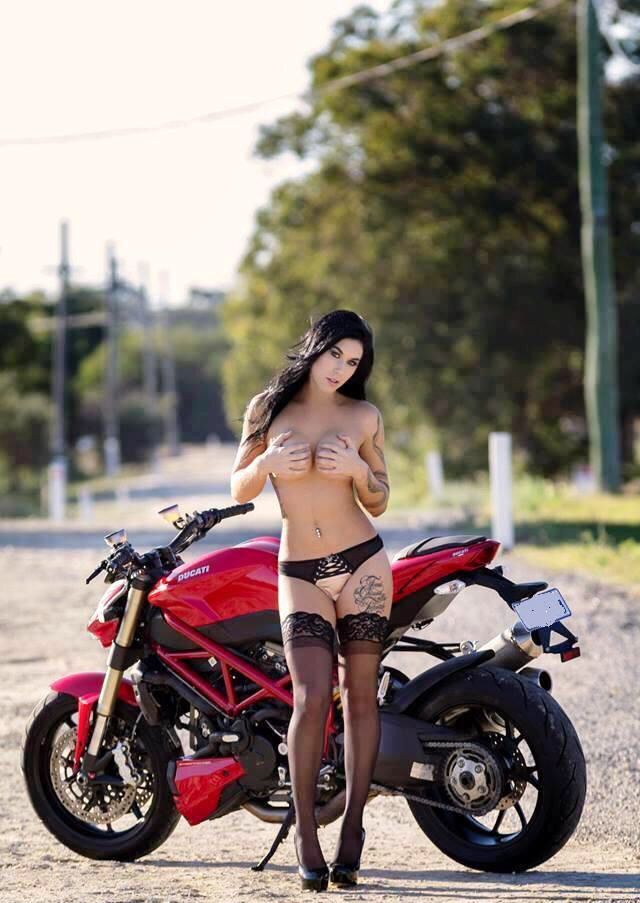 Remember what I said about imagery and how powerful it is? A hottie holding onto her love melons standing in her lingerie is a powerful image to a lot of people.
WTR? (Why's That Radass?)
Ladies and big bikes are a subject that a lot of people might know next to nothing about, but it's still interesting. Hot women sitting on bikes, reclining on them, or just standing in front of them with an alluring look is as good as gold more often than not. Admit it, you want to scroll back up. It's okay, go ahead.