It's dangerous in a lot of ways, and the highway is just one of them.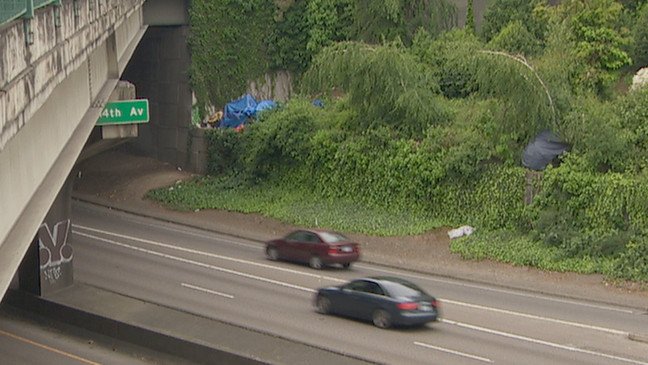 The idea of being homeless on the highway is a depressing one to be certain. Plenty of cities have a homeless problem. But several places are currently dealing with an issue that's tough to sort out. If you live in any of the cities that have been and are currently experiencing then it's likely you've noticed the tents in the parks and on the sides of the highway.
A lot of people turn their noses up at tent camps. It's not tough to understand since they look horrible. There's trash all over the place, the blue tarps and leaning tents appear ready to crumble into piles of junk, and as far as human waste, well…
Let's just say that it's a whole lot of bad when it comes to this matter. People living in tents off the highway is not a good thing. Not only is unsafe, but it's highly illegal. There are other problems to get into as well. Let's get into a few of them.
The risk of physical harm is way too high.
Driving by the campsites it's very easy to see how dangerous they are given their location. Some camps are set up only a few feet from the roadways. Some are set up on slopes that can be dangerous in good weather and bad. One little slip while sleeping or while not paying attention and traffic becomes an unavoidable hazard. Somehow though, this doesn't appear to matter to those living in the camps.
What's puzzling about this is that, in many cities, there are plenty of abandoned or unused buildings that can be used as shelters. Some folks have managed to find their way into such places. But there are many homeless folks that choose not to take this option, for various reasons that I won't get into. The reason for this is that those reasons are usually personal and don't always make a lot of sense.
There are documented issues that have taken place.
Seriously, a lot of people are up in arms about the cops rousting homeless camps. Unfortunately for those people who are often called bleeding hearts, the homeless folks aren't always innocent. There have been instances when people who are trying to help have only helped to invite problems into their midst. Helping with electricity, propane, and even a place to park their broken-down rigs or pitch their tents is kind and generous.
But unfortunately, it means that homeless folks sometimes feel that they have a freer hand than they really do. The idea that homeless individuals might find the need to rob nearby homes is a thought that many don't want to entertain in a politically correct landscape. The sad part of this PC era is that trust is still in short supply, but no one wants to admit it, especially when it comes to mistrusting various people who are seen as oppressed.
Seriously, homeless people are oppressed?
The robberies that have taken place since the homeless camps started appearing don't always get documented. They tend to become anecdotal since a lot of people don't want to implicate the homeless and get them hauled off to jail. Think what you want, but they'd receive better treatment behind bars since they would eat regularly and they would have a warm area in which to exist.
The messes that are left are up for debate.
This kind of depends on the city. Many homeless folks use public restrooms if they're available. Some don't have this option and use whatever or wherever they can. But the general consensus is that the messes created by the homeless look horrible, and can become a problem.
The garbage issue is one that's kind of hard to avoid unless homeless folks are up for being conscientious. But since a lot of them don't appear to be this way, the trash heaps that are presented are what people tend to judge them by. As far as human waste goes, there are cities where this is a massive problem.
Human waste poses a serious health problem not only to the people creating it but to those who live within the area. Depending on where the individuals decide to do their business, it could affect the health of an entire neighborhood.
Is there a solution?
There are a lot of solutions that could help this issue. Unfortunately, it takes the willingness of those who need help. Surprisingly, a lot of folks don't want this type of help for their own reasons. A warm place to sleep, a way back to a decent life, and even good food don't appear to interest them.
There are those who take these opportunities and, with a lot of gratitude, make something of themselves. Heartless as it might sound, who are the rest of us to keep helping those who don't want the help? Yeah, I get it, people want to help because it's the humane thing to do. But with the idea of needing to live one's own life and possibly take care of others, such as children and relatives, and possibly friends, it becomes difficult to take on the responsibility for anyone else.
There are plenty of reasons why people become homeless and it's not just bad luck or poor planning. But dealing with the various issues that homeless folks have is still not easy. Finding housing, counseling, food, and various other resources for their needs is taxing beyond belief. This doesn't mean that they need to be left to their own devices. But it does mean that it's a serious issue that has no easy solution that works for everyone.
What needs to be done is uncertain.
What's known about the homeless continues to be discovered since each case is unique and presents new challenges. The homeless that are situated near the highway aren't in the most danger and they're not the biggest problem. They're just the most noticeable.
There are various problems that need to be solved when it comes to the homeless issue in many cities. Unfortunately, the lack of cooperation to be had is a serious side issue that is difficult, if not impossible, to solve. Being humane to one's fellow human beings isn't as simple as giving people what they need. Amazingly, some people are highly resistant to the good life for their own reasons.
WTR? (Why's That Radass?)
It's tough to call this radass, but stating one opinion out of many is simple. Homeless folks might not want to stay homeless, but they certainly don't appear welcoming to the idea of a shelter or programs that can get them back on their feet. People can say a lot of things, and they do, but people need to want to succeed in order to become part of society once again. Living homeless on the highway sounds miserable as hell, but some folks are still willing to do it for their own reasons.