Everett's bikini-clad baristas have settled their lawsuit concerning their dress code.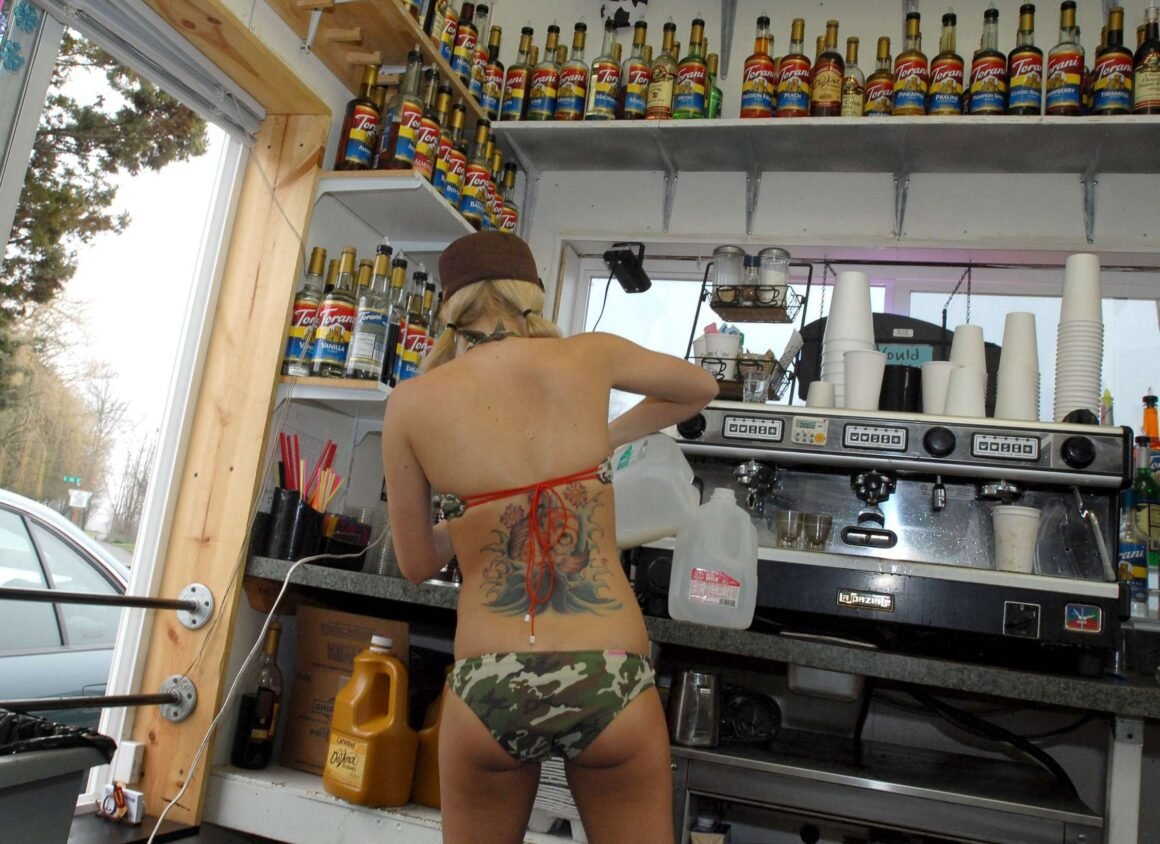 How many people really care about who serves their morning coffee, or what they're wearing? If anyone is being honest, there are plenty of folks who don't want to see young women in their bikinis serving their triple-shot espresso or anything else. But there are quite a few people that would stand up for the right of these same women to perform their duties in any way they saw fit. So long as a person is clothed, they should be able to do anything that's not dangerous due to a lack of clothing, right? Unfortunately, the issue that arose in Everett, Washington concerning the business practice of several baristas became kind of heated at one point. The idea of seeing women serving coffee in their underwear, or their swimsuits, irked more than a few people and was called into question by those same individuals.
It's true, people don't often expect to see women in their underwear or in the least amount of clothing possible unless they're working certain jobs that require such garments. Too many people would make it clear what they think of these ladies, but the truth is that unless one is insanely uncomfortable with the practice, these ladies signed up for this type of service. The unfortunate truth, as it's been documented, is that there were a few instances in which shady dealings were going on, and the concerns of the public were well-founded since a few ladies were exposed, literally, in ways that were considered lewd and illegal. When your coffee comes with a view of a bikini-clad woman it's not quite enough to warrant a negative reaction. But when that extra shot comes with sexual favors or indecent exposure, there's a bit of a problem.
Thankfully, it would appear that the majority of the issues have been sorted out with a $500k settlement.
How people dress shouldn't be an issue, until it is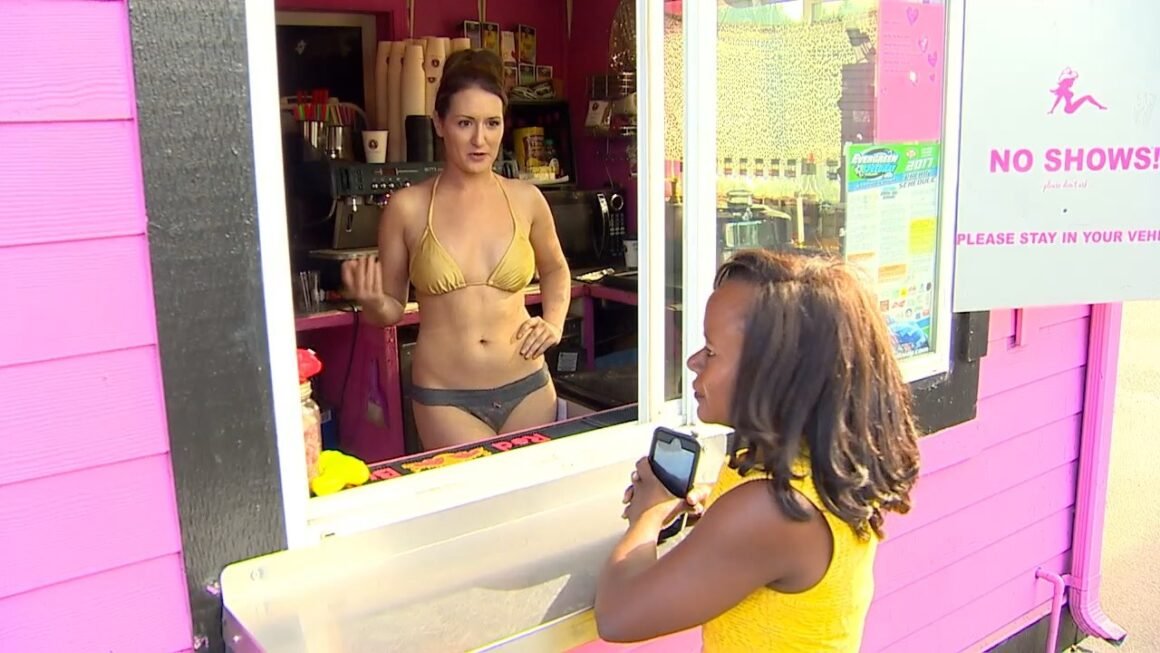 So, some folks do have an issue when other people wear very little to work. It kind of depends on what the job is and what's considered rational and decent for said work. For instance, a person wearing a swimsuit to a construction site is going to cause a stir, not just because of their exposure, but because it's highly unsafe. Working at a coffee hut though makes one think that there are a few risks, but not nearly enough to elicit the reaction that some folks have displayed. Sure, burning hot liquid and other hazards do exist in such a location, but it's a lot different from many other jobs that require PPE that protects a person from the type of damage that can be life-threatening, or worse.
In fact, given the location, the only issue that really appears to be a problem would be the temperature. Anyone from the PNW knows a little too well that Everett's climate isn't exceedingly warm, even if it's not as chill as cities further to the north. But think about the show women would be putting on in cold weather. Parkas and warm sweaters are kind of a must sometimes.
The exploitation and lewd acts did sound like a problem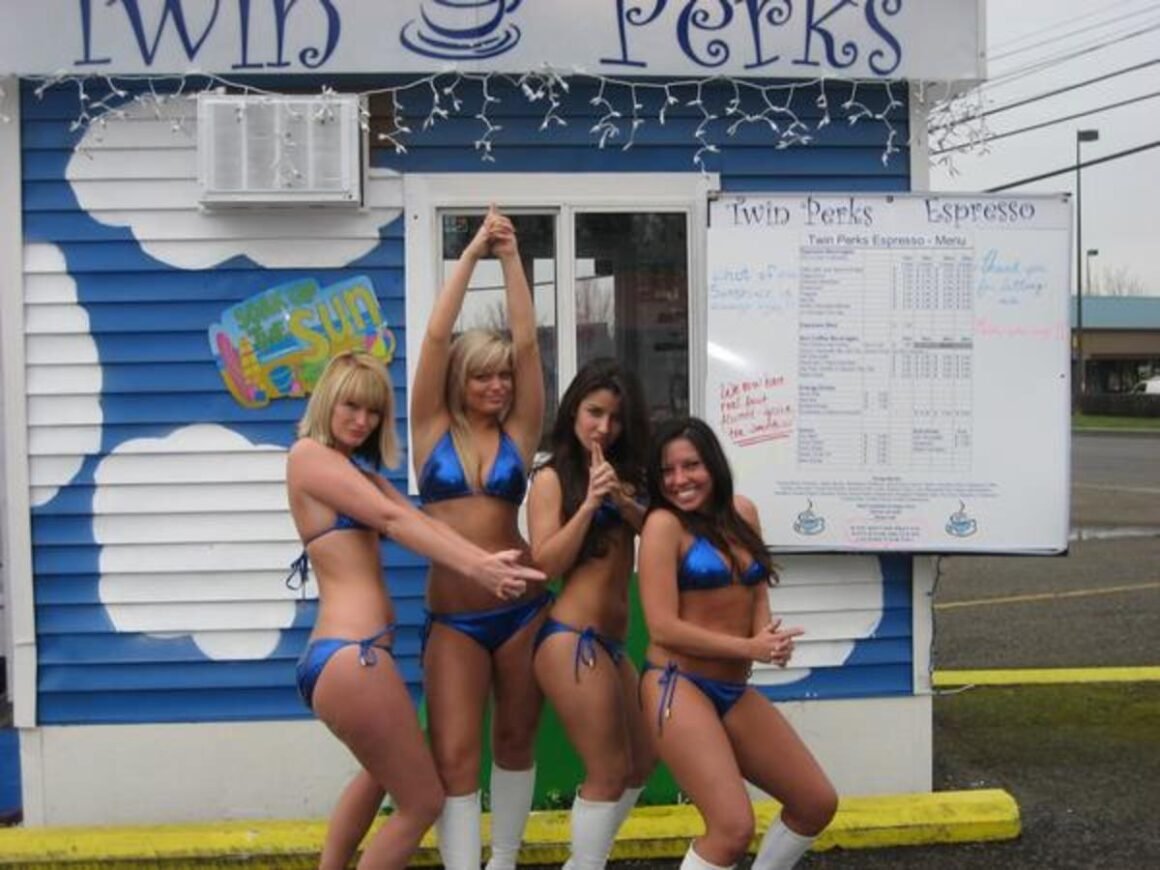 Anything that has to do with the exploitation of women is inherently negative since it doesn't bring to mind a great image of women in the workplace. While it does happen in legitimate jobs, it's still not a practice that can be supported. Working in a coffee house though, one can easily claim that it shouldn't be happening at all. When describing terms though, exploitation doesn't necessarily extend to ladies working in their undergarments or swimsuits. Now, see-through undergarments are obviously an issue since there's absolutely nothing left to the imagination.
But sex acts, 'tips', and other methods of explaining exploitation and lewd acts are serious issues. While those who engaged in such behaviors were arrested, the thought that such a thing could be common is still prevalent. Too many people are quick to focus on the negative aspects that are little more than hypotheticals.
The hypocrisy of a dress code is hard to argue against sometimes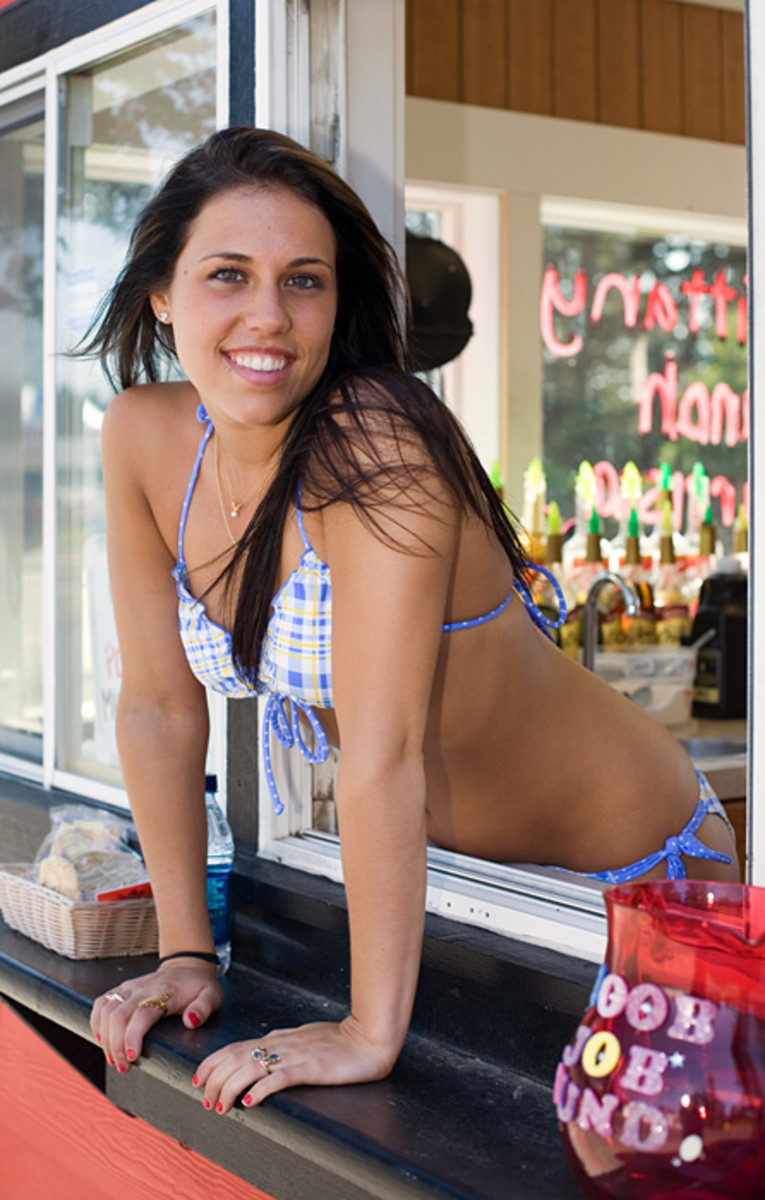 A dress code is something that is important to a job, a situation, or a social situation. This is coffee, as many would agree. Apart from being cold and being in danger of having hot liquids spilled on them, these ladies aren't in much danger. If one counts the actions and words of a few men that can't contain themselves as a possible hazard, they have a small point, but not a slam-dunk case to enforce what type of dress code is needed. Expecting everyone to dress the same, in other words, 'professionally' isn't bound to happen anytime soon.
Plus, how would people react if they came up to get their coffee and found their barista wearing a suit and tie, or a construction worker's outfit? Seriously, if you see someone wearing a bunny or Hazmat suit at a coffee hut, run.
Hey, sex sells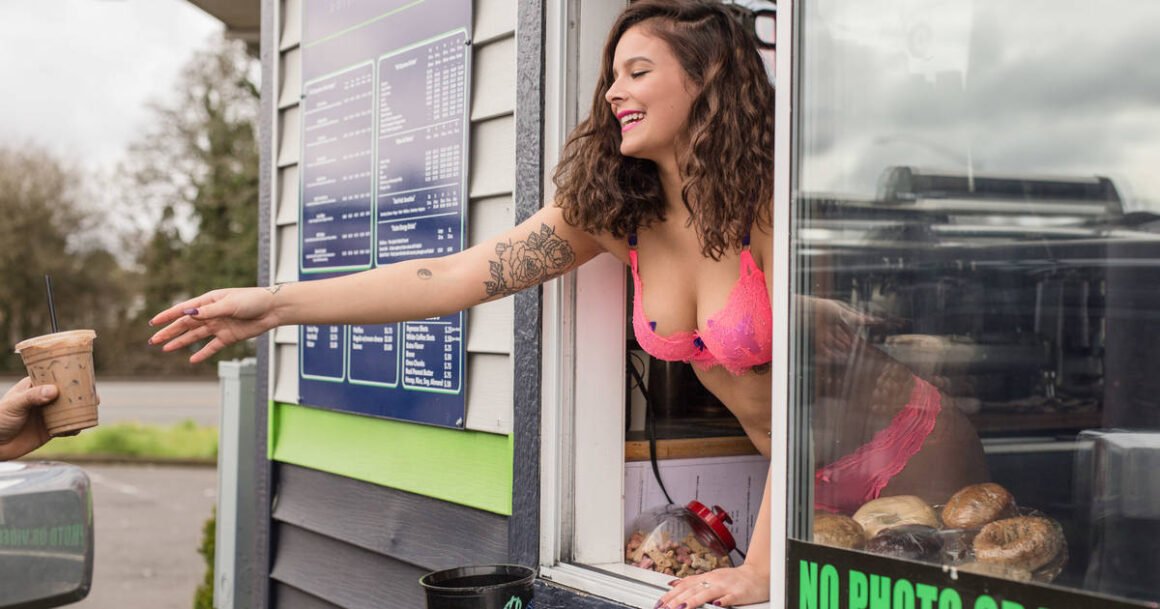 This has been true for a long time, and it's fair to state that it's going to be true for a much longer time than many realize. The thing about that, however, is that this technically isn't sex, any more than modeling is. It's sex appeal, that's for certain, but there is a line that doesn't need to be crossed in terms of opinion or reality. Sex acts that come with one's coffee are best reserved for pornographic movies and businesses that might find it necessary to file for such a license. But in general, sex appeal, not actual sex, is what a lot of people might accept with their cup of morning bean juice. It's regrettable to learn that there were such acts going on for a while, but it's easy to admit that this was not the norm.
When all is said and done, businesses use what they've got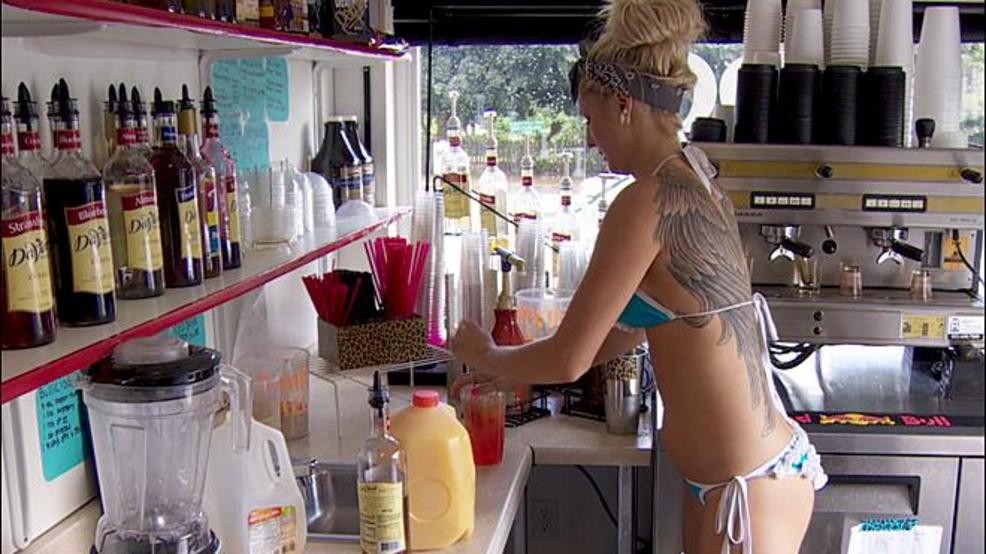 This isn't the worst or even strangest marketing ploy that's ever been used in the history of humanity. It's definitely one of those that raised a few eyebrows. It even managed to create a legal battle that feels, at this point, a bit ridiculous since what should have happened was a lawsuit against those that felt it was necessary to exploit their workers. But when all is said and done, one can't help but think that the way things turned out shone a spotlight on the iniquities that can come from such a business model. At the same time though, allowing women to wear what they want to work, as long as it's not absolutely indecent, feels like a better idea than calling out a woman for serving coffee in her bikini.
Explaining what to expect and training baristas accordingly is important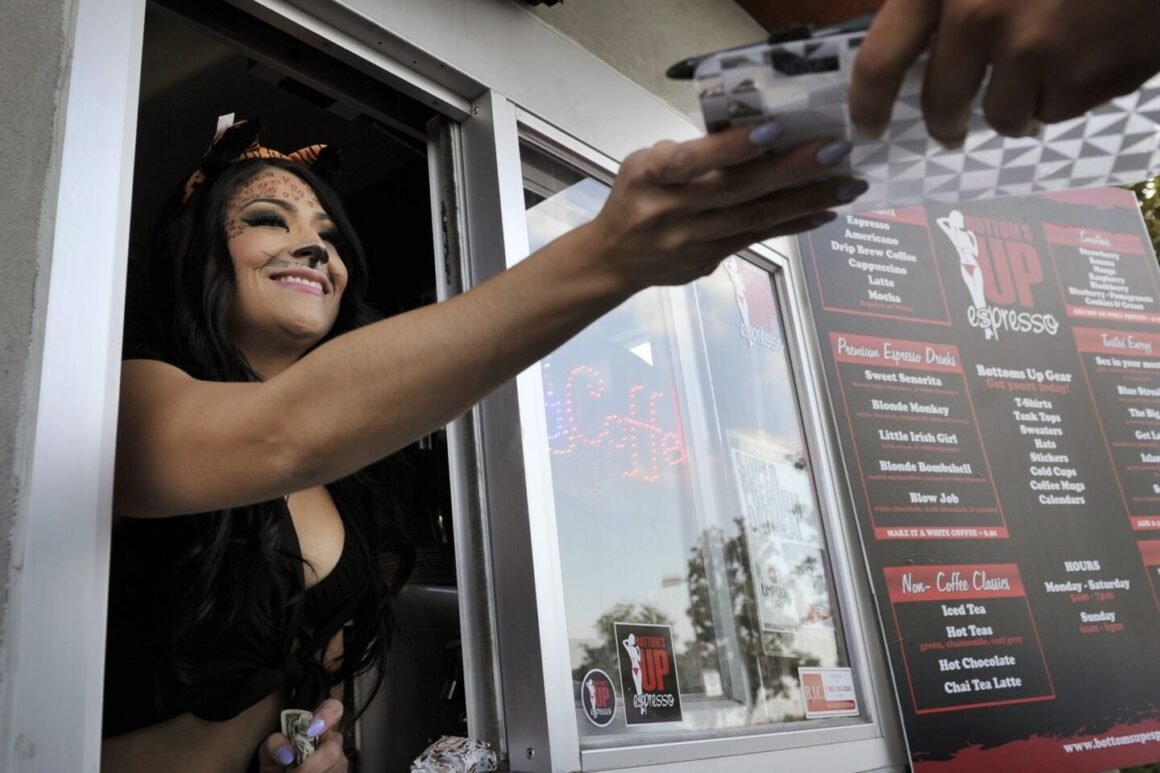 It's important for workers to know what they need to do, what's expected of them, and what not to do in order to keep a business running the way it should. At the same time, it's important for the customers to accept the service they're getting and, if they have beef with the servers or the business, take care of it in a professional manner. This issue wasn't quite as simple as it should have been since there were big issues that needed to be dealt with, and there were moments when it sounded absolutely absurd.
But at the end of the day, it is the responsibility of the business to educate its workers and make sure that everything is running the way it should.
WTR? (Why's That Radass?)
One can't help but say congrats to the baristas that came out the other side of this mess. It's easy to criticize and look down on something that people don't fully understand, but in terms of a dress code, baristas wearing bikinis isn't the worst thing to ever happen.