Who would have thought? A bunch of Redditors made a whole show and the big shots of Wall St. are pulling their hair out. Let's see what happened there.
GameStop stocks' situation was one more remarkable way to kick off 2021, and it is likely going to be talked about for many years to come. What exactly happened with the GameStop stocks? We'll simplify it for you. Small investors and Reddit users noticed how hedge funds shorted GameStop stocks with the intention of them going down. Then, in a wallstreetbets subreddit (https://www.reddit.com/r/wallstreetbets/), they made a deal to start massively investing in GameStop, which caused its stocks to skyrocket – their value increased 1700%. As a result, hedge funds started losing billions of dollars. The whole situation was a visual representation of how powerful people are when they unite. Shocked billionaires of Wall Street called for regulation – the same people who never asked for the market to be regulated. Turns out that the taste of their own medicine isn't that pleasant. Joe Rogan even discussed it in one of his podcasts.
After that, stock trading platforms (like Robinhood) stopped trading on GameStop, which means the users couldn't buy those stocks but only sell them. That caused the value to drop, and the only people who benefited from this were the rich ones. Nevertheless, we will remember this situation and it can be explained later on in books on business and finance.
Another treasure we have from the situation is the memes. Let's check out some of the funniest memes and comments from ever-so-creative Twitter users.
Photo Credit: Twitter/Bored Panda
Hey! Don't make fun of the big bird!
Photo Credit: Bored Panda
Professor Snape fits perfectly into all this mess, we gotta say.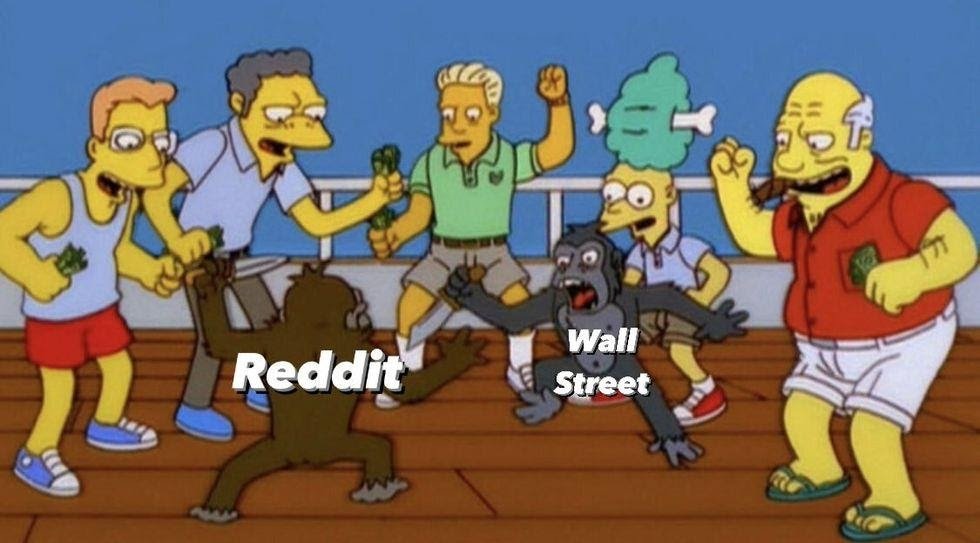 Photo Credit: Men's Health/ @thepicdept
Simpsons have a visual representation for all real-life situations.
Photo Credit: Pinterest
We knew this cat meme would be perfect for the GameStock shock.

Photo Credit: Twitter
Is this man speaking facts? It's up to your Rad asses to decide.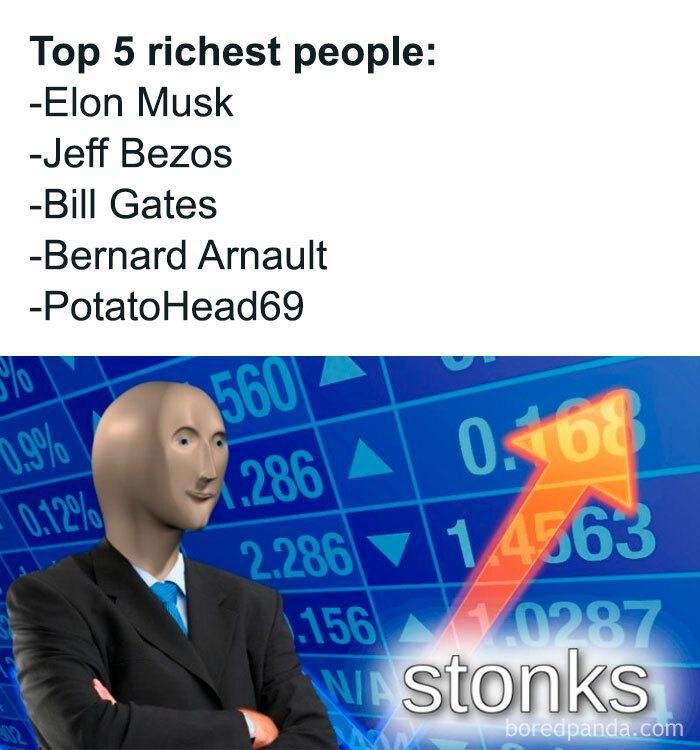 Photo Credit: Bored Panda
Hahahahahaha. Stonks are the real deal for PotatoHead69 and User2002! How do you feel about the whole GameStop rise from the ashes, RadFam? Are you more curious about the stonk market now? Let us know.
WTR?
If you could care less about stocks I'm with you, but when it comes to those that are doing something dirty getting their comeuppance, then it's usually a lot of fun to see.