Hotties can get your temperature rising in any situation.
Fending off the cold, one hottie at a time is kind of easy when one realizes that focusing on the hotties does make a person feel a little warm in certain places. There's something magical about seeing half-naked women in the snow, especially when it appears that they're having a good time. It's fair to think that behind the scenes they're not having a blast since, well, thinking about laying your bare backside on the freezing snow is tough to get excited about. But watching hot women do it and act like they're having a good time feels like fair game.
A lot of people might think that folks are crazy for heading out into the snow to do anything other than bundle up and go hurtling down a hill on a board or a pair of skis. But some folks enjoy heading out to show off what they've got and making it clear that the elements aren't as big of a deal as some think.
Like most images that feature hot women in skimpy clothing, those depicting gorgeous women in the snow are mesmerizing. Why? That's tough to say, at least without admitting that men just like staring at hot women. Maybe it's due to the expectation of women being garbed in warm clothing from head to toe in the winter due to the cold. After all, most individuals don't tend to strip down to their underwear or reveal a swimsuit beneath their clothing when it's less than 32 degrees out. Granted, some do, and we're here for it.
Warming up to a hottie isn't rocket science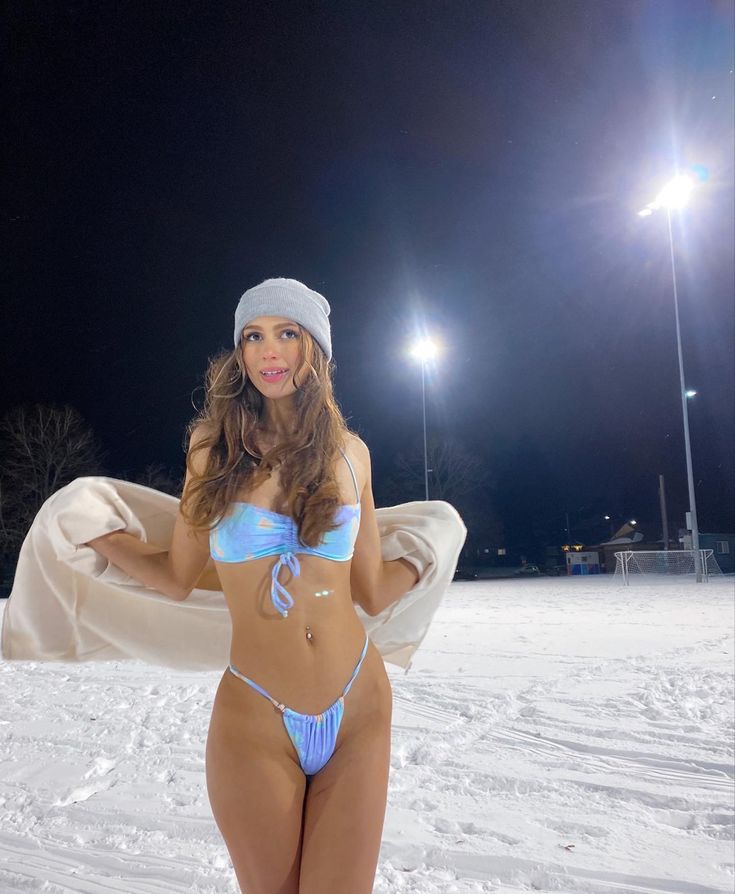 It's obvious that a lot of people, guys mostly, believe that approaching a hottie is a daunting prospect. In all honesty, that's not entirely untrue. Nowadays, it's easy to think that some women would rather spit and walk away than talk to a man who speaks to them. But there are ways of making this work that I won't go into full detail explaining since it would create an entire novel that a lot of guys wouldn't believe. All joking aside, the fact is that hotties are still women, meaning that they're human and therefore have their own hangups.
Sure they're hot. Sure they're gorgeous, exotic, and sexy in every way. But this is what you see on the outside. It's easy to ogle and appreciate the beauty that's on display, but beneath those good looks are very different people that may or may not be amenable to hanging out and enjoying the company of those that who are ready to treat them with all the warmth they deserve.
Snow bunnies are definitely adrenaline junkies…sometimes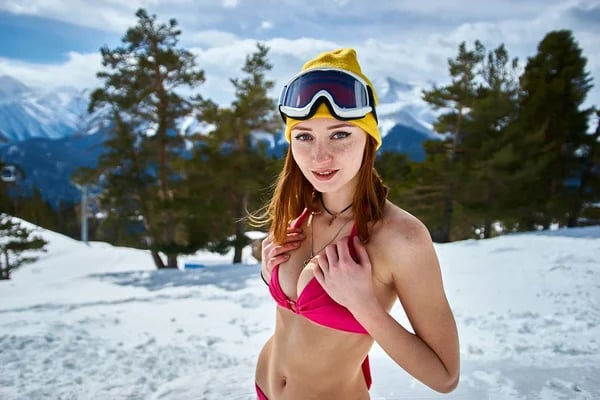 It's not hard to think that those who strip down to their bikini in the snow are adrenaline junkies in part. How else would one be able to show off their looks in the snow without feeling the rush of energy that's necessary for everything from enjoyment to survival? Granted, they have a crew on hand waiting to warm them up with a thick jacket and anything else that's needed while on a shoot. But those who decide to make their way up the mountain in order to flaunt their stuff and look good while doing it are adrenaline junkies for certain, or they've lost a bet.
Either way, it's always fun to see the snow bunnies come out and play.
'Ice Queen' isn't necessarily an insult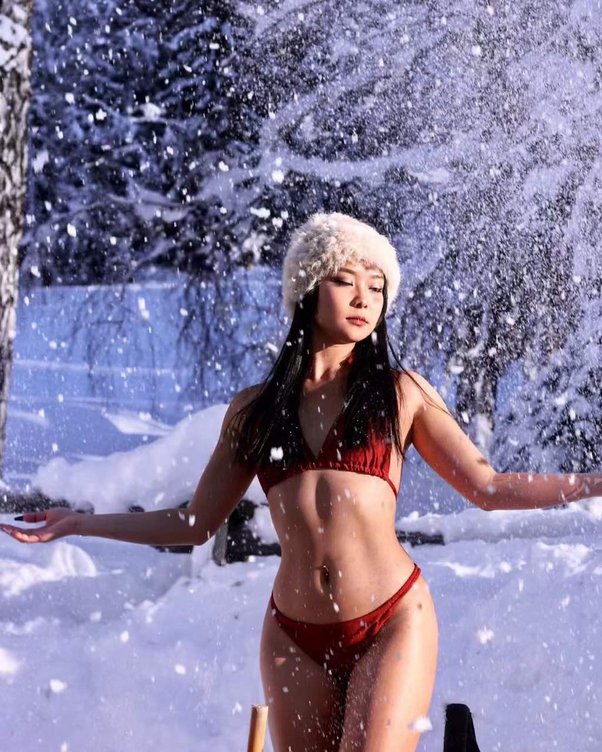 A lot of guys don't normally call a woman an ice queen since it's considered to be an insult. After all, this is typically something that men don't call women without a reason. A real ice queen is the type of woman who is kind of stuck up, full of themselves, and wouldn't spit on a person on fire to save their life, unless there was something in it for them. That's the general idea of being an ice queen, to be honest.
But from this image above it's fair to say that ice queen could use another definition. Hey, a woman might appear cool and chill on the outside, but a lot of them have a warmth you can't always see on the outside.
Frolicking half-naked in the snow is kind of exhilarating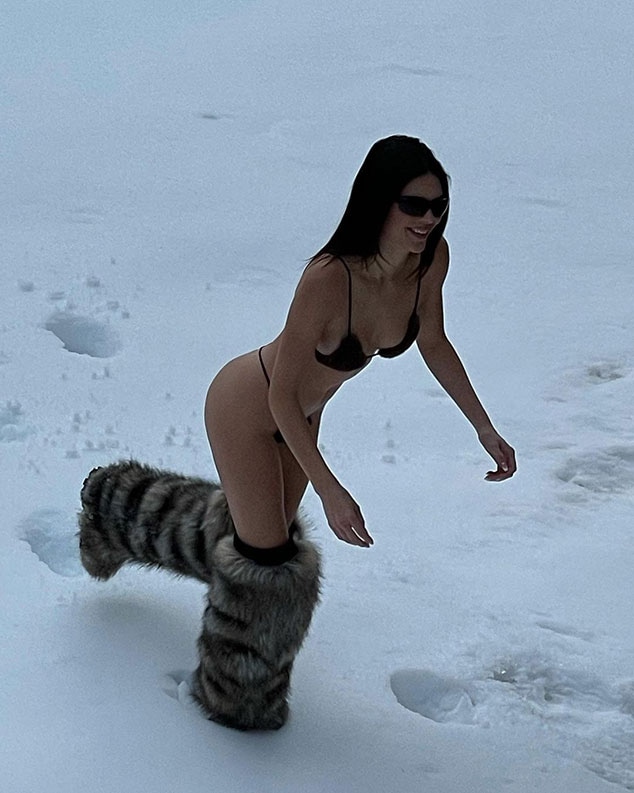 Playing in the snow is fun, we learn this when we're children hoping for a snow day from school. But playing in it half-naked is something else to be fair. When that icy cold powder hits your skin it's like an electric jolt without the pain, at least at first. But after a few minutes, it's easy to feel the effect as one's body goes a bit numb. Of course, if we were frolicking with hotties like these, it's not tough at all to think that a lot of guys wouldn't even feel the cold.
There's something encoded in male DNA that makes it possible to ignore the elements whenever a hot woman is around. At least for a while, right? It's okay guys, you can admit it, when a hot woman is around you'd likely jump into a snowdrift if she told you it's hot and would excite her. Your manhood might shrivel to the size of a pea pod, but you'd do it.
Keep your eyes open, snow bunnies might still be out there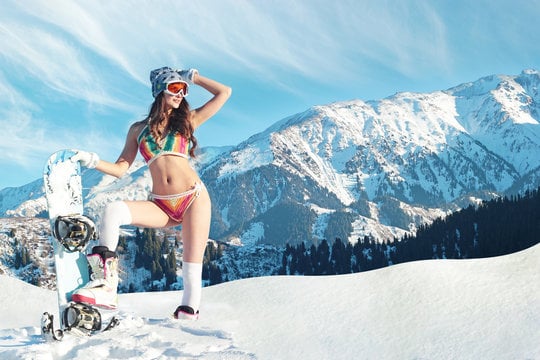 As a lot of people have already noted throughout the US, winter is still here and it's not loosening its hold that easily. This could mean good news once the powder's fallen and the new day has dawned the snow bunnies might come out. Or maybe I'm just telling tall tales. One thing for sure is that there are snow bunnies out there who are still having fun with the ongoing winter, and it's fun to think of where one might find them.
WTR? (Why's That Radass?)
Hot women will always have a spot in the pages of Radass. They're appreciated, they're enjoyed, and above all, they're a bit part of why we do what we do. But hot women in the snow in their bikinis? Hoo yeah, that's some good clean fun right there.