Proof That Dads Will Do Anything For Their Kids
In honor of Father's Day, let's give Ben Patterson a round of applause.
Kids are disgusting miniature humans that are stinky, noisy and just downright gross. But if you have the patience to push a few out, why not?
Well, Mr. Patterson might have a few reasons.
While on a nice drive with his son Declan, the little dude barfed all over himself, and while that's not the worst surprise a kid can project out of his body, the insane chain of events that happened next will make you question your desire to be a parent.
Here's what happened, according to Mr. Patterson via texts to his wife (who might I add, was ignoring him the WHOLE time, probably thinking: "TG I'm off duty right now, good luck with that honey"):
"SO THIS JUST HAPPENED
I JUST PULLED OVER AND AM TRYING NOT TO THROW UP MYSELF
CALL ME
I JUST THREW UP TRYING TO CLEAN HIM UP
IT SMELLS SO BAD"
I'm sure he's seen better days.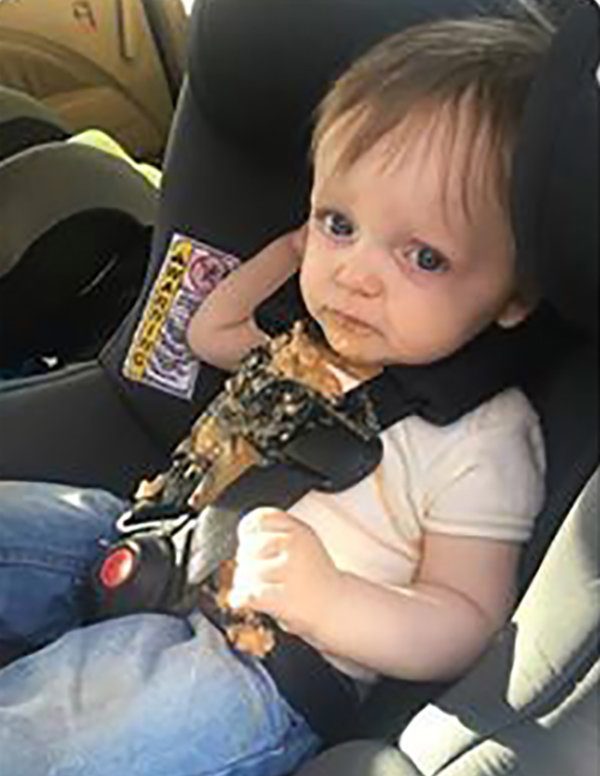 The texts get progressively more hilarious worse when Patterson can't stop barfing all over a woman's lawn, who thinks he's drunk driving with Declan:
"I'M STANDING ON THE SIDE OF THE ROAD DRY HEAVING, I CAN'T EVEN BE IN THE CAR IT'S SO AWFUL
I SERIOUSLY DON'T KNOW WHAT TO DO, I'M BARFING EVERY TIME I TRY TO CLEAN HIM UP
I'M PUKING ON SOME LADY'S LAWN IN BURLINGAME AND SHE COMES OUT TO ASK ME IF I'M DRUNK WHILE DRIVING THE KIDS
I'M TRYING TO EXPLAIN THAT I'M A SYMPATHETIC VOMITER AND CAN'T HANDLE THE SMELL
THIS IS SO BAD
AAAAND NOW THE COPS SHOWED UP
BECAUSE THEY HAVE NOTHING BETTER TO DO IN BURLINGAME
AAAAAND NOW A BREATHALYZER
YOU OWE ME SO BIG"
She would definitely owe you, but as Patterson later admitted in a recent Facebook update on the situation, that was added for dramatic effect to get his wife's attention. It didn't work loldeclan
"MEANWHILE DECLAN CONTINUES TO BARF
WHAT DID HE EAT BECAUSE IT SMELLS LIKE ROTTING WHALE BLUBBER
ANSWER YOUR PHONE!!!!!
AT LEAST I PASSED THE BREATHALYZER
TRYING TO DRIVE HOME WITH THE WINDOWS DOWN AND BREATHING THROUGH MY SHIRT."
We salute dads like you, Ben. Keep up the good work, and find out what is making your kids throw up smell like rotting whale blubber for all our sakes.
ben pattersonn
cops patterson