Leave It To Teachers To Ruin Thanksgiving
*WARNING* may cause IMMENSE ANGER
A 6-year-old, high-functioning autistic boy was about to deliver his line in a West Virginia school's Thanksgiving play. As the LEAD TURKEY, all he wanted to say was "Gobble Gobble".
But before he had the chance to melt our hearts, his teacher snatched the microphone away, and left him in tears.
His mother, Amanda Riddle, shared footage of the incident on Facebook, which got hundreds of thousands of shares.
In an interview, Amanda recalls the incident. "She went up and she snatched that microphone from him. What would it have hurt to give him a few extra seconds to say 'gobble, gobble'?"
She said her boy was excited to be on stage at his elementary school but when the mic was taken away, his mom recalls, "he was up there crying, saying 'oh no!' and my heart broke to watch that."
It broke mine, too.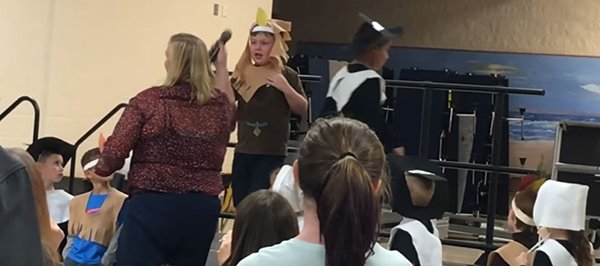 And if that's not bad enough, the school's superintendent Dr. Mark Manchin said the play was over, Caleb wasn't supposed to speak, and that the teacher did nothing wrong.
"The program was over and the teacher had taken the microphone without malice. If we had to do it again, probably we all agree, we would have done it a little differently," the superintendent said.
"Without malice." You watch that video again, and tell me she didn't take it away without harsh intent.
Even if the play was over, everyone else was given the opportunity to say something. He was the last child to go up. Just let him have his chance.
This is elementary school, not some Broadway play. Get a fucking life, lady.
I have never seen such disgusting behavior, and I think what makes it so bad is that this is how the teacher acts in FRONT of people, including the boys parents. Can you imagine what happens to this poor boy behind closed doors?
It doesn't matter that he is autistic. That teacher is bully and is showing the other children that it's okay to treat others poorly because they are different.
"He was the turkey after all. I'm sick of kids that are not considered 'normal' being treated the way they are," his mother said.