Walter Bunker, a 90 year old WWll Vet earns his B.A. Degree 70 years after he started.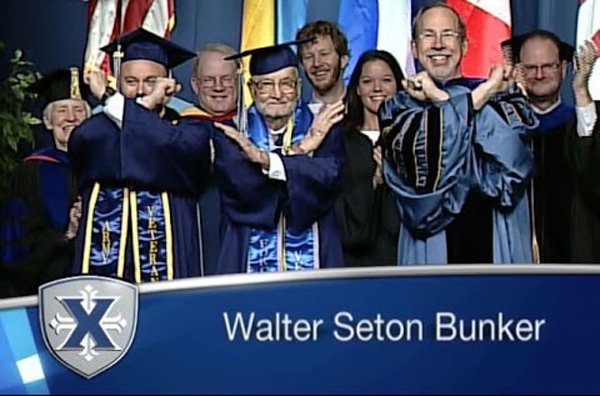 Walter graduated in the same ceremony as Ryan Hoefer, a 30 year old Iraqi War Veteran.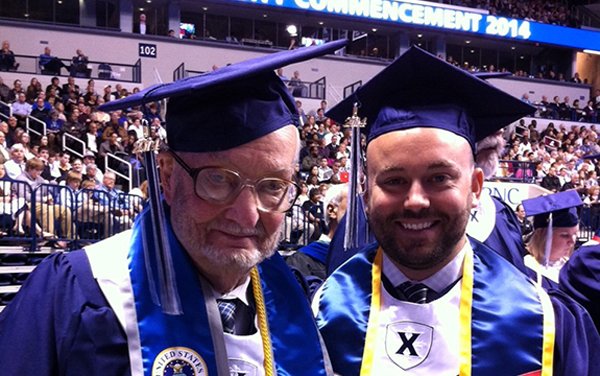 During the 1940's Walter Bunker, was attending the Cincinnati College of Music, yet faced a very uncertain future with WWll looming closer every day. He chose to drop his schooling and instead serve his country. Walter served as a Bombardier and flew combat missions over Germany and France helping the US and allied forces.
In 1944 he was medically discharged from the military and once home he began his education again. He was enrolled at several different colleges, but at Xavier, he met his wife to be. His medical condition required he once again withdrawal from school. The earning of a B.A. degree had to be tabled for a while.
Well then life happened. Walter worked hard, supported his family, and continued to battle with various medical conditions, including a very recent bout with Cancer. The realities of life afforded him neither time nor opportunity to return to school.
Last August, fearing nothing to lose, Walter met with the Chancellor at Xavier University. According to his transcripts when the schooling he had completed, and earned credit for, was added to his military credits he found out he was a mere 2 units from landing his degree. The choice was a simple one. He enrolled and completed his studies and was ready for his big graduation day!
Walter graduated cum laude earning the privilege of walking up on stage to receive his B.A. degree over 70 years after he had first began working toward this dream. As the P.A. announcer said the name Walter Seton Bunker, he pumped his fist in the air and the explosion of cheers from family, friends, and complete strangers was deafening. The announcer continued on reading Walter's life time achievement awards while the ovation just kept going on and on.
The ovation got even louder still when Walter's escort and fellow graduate, Iraqi War veteran, Ryan Hoefer, met him on stage. Hoefer was honored as well while the ovation carried on in the background. Finally, the two vets, and fellow grads, diplomas in hand, turned to face the crowd. As they did so they threw their arms up in the form of an X which is a Xavier student's way of saluting the university. The crowd erupted again into a standing ovation as the two made their way from the stage to the auditorium floor. There was nary a dry eye in the crowd.
Fist pumps, and throwing up school tributes at 90, you may well wonder what's next for Walter. Though he says he has lived a fulfilling and happy live he has but one last dream. "I want to be a cowboy". Written by Robert Piche.