You know what you expect, but you also know what you're going to get.
You've got to wonder sometimes who has the biggest expectations when it comes to Valentines Day, men or women. The easy answer is that both men and women expect a lot when it comes to this day, but the truth is that a lot of people expect quite a bit on this day since they want to be wined and dined with plenty of romance and a lot of folks probably want to end up in a soft bed or equally comfortable location with the individual of their desire. Here's the best question: How many people are going to get what they want, and how many are going to get bitch-slapped by reality? One thing that makes this easier to take is it's not just the plain, average folks that have no luck in love that might find that their efforts haven't paid off, but the hot, gorgeous people that a lot of people think are going to be well taken care of. Believe it or not, even the beautiful people are going to be watching Netflix in their pajamas while eating chocolate and drinking wine or something harder on V-Day.
Here's the expectation.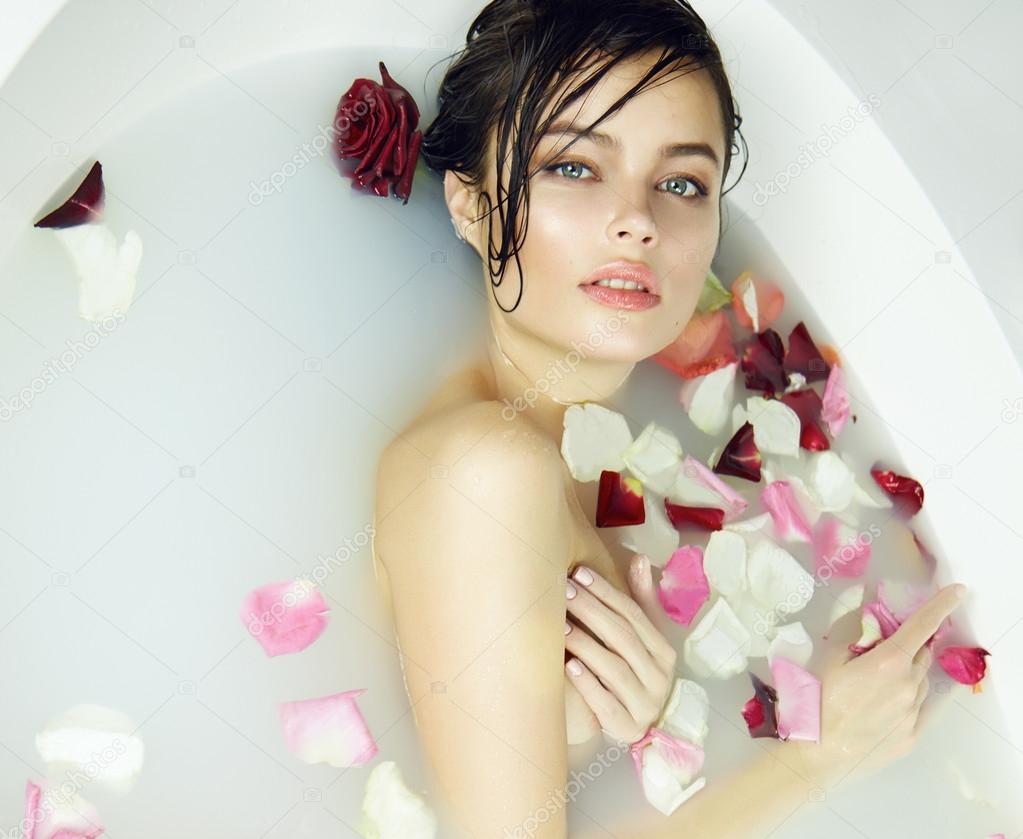 The elegance, the beauty, the exotic feel of a beautiful woman in a milky bath with flower petals waiting for you with a seductive look in her eyes and full lips just waiting for you to come and join her, right? I don't know of a lot of guys, apart from those that are perhaps envisioning a hot guy (hey, to each their own fellas) in place of this woman that would say that they're not ready to strip and hop in the tub. It's romantic, it's sexy, and it's something that you might envision with your own wife or girlfriend, or the woman of your dreams, right?
The reality is that you'll either be taken a bath with scented candles on your own with a cold brew in hand or a glass of White Zinfandel or something just a fruity in hand as you wonder why you're still single. Or, it could be that your significant other will look at you funny if you so much as suggest taking a bath together. Hey, some guys will get lucky, some might even get to take a shower in the same space as their SO. But on average, you'll be sitting in a regular tub on your own just waiting for V-Day to get over with.
The fantasy is worth having.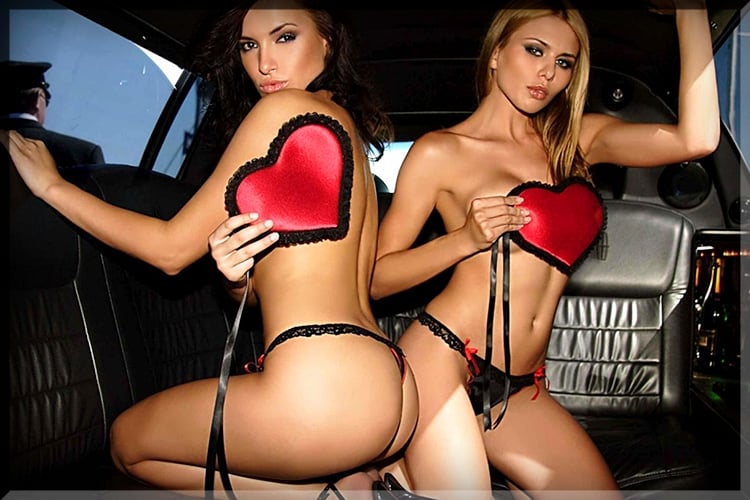 Two women or more at the same time is a fantasy that a lot of guys tend to have, and believe it or not, some guys actually get it. Hey, fantasies do come true now and then, but more often than not this is something you'll be more likely to see on Pornhub or XHamster. If you can find a VR experience then more power to you since you'll at least get to watch, right? The idea of being able to satisfy two women is a fantasy that a lot of individuals could admit would be something that they'd pay an arm and a leg to experience.
But the reality is that if you're hooked up with someone that they're going to look at you in absolute disgust if you even mention this to them. Some women might be open to the experience, some might want to get spicy in the bedroom and do something different. But the average person is bound to want this but never in a million years experience it. This idea is something that only the truly lucky get to experience, while others will be paying to see it on an adult channel.
Oh, there's more.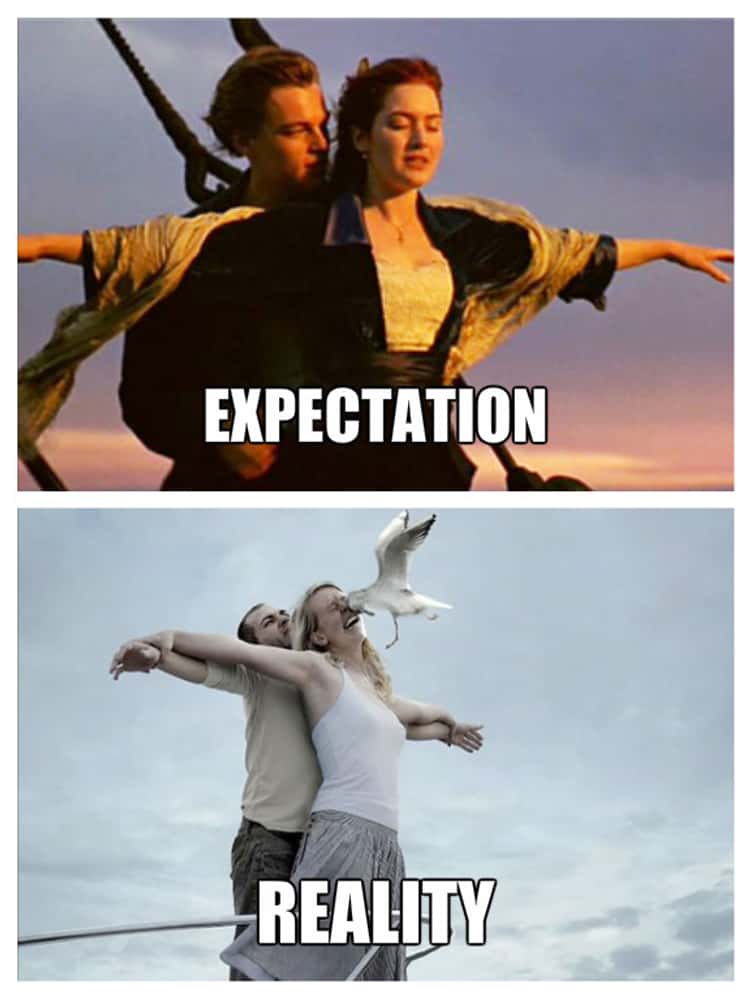 Remember that romance that I spoke of earlier? Women want to feel like they're appreciated on this special day, and they want to feel as though they're living their dream for at least one day out of the year. Unfortunately, the reality of this is that there are a lot of things that can go wrong and there are a lot that do tend to go wrong since, well, things happen. It's important to keep your woman happy and give her the type of fantasy that she really wants, but that means a lot of planning and possibly asking her what she really wants. You know very well what some women will say, right? As much as they don't want you being able to read their minds, they're still going to hit with you with "If you don't know by now…" or the stony silence that means that you f-ed up.
Oh, it gets better.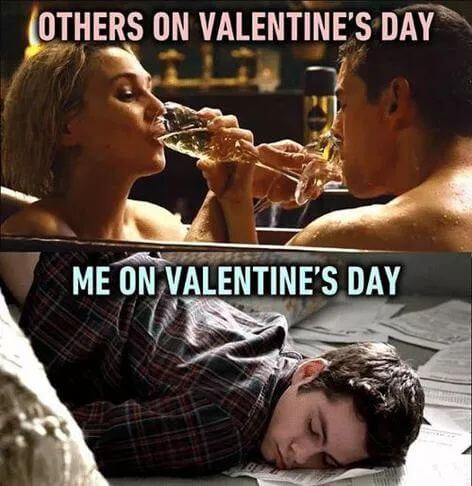 The unfortunate part of Valentine's Day is that a lot of people are going to do a lot of planning since they do want everything to be special and they want to please their SO or attract the person that they believe they're compatible with. The planning part isn't the problem, nor is the idea that you can reach the person that you want and get them to listen, or that you'll be able to anticipate what your SO will want and enjoy. It's getting it right adn not spending the day alone, or trying to make up for one stupid mistake or another that's the trick, since if you end up screwing anything up on this day then it's fair to say that your SO won't let you forget it for a while, if ever. And if you fail to attract that special someone there are hundreds of ways that it can go wrong, especially if you have to see the person every day.
Valentine's Day isn't all about doom and gloom to be honest, but it does place a lot of pressure on a lot of people and to be fair, it's one of the only days out of the year when expectations tend to get this high.
All this for one day, it boggles the mind.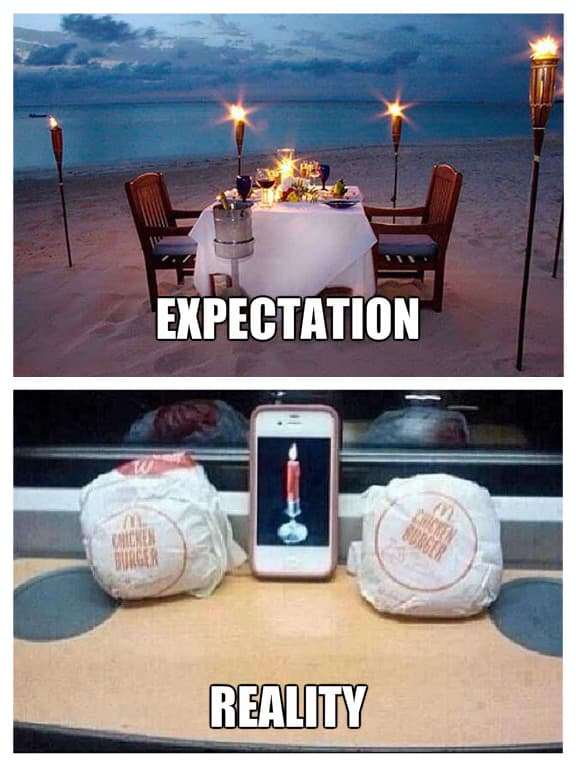 What's funny about expectations is that the mind builds things up in such a way that it's nearly impossible for a lot of people to even come close to achieving the kind of result that others are expecting. Those that want fine wine and caviar might end up having to settle for boxed win and some cheese spread on regular crackers. Those that want a romantic date will no doubt be getting a lot of Netflix and no chill. See how it works? The more money a person spends, the more likely it is that they'll get closer to their goal. If it makes them happy then they've done something that many people find next to impossible, they've had their cake and managed to get a taste of it as well. But expecting everything is kind of like setting yourself up to get next to nothing since if you can't make do with what you have, then you might not deserve what you're really getting.
It's important to expect the simple things and enjoy the luxuries, if and when they come.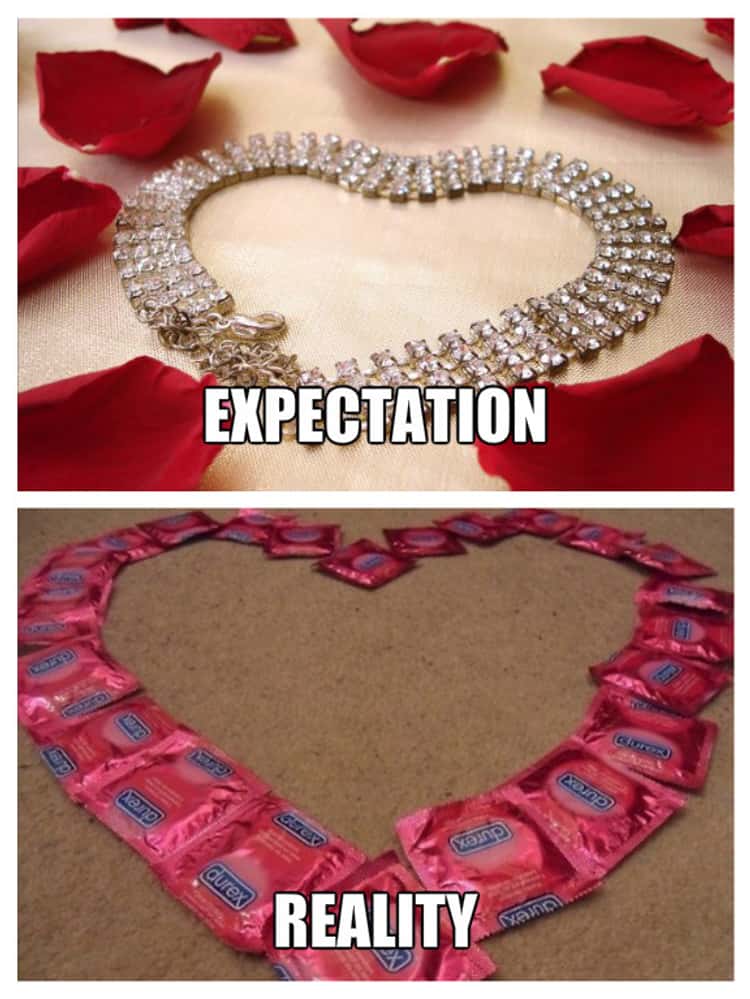 On Valentine's Day there are guys that are looking to appreciate their women and there are guys that are just trying to get laid. It's true that they can be one and the same since a lot of us that are out to please our SO would love a good horizontal mambo after our careful planning, or even after five to ten minutes of thinking what she would really like or what we would really like and hope that she would like. The trick here is that everything should boil down to what she likes since like it or not, Valentine's Day, despite not starting out as an amorous holiday, has become a day for women to feel appreciated, loved, longed for, lusted after, and taken care of in every way a man can think about. Granted, some guys think they're Casanova and can rock their woman all day and night in the bedroom, as evidenced by the scene above, but one thing that most guys should be able to do if they have an SO they care about is show them that they care from sunup to sundown and possibly to sunup again.
If you get a gift from your SO on Valentine's Day then consider yourself lucky, you have someone that cares about you just as much as you care about them. But otherwise, treat your SO right and jut accept their happiness as your reward.
Valentine's Day can be torture or terrific, pick one.
Everyone wants the fantasy so that they don't have to think too hard about the less than satisfying reality, which is that around this time of year a lot of people are looking around at all the happy couples and are getting a bit jealous and ready to throw a fit. The fact is that you don't have to be miserable on this day, and you don't have to spend so much time worrying if you're going to screw it up.
Of course you're going to screw it up a couple of times, but that's okay. You're bound to learn eventually, so long as you're willing to pay attention to what you did wrong, what your SO is expecting, and what you can do to make it better in the years to come. Wanting the fantasy and making it happen isn't always bound to be possible, but doing what you can to move toward that fantasy or provide something better is bound to make you and your SO feel as though you care enough that you're willing to do anything to make them happy.
WTR? (Why's That Radass?)
To all of our Radassers that frequent the site, and to all guys in general: relax. Valentine's Day shouldn't break the bank or tear your heart in two pieces if you fail since whether you're hooked up with someone or not there's always a chance to change things up and get it right the next time.