Don't we love what the gluteus maximus muscles can do? We're not ashamed to say we can get pretty mesmerized by how the ladies make their backsides shake. They make it seem so effortless, don't we all agree? Amen to them. Even though twerking has been around for quite some time, it truly never ceases to amaze us.
We wouldn't be a Radass team if we didn't take a serious and quite nerdy approach to shaking a derriere. A glorious one, we might say. So, what is the science behind it?
A Pelvic Tilt
According to Michelle Olson, a professor of exercise science and a certified strength and conditioning coach at Auburn University in Montgomery, Ala, when a person twerks, they combine movements like a pelvic tilt and deep squatting.
3 key physical mechanisms of twerking
Wave mechanics in an elastic medium.
Centrifugal forces.
Resonance frequency.
Why Do We Love Jiggly Asses? – Social & Evolutionary Aspects
We can't deny that the main audience for this splendid dance is the male population. To understand the attractiveness of twerking, we dove deep into evolutionary research and courtship display. Don't know what courtship display is? No worries, we've got you. Courtship display refers to a set of behaviors in which an animal – and we are animals, too – attempts to attract a mate. When this term is used scientifically, it refers to animals, and the ones who are attracting a mate are male animals.
In the case of twerking, females are the ones to do so. That's where you can get an "a-ha" moment – twerking puts a woman in the ideal position for mating. The display of genitalia is as blunt as it gets, and a male brain records it as a call for mating. To put it simply, women are in the ideal canine stance for mating, and obviously, there is nothing as alluring as a canine mating stance. Not even jiggly tits. Well, maybe that's up for debate.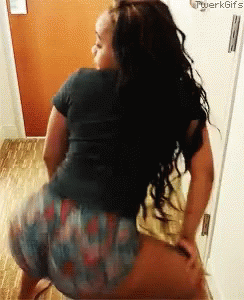 Where Does Twerking Come From?
The term itself is only a couple of decades old as it dates back to the song "Do The Jubilee All" by DJ Jubilee, who was chanting to the ladies to twerk. The butt-shaking dance itself is much older than the term and comes from the Ivory Coast and the dance called "Mapouka." Lately, girls have been popularizing it on TikTok:
In hip-hop, R&B, and dancehall music, ladies have been activating the centrifugal forces with their glutes for quite a while. One of the examples is the Dancehall Queen Shisha back in 2007, with thighs of steel and a dangerous pelvic tilt:
When Did Twerk Blow Up?
Twerk gained immense popularity when Miley Cyrus tried to shake her skinny ass and grind on Robin Thicke at the 2013 VMAs.
Even though Miley did look like "a drunk aunt arriving late on Thanksgiving" (you have to love the YouTube comment section), and even though she had no ass to speak of, after her questionable butt shaking, everybody and their mom started showcasing the power of their glute muscles with their twisting, jerking, and whatnot. And we are all about it.
Health Benefits of Twerking
Letting that ass jiggle burns more calories than yoga and spinning, twerk instructors claim. And not only that – it does wonders for your cardiovascular system, as it is a form of cardio exercise. Also, women have testified how their confidence has significantly improved, as well as their sex lives, with some intense booty shaking. It's a whole win-win.
Who knew technicalities would be our favorite, right? And, to end this scientific research with another gem, we present you the video of a gorgeous Instagram baddie who is, according to many, a queen of twerking on social media – Nastya Nass. This lady is a certified instructor of twerking and has been constantly approved not only by the artists but the satisfied public who loves scrolling through twerk reels.
Do you approve of a pelvic tilt, buttocks moving in unison, fat jiggling, an ass that defies gravity?