Laughing at AI takes the sting off, right?
It's tough to laugh at something that's being thought of as the wave of the future sometimes, isn't it? And yet, laughing at it is about the only way that people can get through their day without breaking down and letting paranoia sweep them away as they wonder when the AI will be coming for them…in one way or another. Laughing at just about anything is a good way to rob it of any power over your life, especially if it's based on an irrational fear that's more or less due to one or several movies that show what the possible future COULD be like. Artificial intelligence is a hot-button issue with a lot of people, but the reality is that at this time, it still hasn't become such a massive issue that it needs to keep people awake at night.
The act of laughing at something, anything, that might make a person uneasy does have the ability to make it a little less important and feel like a silly issue that doesn't require a whole lot of serious thought. When one backs up and realizes that a lot of people have been dealing with machines on one level or another for longer than they appear to realize it's bound to make some folks freak out and perhaps even try to go off the grid. That might sound a little too eccentric, but the truth is that AI is something that makes a lot of people at least a little nervous since there is a lot that we don't know about it that Hollywood is happy to tell us in its own unique way.
But to be fair, AI isn't nearly as scary as a lot of things in this world, and being able to laugh at it is a pleasure since laughing at things that scare us is at least a little cathartic when one gets into it. The only problem that comes from laughing too much is a sore jaw and possibly a bit of an abdominal strain that is the least of anyone's worries when it comes right down to it. When it comes to being sore, laughing is one of the most pleasing causes of all since it reminds us that there was a good reason for the soreness, and whatever it was we were laughing at becomes less of a worry, at least for a while, because we found the chink in the nightmarish armor that frightens or at least worries us so much. So let's get to laughing.
It's either really scary or really…nah, it's just scary.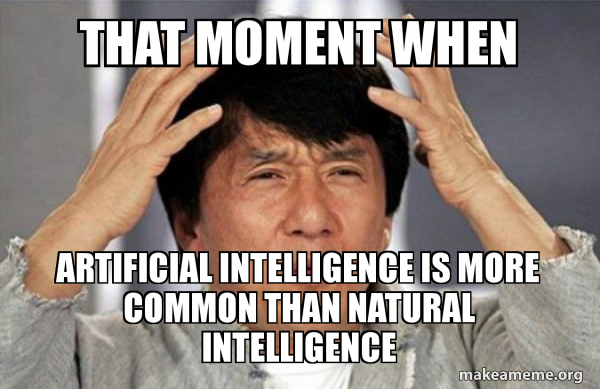 The fact that we don't worry more about the actual lack of intelligence and wisdom there is when it comes to the human race is sometimes unnerving, especially when we worry incessantly about artificial intelligence, which kind of requires actual intelligence and wisdom to work. But the idea that AI is going to make us less intelligent is an idea that a lot of people don't want to hear…even when they see it coming true. From the fact that humanity is currently at work to create machines and thinking machines that are smarter than they are, to the fact that we want to put our lives in the crafted hands of the machines that so many are afraid of, it's tough to know which foot to rest on when it comes to being worried about AI or laughing it all off with the thought that there are still plenty of things that humans can do that machines can't.
Seriously, if there's too much artificial intelligence out there, where the hell did the natural intelligence go?
To be fair, artificial intelligence is pretty dumb until one kickstarts it.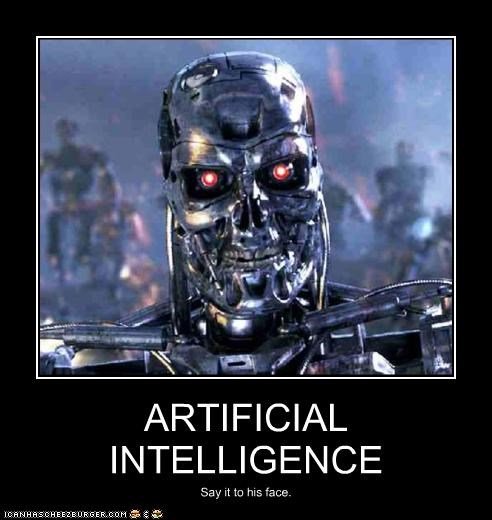 This is one thing, among many, that many people don't appear to understand about AI, since it IS a creation, and it DOES need humans to give it that push forward. Now, when people start developing AI that has no set OFF switch in sight, then it becomes less of a good idea and more of a self-fulfilling prophecy that the movies have already made quite clear since the idea is that if it becomes humanity vs. machines, humanity might as well bend over and kiss our asses goodbye since machines can be an issue until they fall prey to the methods that humans still possess when it comes to turning them off. But when they become thinking, learning, adapting machines, then yeah…we're screwed.
There is a difference if you're patient enough to learn it.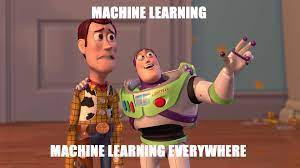 So far, the best way I can explain it is that AI is essentially making a program or machine smart enough to think like a human being, kind of the whole apple and the core all at once if you can think of it that way. Machine learning is a slightly more laborious process as it has to do with the type of AI that is used to deal with specific tasks. In other words, AI is AI, but some subsets deal with different tasks, and then there's the overmind that's likely sitting there plotting and planning on how to snuff us all out before we even realize what's going on. Okay, that didn't do much for your anxiety, did it? Sorry, but not sorry since the idea is to laugh it off and remind yourself that as much as we deal with AI at this time, it's still not the genocidal threat that James Cameron and others have shown us in the past.
This would be the perfect ant-AI goal to keep people busy…but then again, it's not bound to be solved in our lifetimes.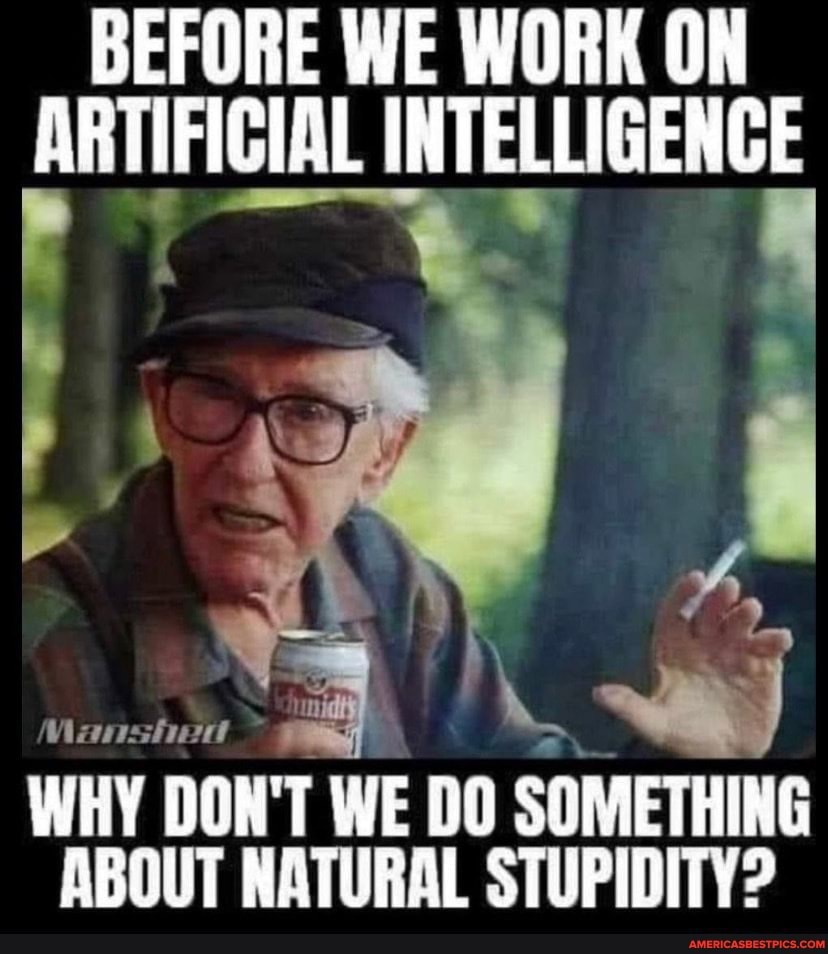 It's not a bad idea to work on our own intelligence and make certain that it's up to par before we go creating a new intelligence that's modeled after the source material…right? It's fair to assume that the arguments about this would be endless since like it or not, a lot of humans think that they're insanely intelligent and that it's their life quest to create something that's seen as the next evolution of humanity, the next step on the ladder. Yeah, normally we would call those children, and we would want them to do better than we did, but since that current experiment isn't always firing on all cylinders it's not hard to see why some people would decide to abandon it and move onto something else.
You've got to watch those purposeful underachievers…
If you didn't know already, the Turing Test is a test that measures whether a computer is capable of thinking like a human being. To be fair, artificial intelligence is already thinking in ways that simulate human thinking, but at the same time, it's a big hope that machines aren't learning how to fully simulate human innovation, emotions, and the various other factors that make us who we are. Once a machine can emulate all of that, it's bound to feel that we're about to be replaced at one point since a machine that can perfectly imitate a human being would be tough to tell from a real person, wouldn't it? Oh, it's easy to become paranoid about such a thing, but the fact is that such a thought does make a lot of people uneasy.
The arguments that go with AI don't really go much of anywhere unless one is willing to talk about the facts instead of the paranoia.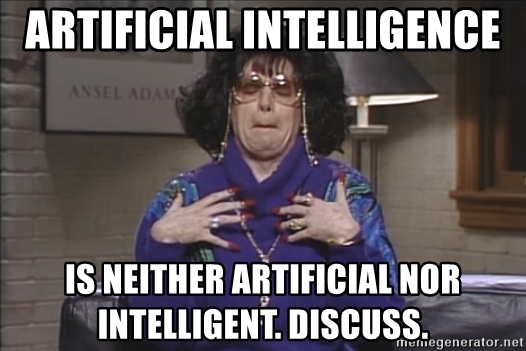 That's just it when it comes to artificial intelligence, too many people operate on the ideas that are taken from the movies and from the little bit of knowledge they might have gleaned from one article or even a headline or two. Apart from that, the only reason some folks are afraid or even uneasy around AI is that they don't know enough about it. Ignorance can be a huge issue when trying to talk to anyone about anything since people are afraid of the unknown, and AI is widely unknown to a lot of people since it tends to break down to killer robots and loss of jobs because machines are thought to be capable of doing jobs that humans can't, or will do them for free when humans want to be paid an exorbitant amount of money for minimal work that can't compare to the output of a machine. In other words, a lack of intelligence can cause a person to be scared by something that's brought on by something approaching superior intelligence.
Ignorance is dangerous bliss.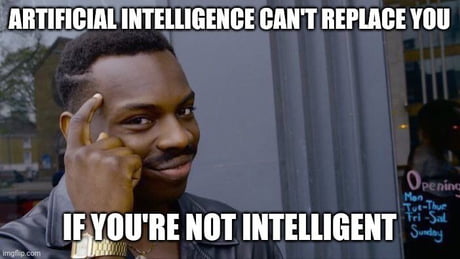 Some people don't want to know that much about AI, and that's their prerogative to be certain. AI is coming though, and in a few ways, it's already here. The more people resist it, the more they'll end up fearing it until finally, they realize that their lack of understanding and their lack of desire to comprehend will end up screwing them in the end…not literally, but you get it.