Some inventions had good intentions behind them, but we've seen where that leads.
It's time to go candid and not care that much about who's going to say what about what, since some of these inventions managed to fool a lot of people. One thing you can say about some of them is that they looked awesome at the time because they were new…well, some of them did…and they appeared to be great because they took care of something that people might have felt was a personal or overall need that they knew about. But depending on the invention, it's not hard to see how some of them became mocked and ridiculed after a while since they were, let's admit it, ridiculous. As far as being the worst, there are some that are definitely much, MUCH worse than this list, but since I'm not about to go into a lot of those that became serious health risks and had apocalyptic implications.
In other words, the A-bomb won't be mentioned, nor will Agent Orange or any other type of invention capable of causing massive harm. Nope, these worst inventions are those that are essentially goofy and misleading at the same time and are downright laughable since the effects they produced were next to nil and their look was, more or less, something that became kind of embarrassing since the people that thought these ideas up obviously didn't think of how it would last in the long-term if it did at all.
Let's get into it, shall we?
10. Ab belts
Here we get to one of the most useless devices in the world unless you're already in shape and could use a little bit more tone. Anything that has to do with exercising and getting fit tends to run this risk since if you'll notice, the majority of the people in these ads are in great shape and don't really need the products that they're being used to promote. Now, putting the ab belt on an obese person and taking the time to see if it actually works isn't something we typically see. Oh, we see the Before and After pictures, much as it happens with anything else that has to do with health. What we don't typically see is how these devices are working over the months, or if they get used at all. The fact that's been revealed is that this belt is kind of useless to anyone that has layers of fat over their abdomen since this thing isn't meant to jackhammer all that fat into oblivion. That comes with PUTTING THE FORK DOWN and getting enough exercise to burn it away for energy.
Seriously, nothing that's marketed as a miracle cure for obesity is going to work as one thinks it does on TV.
9. Parachute Jacket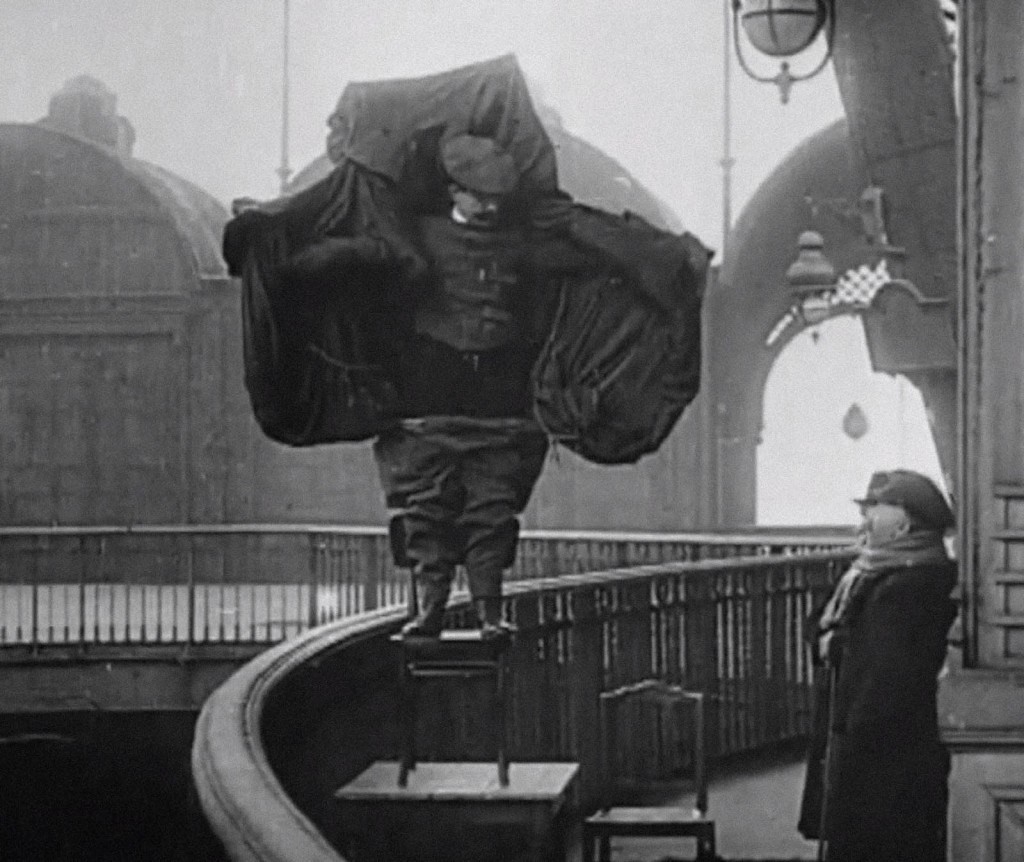 You know it's kind of bad when a YouTube video showing the test run of an invention can't be shown on certain sites thanks to restrictions. But you can at least imagine that this invention didn't really go the way that the man in the photo wanted. A parachute is…well…it's not a jacket since like it or not there's a lot more to it than that, and there's a reason why the typical parachute extends so far away from the user. The parachute suit that was the downfall of inventor and tailor Franz Reichelt didn't have time to deploy considering he jumped from 200 feet up, and instead of billowing outward, wrapped around him. It's fair to say that someone might come along one day to reinvent this idea, it's likely, it's also wise to state that if someone does become this ambitious once again, they'll be wise to listen to others, as Franz didn't when thinking about how high they might need to test their invention. It might also be wise to bring dummies like Franz didn't.
8. Pump-up sneakers
I remember these shoes from back in the day, do you? They were the sneakers that people just HAD to have since the pump-up feature was absolutely great until you figured out that it didn't do much unless you were willing to spend money on the sneakers that were actually meant to offer the kind of support that was advertised. How Reebok didn't get hosed on this right away is kind of hard to figure out, but then again, the revolutionary idea was something that people wanted to believe in, kind of like the LA Gear shoes that would light up in the heel portion when someone stepped on them. Not too surprisingly, the light-up shoes are still popular with little kids and those that love to be different, but the pump-up shoes are more or less a thing of the past. Thank goodness.
7. Electrical face mask
How does this not look creepy as hell? And how in the world does anyone think that applying electricity to their face in this manner isn't dangerous as hell? Rejuvenation is one thing, but placing what's essentially a low-grade bug zapper on your face is another. This looks like a mask that could have been used in the Purge movies since it's more than a little disturbing and one can just imagine the scare that might come over someone if they walked in on another person using this. You know what's worse though? Imagine those folks who sought ultimate relaxation by using this while sitting in a hot bath or a hot tub. You can almost hear the crackle of electricity, right?
6. Clippy
Let's face the facts, about 10 in every 100 people might have liked Clippy for more than a few seconds, since this 'helpful' mascot was more or less a pain in the ass that just wouldn't go away no matter how a person tried to reset the different settings on their PC or laptop. It's kind of hard to imagine why no one liked this little character, but at the same time, it became kind of annoying that it just wouldn't go away. Damn, there goes that eye twitch again.
5. Cat wigs
I'll be honest and say that at one time I was a cat person. Then I lived with a Siamese cat. There was hair all over the place, and the damned cat would bite me whenever she felt like it, even if I was being exceedingly nice to her. At that point, I became a dog person, but the cat memories stuck with me and had my cat ever needed another reason to attack me, this would have been it. I get it, people want to be silly and cut with their pets, and do something unique. But to be fair, this almost feels like a form of abuse, and a good reason for the animals to rise up and do something about it.
4. Smell-o-vision
This just felt like a bad idea and likely smelled even worse since it ended up being a bit too costly and not at all efficient or even sensible. Some folks might have liked it, but to be honest, the fact that some folks are trying to bring it back, well, NO.
3. Dog dryer
This isn't that bad of an idea I guess, unless it was left on too long, or created a level of irritability that the dogs couldn't deal with. Then again, one of the worst possible accidents that could occur with this device is that the dog could create a huge mess within the pouch. I mean, really, out of all the worst-case scenarios, that's the one that's going through my mind the most. And then, just think about having to clean that sucker out. Yeah, no.
2. Shake weight
You all know what this looks like, especially since plenty of people have said it over the years and repeated it over and over. It looks like a device that trains one how to give seriously strong handjobs and to be fair, it's hard to shake that image. From the grip, one has to use to the fact that when anyone uses it in the approved manner, it's very apparent that there's no other way to see it. There are a lot of sexual movements that are used when working out, that much is true. But not many other movements are this provocative. Seriously, even aerobics back in the 80s didn't get quite this suggestive. Okay, maybe some of them did.
1. Spray-on hair
When this product came out it was revolutionary, particularly for men that were losing their hair. But upon closer inspection, one couldn't help but realize that men were in reality spray-painting their heads, and expecting people to believe that they were actually spraying on added hair. That's a part of how this ad went since the belief was that they were actually spraying on more hair, which is what people wanted to believe. Oh yeah, they were spraying hair, and God help anyone that sweated too hard or went out in the rain or lived in an area that was a little too muggy.
WTR? (Why's That Radass?)
The thing about inventions is that we do need them and they do come in handy now and then. But there are many inventions for every working system that don't work as they're advertised, and use the belief of the people to become popular for more than a day. These inventions usually crash and burn after a while, and rightfully so.