You might actually be sorry if you miss a few of these.
Just like always, the summer is coming to a close before we even knew it was halfway over. August kind of creeps up on all of us with the stealth of a sibling waiting to drop a water balloon in your lap, doesn't it? Well, with less than a month left to go it's wise to at least think about taking some time to spend with the family and maybe, just maybe, plunk down the dough to visit one of the many great waterparks that are scattered across the USA. It's not just a great way to spend a day working on your tan or getting wet in a number of different fun and exciting ways, but some of these parks are bound to be the kind of experience you don't want to miss out on. So we've compiled a list of five of the best waterparks in the country that people might want to visit if they've got the time, money, and inclination to do so. Let's get wet!
Water World-Denver, CO
If going to the waterpark wasn't enough, this place has nearly 40 different attractions that are all designed to entertain everyone and of course, leave them soaking wet in the process. Water World kind of lives up to its name since the place is simply enormous. Several of their attractions are bound to get your heart pumping and your adrenaline working over time, but a few of them are bound to make life interesting if you have the courage to try.
One of their water coasters, the Mile High Flyer, stands as one of the most impressive attractions thanks to insane speed and intensity that might not be for everyone but is definitely perfect for the most daring.
Taking a ride on The Storm sounds at least a little bit intimidating (it's okay, you can admit it), since the whole point of the ride to zip down a tube that's pitch-black and is themed to create an actual storm. Don't be afraid to ride the lightning as thunder and bright flashes of light complete the simulated thrill.
One attraction that people absolutely have to try, if you want, is the Turbo Racer, which is an eight-lane slide that is an actual competition, all for fun, that people definitely get into as they zoom towards the finish.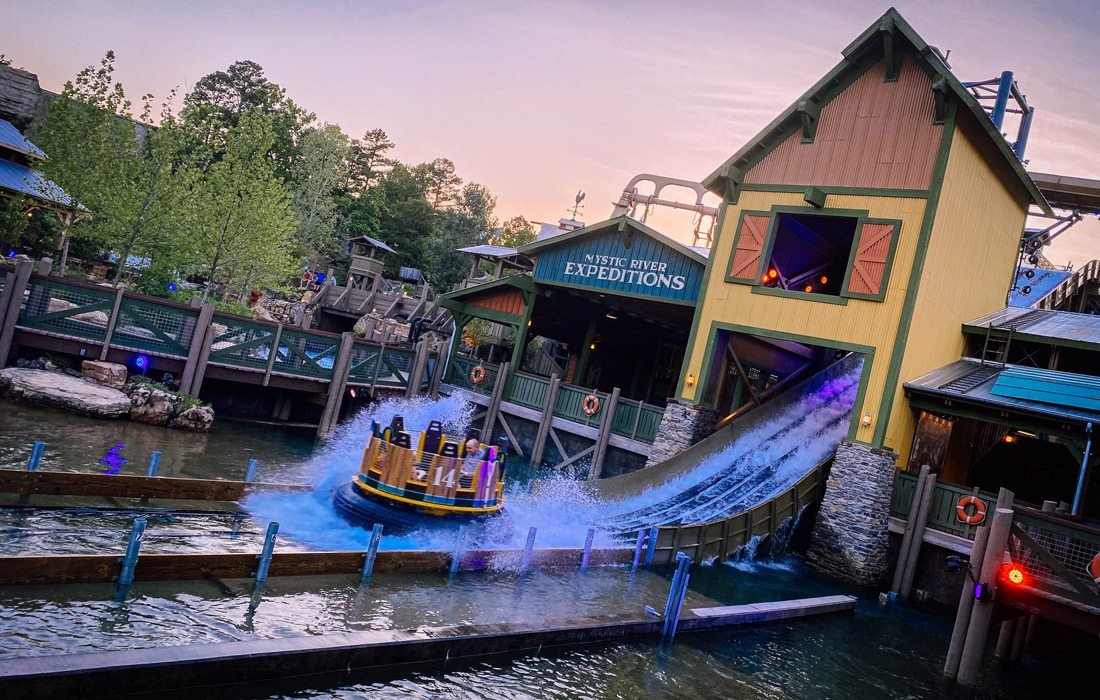 Silver Dollar City's White Water Park-Branson, MO
This park might be a little smaller than some of the other parks in the nation, but what it lacks in size it more than makes up for with the way the park is run and the attractions that are found in this family-centered park. There are plenty of family-oriented attractions to go around, and there are still plenty of things for those that are with friends and their SO to get into.
The KaPau Plummet is an attraction that sends riders plunging downward at a 70-degree angle into an unyielding turn that might have some folks closing their eyes, at least for a moment until they realize they might be missing out on the fun.
One the attractions that pretty much anyone can enjoy is the Splashaway Cay that features geysers and aqua shooters that are all kept in an impressive-looking for that features elevated walkways and slides, so basically a fun time for everyone in one way or another.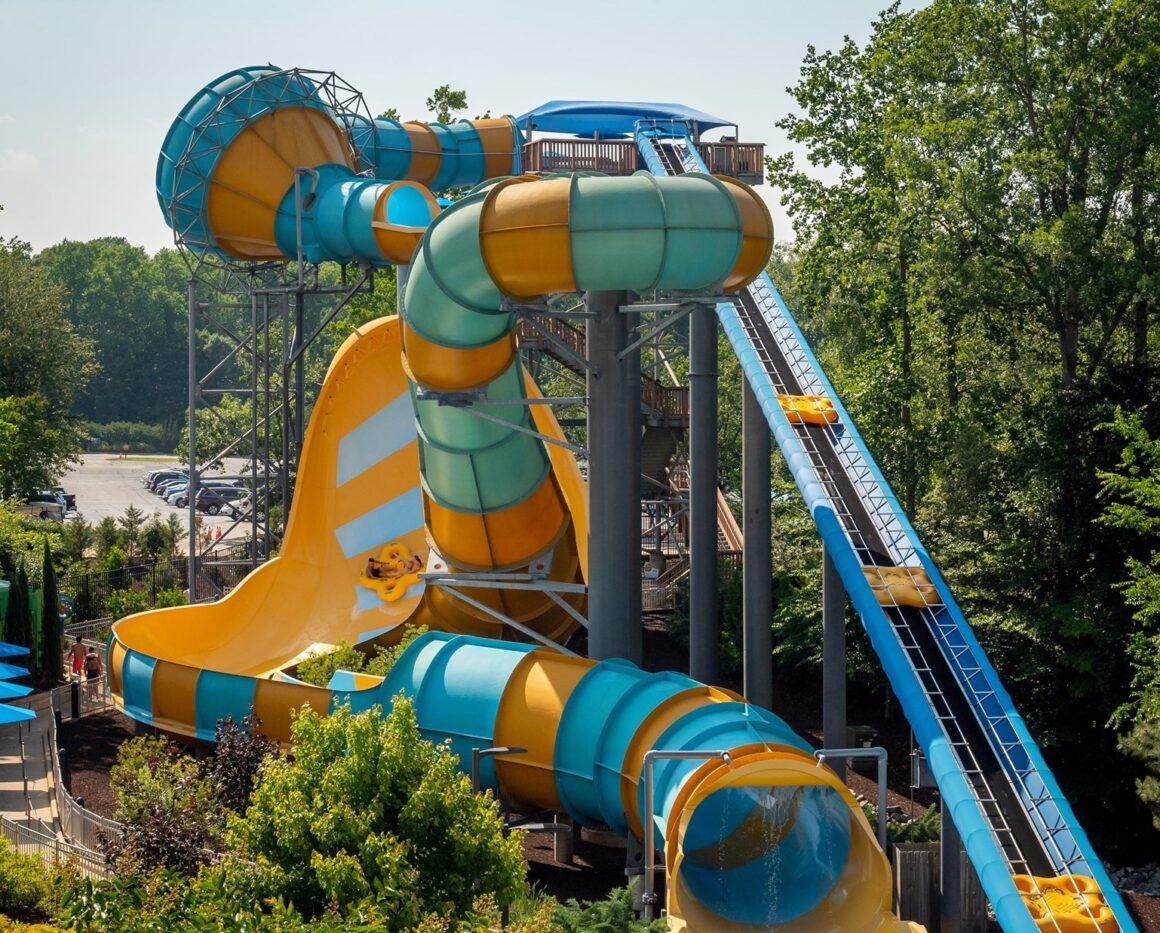 Water Country USA-Williamsburg, VA
Many people would agree that this is one of the best-maintained parks in the country and that its theme is simply amazing. The park is one of those that a person might wander into thinking that it's going to be just another waterpark but will leave with an expression of 'what the hell just happened?' with a big grin on your face to top it off. Why though? Well, here are a few reasons:
The Colossal Curl sounds imposing at first and looks like it might be something that might scare the living hell out of some folks, but the funnel and wave raft ride is something that's bound to put a smile on your face as the raft goes up one wall just coast downward and go up another one while giving the experience of weightlessness in the process. Don't eat a big lunch before going on this one.
Another great raft ride is the Aquazoid, which is designed to turn out the lights by entering into an enclosed area that will give the riders a few surprises that we won't go into here since, well, it's a surprise!
Big Rivers Waterpark & Adventures-Houston, TX
They say everything's bigger in Texas, and whoever built this park was taking that saying to the extreme it would appear. Covering 80 acres of a 632-acre amusement park located in New Caney, just outside of Houston, this place is immense. It's definitely the type of place that a person needs two to three days to really experience, but if the size gets your attention, then the rides should manage to keep it.
The Pecos Plunge will allow a person to drop seven stories in a slipping and sliding thrill ride that's bound to keep your adrenaline up all the way down. Just imagine the feeling of exhilaration from the top to the bottom, especially when your heart feels like it's sliding into your feet.
The Gator Splash is bound to draw quite a few people given that it's the largest interactive play structure in Texas, where one can experience nearly 300 different adventures if they're ready.
Kalahari Resort-Wisconsin Dells, WI
One thing that appeals to a lot of people is hearing that a place is open rain or shine, and the Kalahari Resort has definitely managed to keep its guests happy with the 125,000 square foot indoor attractions that are kept clean and sanitary at all times (hey, mildew happens when one isn't attentive). The well-kept and maintained park/resort is one of the best in the country for the thrills it can deliver on and the comfort it can grant since people can enjoy themselves pretty much anytime.
The Sahara Sidewinders are one of the attractions that people would be wise to check out since it features an enclosed capsule that's dropped into a ride that will leave you breathless from beginning to end.
The Flowrider is something that anyone would be able to have fun with, so long as you can keep your balance on this powerful surf simulator as it pumps around 50 thousand gallons of water per minute to give the users the sensation of cruising the waves.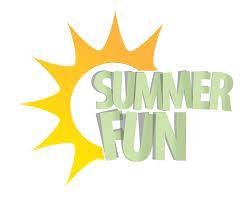 So what are you waiting for?
Grab your swimming suit, gas up the hoopty, and get moving! There are only so many days left to this summer and it's recommended that you spend every last one of them trying to soak up the fun as much as possible. And hey, if you're nowhere near any of these parks, don't feel too bad, there are impressive waterparks in nearly every state, all one has to do is find them, pay the entry fee, and then get down to the business of having fun. Come on, summer's wasting!
WTR? (Why's That Radass?)
There are plenty of places out there that you need to experience before you're too old to have fun, and these are just a few. Take the time to get around and see what a few of these places have to offer and you'll thank yourself for it. Life is for living, so have fun with it.