A lot of us have quit jobs, even though it's not always the wisest move in the world. You need a job to pay the rent, the mortgage, to eat, to keep your car, and so on and so forth and all the other stuff. In other words, quitting a job shouldn't be a goal that anyone has, but there are circumstances when quitting a job is the best possible route since let's face it, there are jobs and bosses out there that aren't worth sticking around since they either demand more than they should, or they end up treating people as though they're expendable when the truth is, people are replaceable, but not expendable. Yes, just in case you're thinking that I'm being redundant, there is a very big difference.
Quitting your job isn't the best way to go, but quitting your job loudly and proudly isn't the best way to go no matter if you hate your job and your boss with a passion. I'll get into the why of that in a moment, but first I'll explain by replaceable and expendable are so different and why you should know the difference between the two.
Expendable vs. Replaceable
A lot of people are going to look at these two words and think that they mean the same exact thing. Folks that think in this manner aren't going to see the difference because they don't want to, and they don't want to realize that if you're expendable, then you're considered less than nothing. Being expendable means that as long as you have a pulse you're able to be used, abused, and tossed aside when you're no longer of any use to an employer. Sadly, this is is practiced since there are plenty of shady bosses and companies out there that don't know how to value their people. But should you sink to their level and do or say something that can possibly damage the company if you have the chance? That kind of depends on how petty you are, and whether you really feel the need to go that route.
As for being replaceable, this applies to pretty much everyone from the lowest person on the ladder to the top of a corporation. Most people near the middle or the bottom are going to think that the higher-ups never get tasked or made to pay for mistakes. The truth is that they get it worse since if things keep getting screwed up or the folks on the low end don't do their job, the people at the top start losing the faith of their superiors, and as a result, they're bound to lose even more than those that are at the low end. But no matter what job a person takes, we're all replaceable. You want to know why?
At any given time there are hundreds if not thousands of people out there with skills, talents, and abilities that would love to have a job, just A job, so that they can support themselves and their families, and will usually take on the duties of those that think they're above one position or another without complaint. It's not a matter of taking abuse at work or feeling that you're being discriminated against, it's a matter of sticking it out and seeing if you can change the system from the inside, not quitting and trying to blast them from the outside. Quitting a job loudly doesn't do much, but it does make you look like a problem-causing, tantrum-throwing, childish asshole that had no idea how to fix your problem, so you admitted your failure by quitting.
It's true, sometimes quitting is the best option.
Granted, there are situations that come along and make it obvious that quitting would be a better option than sticking around to take more abuse. The young woman above made it clear that she thought airing out her grievances over the store intercom was a preferable solution to simply walking out the door and possibly flipping the bird on the way out. There's a big problem with this solution, however, and it's frustrating to say since, like many people, I don't like being abused in any way by a boss or by management in any way. In fact, replying to this post on Facebook managed to win me far more negative comments than positive ones, and part of the reason for this is that quitting has become a trend in this country somehow.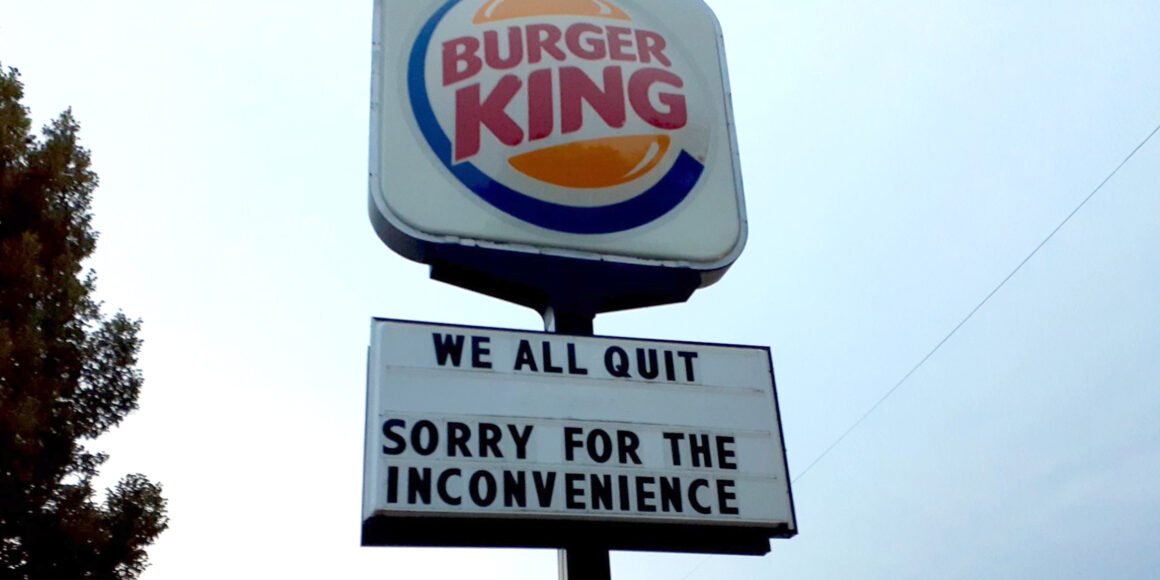 But here's why quitting like this looks bad to future employers, and you can argue all day on this point and you'd likely find that you'll get plenty of people supporting you, no matter how frustratingly wrong that support might be.
It shows a serious lack of personal restraint: Seriously, if a person is willing to do this kind of thing over the intercom, what else are they prepared to do? It's fair to think that Walmart, the store this girl worked at, didn't suffer all that much, but if any future employer gets hold of this, what are they bound to think? Like it or not, social media makes it possible for people to check up on a person in ways that they might not be thinking of in the moment. If this woman found another job, great, but as the employer I'd be leery of what she considers to be an offense to her delicate sensibilities. In other words, she's a liability after doing something like this, and becomes harder to trust than other folks.
It shows a lack of professionalism: Yes, I said it. if your boss or the management aren't being professional about the matter, that's their issue, not yours. Sometimes, and it's tough, you need to be bigger individual and walk out with your head held high and your dignity intact. Throwing what amounts to a tantrum on your way out, or celebrating the fact that you're quitting, is something a child might do, or an adult acting like a child because no one taught them how to respect themselves early on. You don't need to worry about anyone else's dignity but your own, as leaving a job with your integrity is far more important.
I"ll say it, since this shows that you aren't cut out for the workforce: Of course there are going to be horrible jobs, horrible bosses, and shitty people that you have to deal with. And? Does that really give you the right or the need to be just as horrible as they are? Are you that petty? Do you have go down to their level and scrape the barrel for a suitable insult to offer them? The best way to get back at someone that screws you over at a job is to work through it, endure the abuse and the bs with good humor and determination, or quit and find a better job and let them stew in their 'win'. Another great way is to do your best to forget about the people that did you dirty. Otherwise you're letting them live in your head rent-free, and you've shown that you don't have what it takes to be a part of the workforce.
It shows emotional instability: If you can't take someone being mean to you and hurting your fragile feelings, or have to imagine that they're insulting you when all a person is telling you to do is your job, then you've got bigger issues. Leaving a job loudly, celebrating the fact that you're quitting, is about as immature as it gets in the job place, and to be fair, I've seen plenty of immature stunts and instances that had to be lived through to believe.
I get it, sometimes quitting is the best option for a person that doesn't want to suffer the abuse any longer. But if you're going to quit, keep your integrity and your dignity intact. Don't lower yourself to a level that allows you to make a spectacle of yourself. Chances are that you won't do anything but damage your own reputation and earn a few 'supporters' on social media who will whoop and holler and then go back to their minimum wage job and forget about you in less than a month if it even takes that long.
You are replaceable, get over it.
Like I said above, being replaceable isn't the same as being expendable. Replaceable people have plenty of value so long as they prove that they can do the job and find a way to weather the elements they don't like. Very few jobs are perfect, and I've been through plenty of them to know. If you're lucky, you find a job that you like, people you enjoy working with and can make it mesh with your life in a way that makes everything work out as it should. But if you can't, well, then it's time to admit that you need to move on and then do just that, without the fanfare and the giant middle finger to the people that were good enough to bring you on in the first place. Thank them for the opportunity, and move on, don't do a merry little jig on the way out the door, and definitely don't put them on blast before you head out the door. Even if you haven't been treated like it, be a decent human being, that's the best way to get your revenge on anyone.
WTR?
A lot of people are going to take one or more jobs they hate in the course of their life, and to be fair, there are warning signs when a job is not the one for you. But if you find that you're stuck in a job that's going nowhere and with bosses that don't respect you, find something else and then walk out. No one's putting a gun to your head to keep you there, and the only thing you can do by quitting loudly is to ensure the next person in line might find that you're not the person they want to take a risk on.