You're a guest, keep that in mind when you stay at a hotel.
Picture this, you go on vacation, you need to book a hotel to stay in, and everything goes A-OK from check-in to the moment you get into your room. Then, something happens, you snap, a beast takes over and trashes the room and causes a massive mess and causes you to be an entitled dickhead to the staff. Sound familiar? No? Well, then you're either a respectful guest or you're an entitled liar that doesn't enjoy fessing up to their bs. The point here is that in the service industry, the hospitality side of things is another area where people tend to act like assholes when they don't get their way, and might act like entitled brats even when they get their way. Again, I've been there, done that, and have managed to see some of the best and some of the worst that the industry has to offer.
No one in the service industry is perfect. No matter how much they try, they're going to have bad days here and there, they're going to find guests that they don't like, and they're going to be tested in the worst ways when it comes to keeping the smiles on their faces and the snap out of their voice when speaking to a guest. The hope, not the expectation, is that the guest won't take it upon themselves to act like the entitled pains in the asses they can be, and will actually respect the place and the people enough to make a moderately pleasant situation for everyone involved. It's not a joy to strip a bed sometimes or to clean a bathroom, but it gets even worse when someone decides to be a douchebag and leave a seriously disgusting mess.
Most housekeepers will end up leaving a guest alone if they knock and find out that the guest is still in residence, but the understanding is that eventually, the guest will leave the room long enough for housekeeping to do their job, or they'll at least ask for towels or something they might need. But the point is, housekeepers have a tough enough job when it comes down to it. Depending on the size of the hotel they work in, they might have a dozen or more rooms to get through by a certain time, or even more, and every room needs to shine when they're done. Guests that leave a particularly nasty mess behind make this job even harder as even if a housekeeper is focused on their job and has a routine that they're locked into, a truly messy room can screw that process up quite a bit.
Messes happen, but it takes only a minute to pick up the worst of it.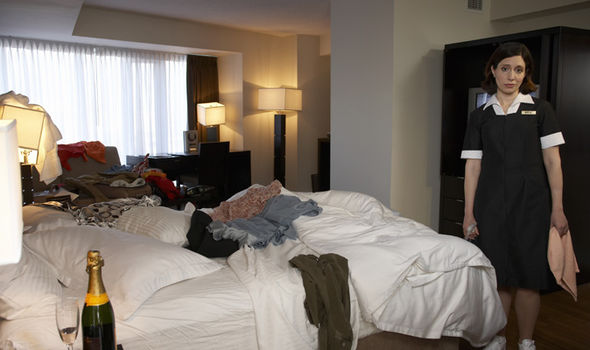 It's true, messes happen since people might be having a good time, they might be tipping a few brews back, or something stronger, and they might lose themselves just a bit. But even with a hangover, it's possible to pick up the worst of it and help out the housekeeper. Amazingly, a lot of people revert back to a point in time when their parents still did everything for them and use this sense of entitlement to say 'the housekeeper will do it, that's their job'. Again, that's true, this is housekeeping's job. But dealing with your crap when it's strewn all over the place only makes things harder. Just imagine being at your job and having someone hand you an entire day's worth of work when you only expected the average amount. If that even nudged your sensibilities then you know what I'm talking about. If not, then mommy must still clean up after you. My point is this, if you're staying in a hotel, pick up after your damned self at least a little bit, you're a grown-up, not a toddler.
The hotel is not your playroom.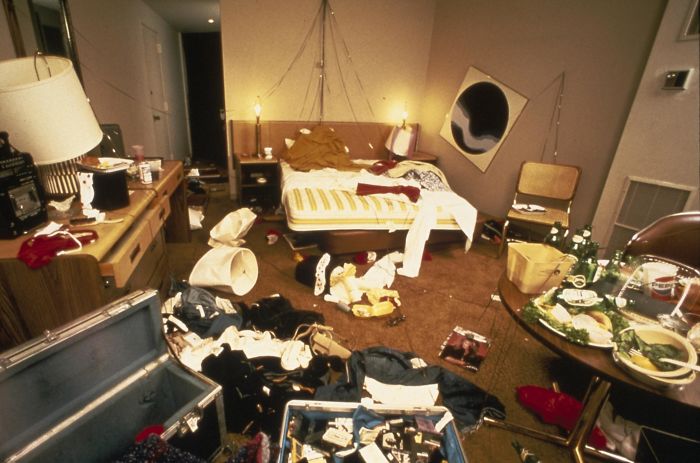 I get it, you paid for the room, you get to have fun while you're there, and you might get a little wild. But if you think this picture above is staged in any way or is something that just doesn't happen, then you've either never stayed in a hotel, or once again, you're lying to yourself. It's not just something that happens in the movies, and I and many other hotel workers can attest to this. People are animals sometimes and will leave the most godawful messes possible and think nothing of it the next day. A huge mess is one thing, but a room that's actually been destroyed and requires more than housekeeping can accomplish. When items have to be replaced, when carpets have to be washed, and when walls have to be repaired, then the guest has earned any extra charges that might get tacked onto their credit card and trying to fight it becomes yet another method of entitlement that would earn one a definite ban from many establishments.
So in other words, feel free to have fun in your room, you've paid for the right and have that ability. But the moment you damage the room willfully, then you've forfeited that right.
Take your issues elsewhere.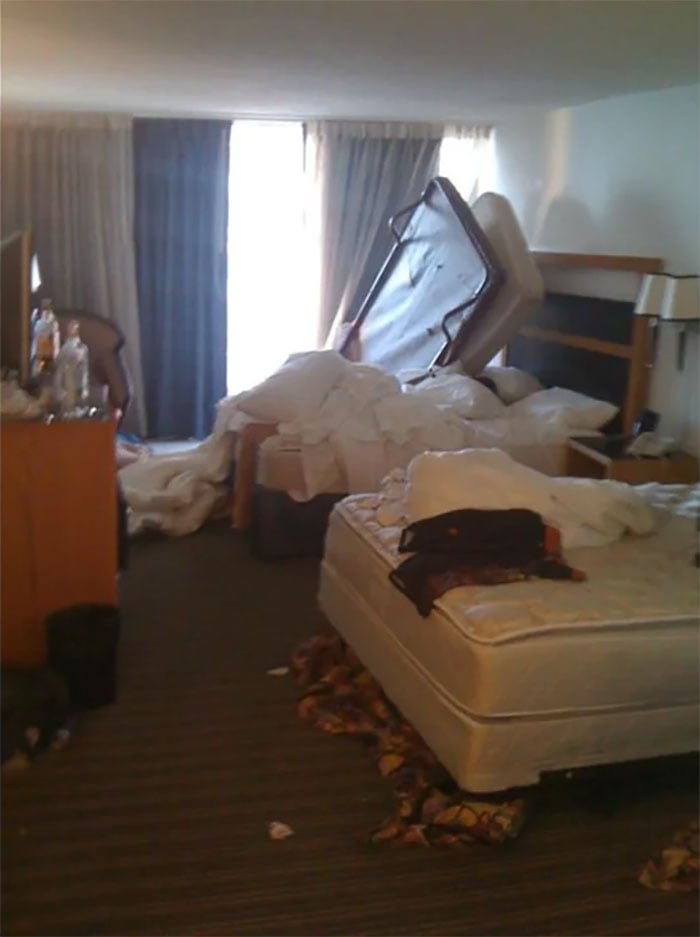 To a lot of people that stay in hotel rooms, it's just a room, the stuff isn't theirs, but they feel that they can toss it about and do with it what they please…because it's not theirs. There are reasons why hotel workers would love to see some of their guests, the type that do this stuff, whipped with wet bedsheets until they apologize in a sincere, and pained, manner. It sounds vindictive, doesn't it? Well, think about what it's like to clean up a mess like this and pay for a new bed and other items that can't be used by other guests when they're damaged. Some seedy hotels and motels can get away with patching a few things up, but if anything threatens the safety of the guests, it has to be replaced. So if a guest that's been particularly destructive sees an extra charge on their card, the hotel can at least say 'thanks for the donation'.
So to be fair, or rather, to be sensible, don't act like an animal when you're staying in a hotel room. The staff will be extremely thankful.
Let me tell you about 'special deliveries'.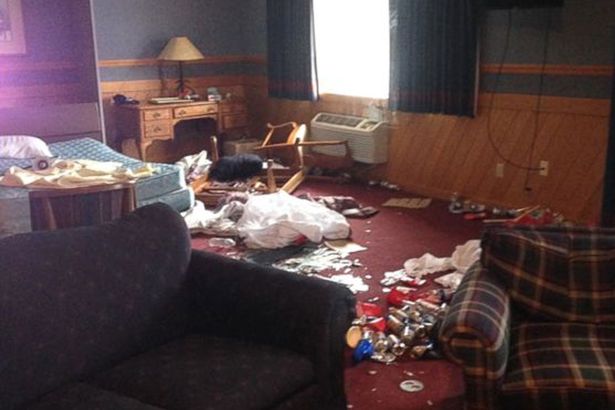 The mess in the room is pretty bad sometimes since guests decide to act like pigs and don't think that they can do any wrong. But where it really gets bad is when it comes to the bedding. Having been in many rooms after a guest has torn it apart, with help or alone, the worst part to come is still when the bedding comes racing down a chute or is wheeled into the laundry room. Bigger hotels have to deal with this just as much as smaller hotels, but I can tell you that the call of 'special delivery' down the chute means you step your ass back and wait for the bundle to splat in the bin that's hopefully in position. As soon as you hear that splat, you sigh, put on your gloves, and deal with the shit that comes, sometimes literally. I won't bother making you puke by saying what else can happen in those sheets, but it gets narsty in a way that only medical staff might be able to top, usually because they're dealing with the people while the shit is happening…
Honestly, if you can't keep your fluids and other bodily mess off the sheets, then you need another lesson in toilet training. Seriously, most toilets are only a few strides away from the beds…get your ass up and go.
There are these fancy things called 'garbage bags' that have been a fad for a long time now.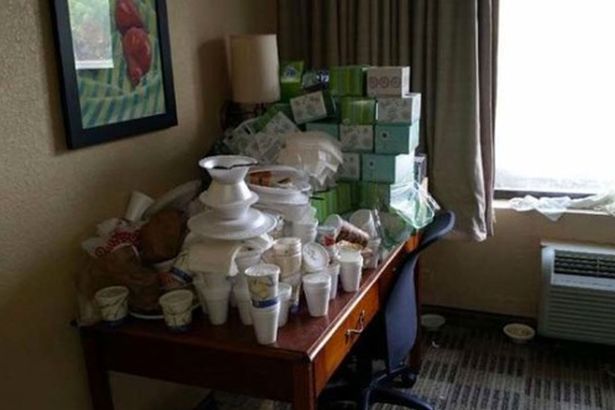 A lot of what I'm saying here might sound like it's getting redundant since I do tend to harp on the fact that housekeepers have enough to do and they could use a little courtesy. When a person is staying in a hotel it is typical that most rooms won't have much more than a microwave and a small refrigerator unless one is willing to spend money on a room that's more like an apartment. But the point here is that when you are staying in a room for a prolonged period, you have a chance to keep things clean and not live like a hoarder when it comes to your takeout containers and other items that might start forming stacks around the room. Garbage bags were created for reasons such as this, and unless you have some sentimental attachment to your empty containers, you might find it necessary (hopefully) to bag your trash for housekeeping to take when they come around. Trust me, it makes things a lot easier on them.
If you can't be polite, just stay home, or bring a tent and find a campsite.
At the end of the day, just do your best to help the housekeeping staff of any given hotel by cleaning your mess and keeping the room in one piece. These folks don't always enjoy this work, but it's a job and if they're good enough at it, they can bust out a room in a short amount of time and get onto the next one so that they can have a full and productive day. But the moment a guest wants to act like a world-class asshole, their day gets a lot longer and a lot harder. Just keep in mind, you're a guest because of your money, you become a problem to deal with because of your attitude.
Don't get it twisted, hotel employees can make your life just as miserable as anyone else. If you want a memorable stay, be decent, and don't trash your room
WTR? (Why's That Radass?)
As I mentioned at the beginning, hotel staff members aren't perfect, they aren't all saints that clean up after people. But keep in mind that the majority of them aren't there to rob you or do anything to make your stay less pleasant. Take it easy on them and make it easy to clean your room.