It might not make you hungry, but food tattoos are still interesting to think about.
People do select strange images to put on their bodies, but if you haven't been paying attention up to this point, that's one of the main points of getting a tattoo. You're not beholden to anyone unless you want to be when it comes to picking out an image, and pretty much anything you get is going to be up to you. If you want to get a tattoo to pay your respects to someone then so be it. If you want to commemorate a moment in your life, great. And if you just want to show the world your passion, even if it's in a way that some folks can't really understand, then all the better. That's the point of a tattoo, it means something to you, and who cares if anyone else can understand it. it's true that some folks worry about this; they want to make certain that other people get the point and can either relate to it in some way or can get the point.
With food-based tattoos, this isn't always going to be the case since much like any passion, many people don't fully understand why a foodie stands apart from the crowd. There's not much to explain what a foodie is, they have an interest in food and are considered to be someone with above-average knowledge of their favorite foods or at the very least know a little about a lot of food. Some folks might think this is a bit odd, but it's no stranger than any other passion since some of us could talk about writing and its many conventions for days on end, some could talk about tech, and some could talk about tattoos with the type of passion that man people won't ever understand. But foodies that love to show their passion through what they consume and through their body art just as anyone else does with their own passions.
One would almost think that people who have a passion for the culinary arts would be those seen sporting such tattoos, but there are plenty of folks that happen to enjoy food-inspired art of one type or another. In some ways, it does sound kind of odd, but then again, looking at a lot of tattoos that a lot of people have sported over the years, they're kind of par for the course when thinking of those who are wearing them, and their reasons why. Besides, food-inspired tattoos aren't any stranger than most of those that have been inked over the years, and in some cases, they're just as epic depending on the tattoo and the manner in which the artist has placed them.
So let's see what there is to see, yeah?
Food tattoos can be a little awkward.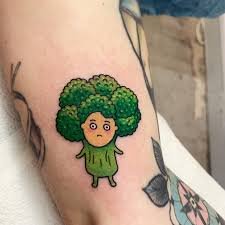 Placement of a tattoo is important to be fair since it's hard to tell why certain tats get placed in the location they're found. To the person wearing them, it might make a lot of sense, but to those who don't know and have no idea why such a location matters, it might be kind of awkward. But one of the things to remember about a tattoo, like always, is that the meaning, and where they're located on the body, tend to be personal and intrinsically linked to the reason for getting them in the first place. As I've mentioned in another article, some folks might end up getting a tattoo after losing a bet, which is still one of the worst reasons to get one in my opinion. But the fact remains that where the tattoo is located and what it's all about will usually be personal no matter how it happens. Of course, in the case of this bewildered broccoli, one can't help but question the motivation behind it.
Like always, tattoos can be simple or suggestive.
The implications that come with certain types of food are kind of hilarious since there are a lot of foods that are easy to use when it comes to making one suggestion or another. Cherry pie, for instance, is one of those that a lot of people will often pick up on since there is a very big reason why people would snicker and laugh at this. But for the person wearing the tattoo, there could be a very innocent reason why they selected it, even if a lot of other people are willing to make jokes of a sexual and sometimes hilarious nature. Hey, it's just in fun, unless someone is willing to take it past the fun zone and get really nasty.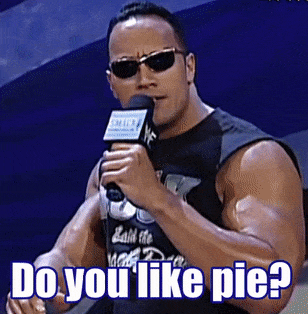 But then, if someone takes it that far then it ceases to be as much fun sometimes, especially in the current era. But a slice of pie, or the whole pie…yeah, that's starting to sound pretty dirty already. Or maybe I just have a sick mind.
Food tattoos are a bit quirky at times.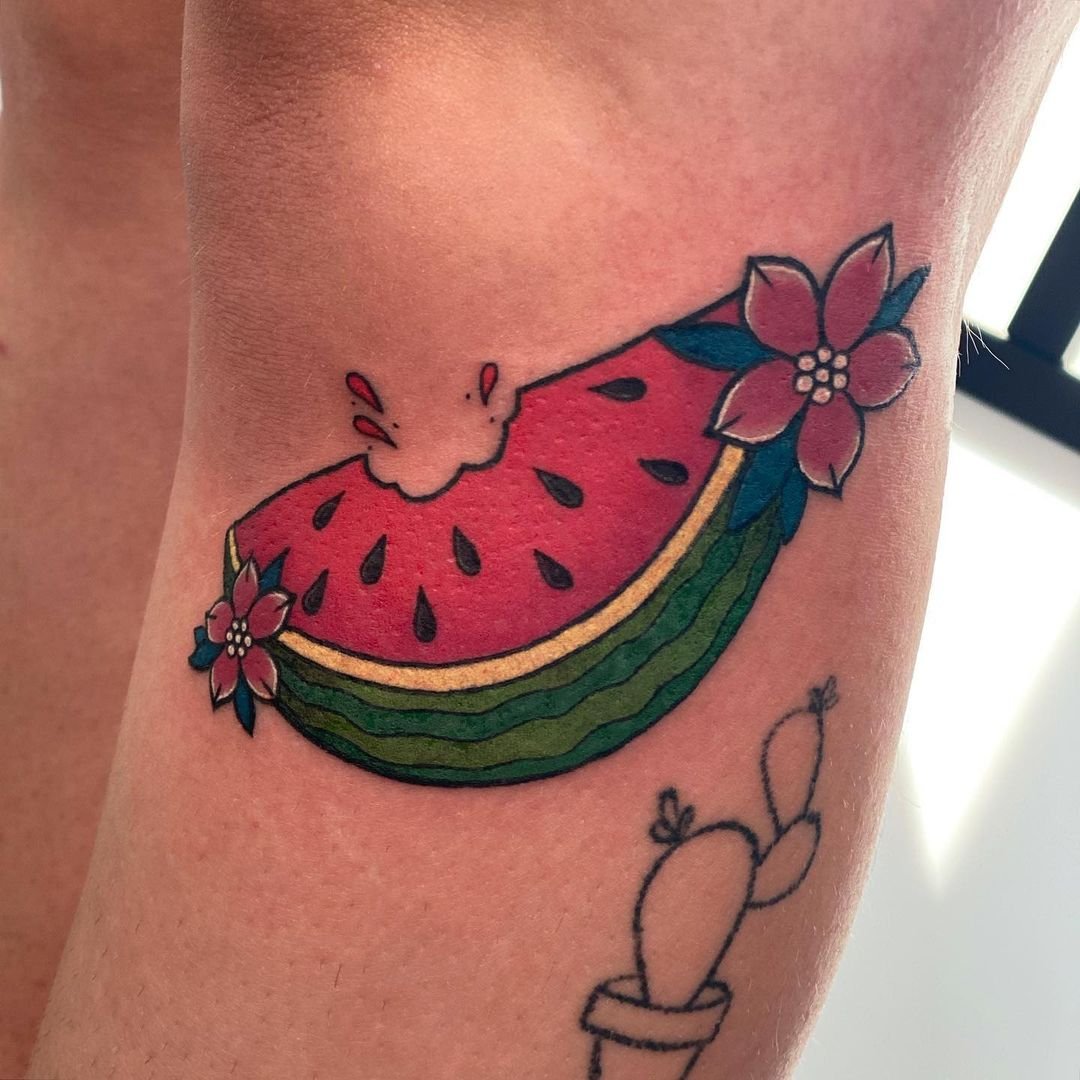 One might think that there's not a lot that can be said about food art, but the truth is that artists can do a wide variety of things with various food images since the whole idea behind them is to be as creative or as simple as the canvas wants. Sometimes that's easy enough to do, but at others, this can be kind of difficult since people can be difficult and as a result, they can be impossible when it comes to designs. For instance, some folks want the food tattoos they get inked on their skin to look as though they could be plucked up and eaten at any moment. Then again, some of them just want it stylized as much as possible, while others might want the cartoon experience.
Honestly, food tattoos can get every bit as strange as any other.
Tattoos get weird, that's just the way of it. Whether it's a food tattoo or something else, people will get a bit weird with it now and then, and trying to understand every little thing isn't always necessary to just enjoy it. Stuff like the image you see above is kind of cool since it adds a bit of personality and there could be a funny story behind it that would help the tat to make a lot more sense. But no matter what it's supposed to represent, a funny tat like this is bound to be conversation piece if nothing else.
Some food tats can be a tribute to things that people miss.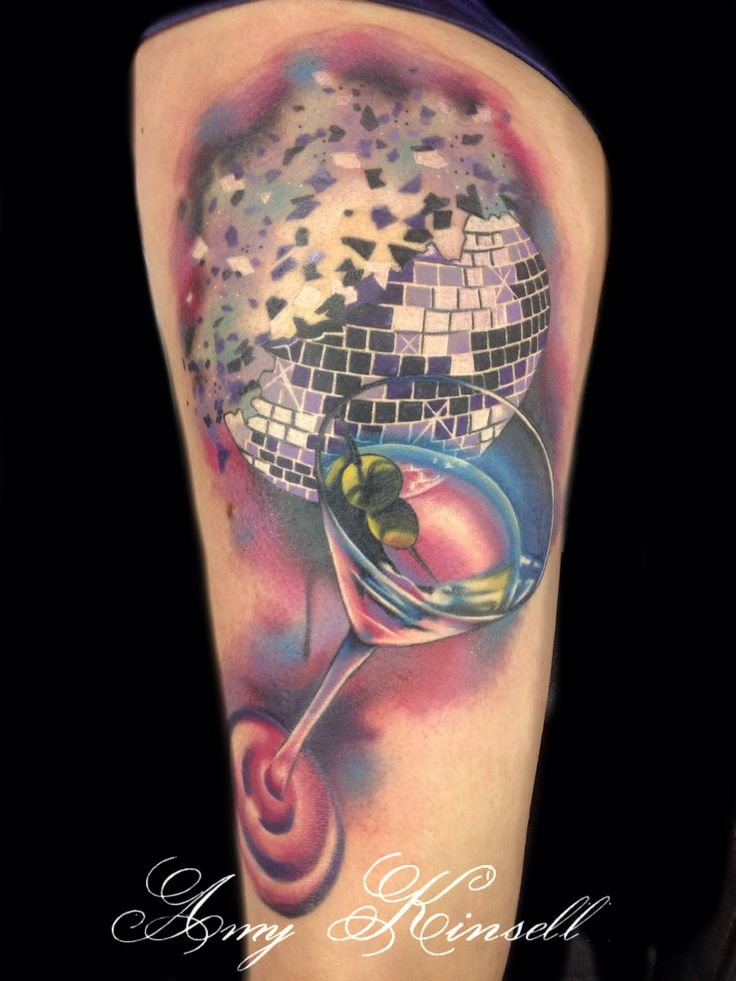 Nostalgia is great when it comes to tattoos since like everything else it can talk about a time that people miss and things that that they enjoyed back in the day. While a martini isn't exactly food, at least not to most people, it's still something that counts in a way since it is a consumable and people do happen to enjoy it. But the disco era? Well, that's something that one would have to talk to certain enthusiasts about. It's an interesting tattoo though.
Foodie tattoos have their own type of charm.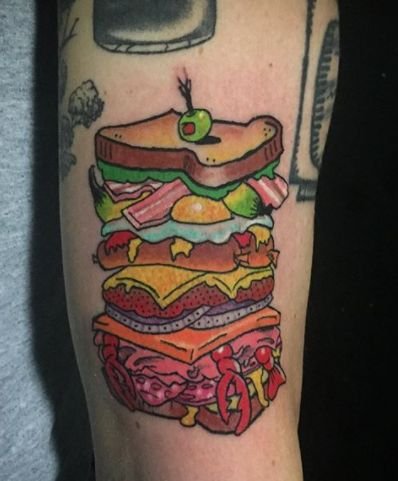 To some, a foodie tattoo is kind of silly since the idea of putting a food item on your body for any reason might feel kind of ridiculous. But the truth is that when a person selects a tattoo, they're doing it because that image means something to them, even if it's just at that moment. I can imagine that a lot of foodies have managed to get one tattoo or another and come back later to wonder why in the hell they did this. Unfortunately, that's kind of normal since too many people decide to get something like this done and then end up regretting it because the tattoo was done at the spur of the moment. But hey, this is why a lot of artists have consultations that take place before they start the tat. It's important to get what you want, and if you want a drippy sandwich then so be it, you're getting a drippy sandwich.
Go on, lick it…I dare ya.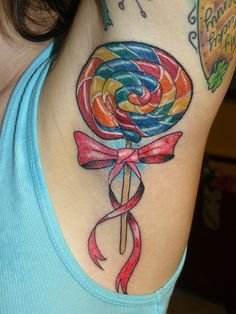 Not only is the armpit a tough spot to get tattooed, it's a spot that a lot of artists either don't like or find some kind of difficulty with. But to put something like this in your pit? Imagine how that's going to feel when it starts healing, and the itching phase begins. It's colorful and it's interesting to be certain, but as far as being practical it kind of misses the mark. But hey, someone wanted it, so there's that.
WTR? (Why's That Radass?)
If you haven't learned by now, tattoos come in all shapes and sizes and definitely cross from one genre to another. Foodies have their own tattoos that are unique in a lot of ways, and depending on the artist, usually come out as impressive and kind of tasty-looking. There are plenty more out there to take a look at, but my advice would be to take the ones you've seen as a step in the right direction if you want to understand how the two interests coincide with each other.