When drinking at a bar feels like a trip to Starbucks then things have become too complicated.
Maybe some folks like fruit in their drinks, or heavily-flavored alcohol that tastes like fruit juice, but there comes a time when things feel as though they're getting too complicated when it comes to liquor. The idea of taste isn't an alien thing really, a lot of people enjoy something that tastes great and keeps them wanting to drink more, and bartenders caught onto this trend long ago. But in 2022 it would appear that the health trend is continuing to push its way into the alcohol business and is even going so far as to infuse and flavor and saturate and even overwhelm the business by creating various flavor profiles and even pairing things with different foods and substances that 'bring out' the different notes of one liquor or another.
It's alcohol. It's meant to get a person drunk or at the very least, take the edge off of one's nerves and get them to calm down and relax for a bit. Granted, having it taste good is nice, but there's a point to when a drink becomes too enjoyable. Maybe it has something to do with being a little old-fashioned, but it could also come from the few years of experience as a bartender, but trying to make drinking healthier sounds a little bit ridiculous. To each their own and all that, as drinking has been different for everyone over the years since some people want to get that nice buzz without having to force themselves to drink, while others don't mind the bite of a good drink without the accompanying flavors that tend to take over.
Drinking is drinking…or is it?
It's kind of tough to argue against taste and an enjoying look to what we eat and drink, but there's definitely a tipping point when it comes to overdoing it and placing too much in a drink. There are a couple of cocktails out there that require a lot of work and a lot of skill to make them look good. A Bloody Mary and its many variations is a good example since it's been known as a salad drink for a long time. But other drinks that require garnishes are all well and good, while those that require entire slices of fruit or vegetable in them tend to appear…well, a little too extra.
Some might disagree since the fact is that trends tend to come and go and they come on strong and change almost overnight at times. But one has to wonder what happened to the days when simply juicing something and putting it in the mix was enough. Ah well, to each their own.
When your drink becomes a fruit salad it's tough to take it seriously.
Seriously, if someone nearly ten to twenty years ago saw this in a bar, a movie, or even a TV show, there would have been a slew of jokes that would have hit the internet and people would have made a huge deal about it. But as of now this appears to be an acceptable thing to put slices of this or that in a drink, and it sounds as though it's only going to become more common in various bars since there may or may not be a health benefit to it. It might be best as a garnish to chew on if a person wants, but otherwise…
Does everything need to be flavored?
Like I said, 'to each their own', since everyone has their own personal tastes. But there's something about getting a mixed drink out of a can that just doesn't feel right. And while some of the infused liquors out there aren't too bad, a peanut butter-flavored alcohol sounds like something that would come back up with a slow burn as well as seriously agitated throat. The fact that people are playing mix and match with so many flavors, and mean to continue as they think up one combination after another, gives me the impression of children at play with colors. Something good can come out of it, but there are bound to be plenty of mistakes here and there. The only difference is that to be trendy, a lot of people are going to claim they love it, either because they're tastebuds are dead, or because they don't want to behind the trend.
Do you really need a drink and a meal in the same glass?
Sometimes a bunch of seeds and even a rind or possibly other garnishes can give the drink color and make people happy since they can be a bit of a novelty. But at the end of the day a person comes into the bar to drink, and if they want to eat then they'll find something on the menu and order it. If they can get a bit from the inside of their glass then why in the world would they order? Okay, so I'm kidding around at this point, but there's something about having a bunch of soggy seeds or something else in your drink that doesn't really track for me.
Some folks like this, but then some folks are ready to smile when someone serves them shit if another person, especially someone that's listened to, tells them it's trendy. This is how our society works at this time unfortunately and when someone that's in the know or someone that happens to be a celebrity or (grinding my teeth) an influencer, it's possible that people will eat or drink just about anything.
There is such a thing as too much of something.
So this a little off the beaten track, but when something is denied and then becomes legal, as alcohol once did, it's easy to see how quickly everyone is ready to rush to market anything and everything they can. Just imagine a moment when we see cannabis-infused alcohol, when it might be on the menu, if it's not there already in a few places. With alcohol however, liquor has been legal for so long now that people have continued to find ways to mess with it in order to keep the sales up. The thing is, alcohol is always bound to be popular no matter how tasty or how potent it is.
Alcohol is here to stay without a doubt.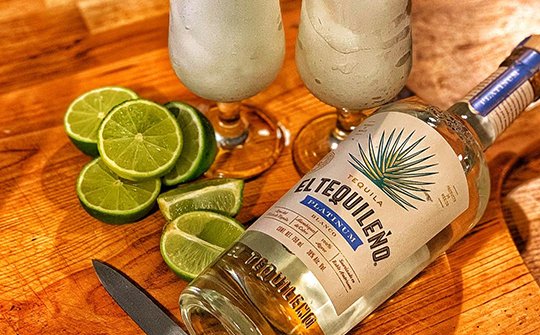 One thing to remember is that everyone has their taste, their favorites, their opinions, and so on and so forth when it comes to alcohol. Some don't drink, some don't drink, so we're not too worried about them at the moment. But those that do drink have their preferences and for a lot of us that have been drinking before the turn of the century, the old favorites and the old school drinks and liquors are still just fine, and there's no need to complicate things. It might be easy to like some of the new ways and the new drinks since they're going to keep coming and bartenders are going to keep learning more and more about what it takes to come up with new flavor profiles.
If folks are into stuffing their drinks with fruit and vegetables, along with other things apparently, then so be it. But one thing we'll always manage to appreciate is the fact that alcohol is alcohol, no matter how it tastes, it's meant to get you drunk, and to have fun with it.
Old school is still perfectly acceptable.
A lot of us probably remember a few nights with our old friends in this picture and several others that weren't always the best, but they were cheap and didn't have too much to think about. The colors were strong, the flavors were stronger, and the effect was sometimes enough to knock you on your ass. But we enjoyed it since the taste was good enough and it meant that a good time was about to be had.
WTR? (Why's That Radass?)
Alcohol hasn't changed over the years, it's just been given an upgrade at times and others, a downgrade. But all in all, your taste is your own. So cheers, Slainte, kanpai, and skal!